2020 Holiday Gift Guide for Golfers
During these uncertain times, golf has awoken as one of the few sport activities that offers relative safety and relief from boredom due to the Covid pandemic. Life is going to continue as in the upcoming holiday season.
The September numbers are in and Golf Datatech is reporting almost a 26% jump in rounds played versus a year ago. Percentage-wise, this is the largest YOY increase so far this year and represents about 12 million incremental rounds.
Golf retailers are having extremely successful times, primarily because of increased rounds of golf and for some, finding they have more discretionary income due to eating out less and less consumption of gasoline.
This holiday season should be one for the record books, so here are some of my favorite products that any golfer is going to enjoy.
Callaway Jaws MD5 Wedges
There are really good wedges available in the marketplace. All golfers should, in my opinion, spend time in finding wedges that will lower your score. To this end, I highly recommend Callaway's new Jaws MD5 wedges.
Callaway's new and good looking Jaws MD5 wedges have been designed for those golfers looking for a little confidence boost around the greens.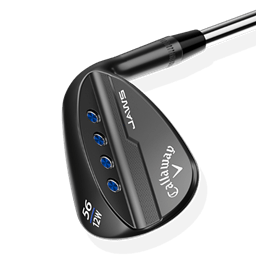 Made of 8620 soft carbon, JAWS MD5 wedges come in 23 different loft/bounce combinations with 5 distinct grind options: C-Grind and New Low Bounce W-Grind feature 8º of bounce. The S-Grind features 10º of bounce and X-Grind and W-Grind feature 12º of bounce. Also available in women's specific models: 52º, 56º and 60º all in the W-Grind.
With the range of bounce and grind options, it makes finding the perfect wedge to suit your game extremely easy. JAWS wedges are available in 10 color zones and new medallion paint-fill color options. Stamping choices, gives golfers more ways than ever to personalize each wedge and make it their own.
These wedges perfom! Don't get carried away with comparisons to a conventional blade-style wedge. Optimized head-shaping progresses from traditional shaped lob and sand wedges to a compact player preferred design in the gap, and pitching wedges for a seamless transition into an iron set.
According to Roger Cleveland, Callaway's chief engineer, "The spin you get from the JAWS Groove is remarkable! It's all about the trajectory and control from the added spin – JAWS is absolutely the perfect name".
The JAWS MD5 spin rate is even better than its previous model. Each JAWS groove is rendered to the tightest tolerances Callaway has ever achieved, promoting consistent spin rates from shot to shot. Our testing group absolutely loved the trajectory that the new wedges offer with full shots. They all agreed that you could really dial shots at the flag, knowing that the ball was going to stop quickly and consistently.
Callaway's proprietary new JAWS groove is designed to a 37º wall angle, an extreme difference vs. the 5º used in the MD4 series which elevates the groove-edge sharpness to a new level for maximum grip and spin from all types of lies. JAWS grooves are particularly effective from 80 yards and in, producing a player preferred "one hop and stop" trajectory.
JAWS MD5 also incorporates Callaway's proven Groove-In-Groove Technology. These milled Micro-Positive grooves are placed in the flat parts of the face for added surface roughness and grip. Three raised micro-ridges are featured between each groove, adding grip to the ball's cover to increase spin on a variety of shots. This combination of JAWS grooves, plus micro-grooves, provides 84 different contact points to promote more spin.
According to our testing group, the strike feels extremely pure on full-length shots and they loved the extremely responsive feel from short chips around the green.
They were further enamored with the amount of spin that was generated out of the rough. Though not as controlled as a flushed shot off of the fairway, they felt that you could be rather aggressive out of the rough and still manage a good amount of control.
Lofts of 46˚, 48˚, 50˚, 52˚, 54˚, 56˚, 58˚, 60˚ are available in both Chrome and Tour Grey finish.
$159.99 www.callawaygolf.com
Daphne's Head Covers
Daphne's has the most tantalizing array and collection of over 175 head covers for males and females.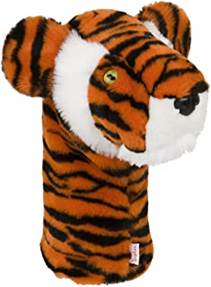 Each cover is a work of art.
You might not hit it like Tiger, but your bag can look like his used to when he was a 21-year-old slipping, on a Green Jacket. It is definitely a conversation piece.
Made out of the highest quality materials, the head cover fits up to a 460 cc driver, and is guaranteed for life.
Join over 300 professional golfers on the PGA and LPGA tour that carry Daphne's Head covers on their golf bags.
$26.03                  www.daphnesheadcovers.com
SkyCaddie LX5 Smart Watch.
Of all the watches I have tested and used over the years, my favorite watch is the SkyCaddie LX5. It works wonderfully and I love its user friendliness. Charge it up and play without any hassles, such as pushing a button that is too small, needing glasses to read the screen or doesn't look well made.
Preloaded with over 35,000 ground-verified, full-color HD course maps, the LX5 is ready to go out of the box. It is also loaded with robust connectivity
SkyGolf®, maker of SkyCaddie®, the most-trusted rangefinders in Golf, has a new model out – the SkyCaddie LX5 with ceramic bezel Smart Watch. It also has the industry's largest and most-brilliant color touch screen at 1.39 inches. This extremely handsome new model includes all the same next generation technology as the original LX5 Smart Watch.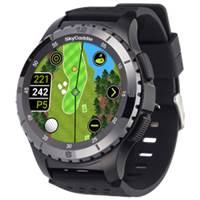 The new LX5 with ceramic bezel offers a very stylish and classy look, making it a very handsome watch to wear on and off the course. Both models of the LX5 include most of the dynamic features that golfers rave about in our award-winning SX500 and SX400 handhelds, giving you the most accurate information conveniently located on your wrist.
Using the same next generation technology found in the award-winning SX family of rangefinders, the LX5 family of smart watches is driven by a powerful multicore processor and a simple touchscreen interface. IntelliGreen and HoleVue are presented in high definition with stunning imagery to deliver the best graphics in a wearable. Use zooming and panning to get all the details and distances you need to play your best golf…and all from your wrist. A responsive and easy-to-use interface makes navigating during play almost touch free.
The powerful SkyCaddie LX5 features HoleVue® technology to deliver distances to up to 40 geo-referenced targets per hole and any point in between. SkyGolf's HD course graphics are the most detailed in golf, providing the most stunning visuals of each hole. Use the simple touchscreen to reveal critical distances to all hazards, carries and layups… all verified by SkyGolf's ground mapping teams.
With SkyCaddie's patented IntelliGreen® technology, the exact shape of the green automatically rotates to match your angle of approach to provide all of the distances you need, from your line of attack, to hit more greens and avoid 3-putts. This proprietary feature gives you a chance to turn every approach shot into a scoring opportunity by providing front, carry and back distances, plus the distance to any other point on the green — simultaneously. Try that with a laser!
With HoleVue, you see everything between you and the green instantly without touching a button and get the distances you need to avoid hazards and play your best golf. You can also quickly select the best club for every shot with RangeVue® which provides multiple yardage arcs that overlay fairway landing areas and greens.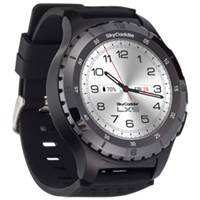 The LX5 is water-resistant and boasts a hi-capacity rechargeable Li-Polymer battery that lasts up to two rounds and more than 3 days in time mode. It allows you to score as you play and track stats such as total score, total putts, fairway hit or miss, greens in regulation and much more.
The SkyCaddie LX5 with Ceramic Bezel retails for $349.95 in the U.S. and comes with a three-year premium worldwide membership at no extra charge. In addition, each new SkyCaddie LX5 purchased in the U.S. comes with a 6-month Consumer Warranty that can be upgraded to a 12-Month SkyCaddie Extended Warranty.
For more information, visit www.skygolf.com.
Become a PGTAA Professional Golf Teacher
Isn't your spouse always telling you how much they love golf, have the knack for teaching golf, especially kids, and would like to change their life's direction?

Well, now they can by enrolling in the PGTAA's Home Study Course or On Site school. The Professional Golf Teachers Association of America has been certifying both men and women golf teachers since 1997.
Amongst its many graduate members are the likes of Gary Gilchrist, Mark Immelman and Michael Kletz, all who are very highly regarded, both for their teaching skills and clientele. PGTAA graduates can also be found at many well-known golf courses, such as Pebble Beach and Torrey Pines and at many universities, such as Columbus State, GA, Waynesburg University, PA and Brevard College, NC to name a few. I am personally involved with the PGTAA.
For more specific details visit www.pgtaa.com
$995.00 Home Study Course $2495.00 On Site Course
Green Books by GolfLogix
When GolfLogix, the most downloaded app in golf history, introduced printed Green Books in April, they knew golfers would be intrigued. But the overwhelming response to GolfLogix's Green Books-which combine cutting-edge green contour data with detailed 3-D imagery-has surpassed even the company's expectations.
In just one month since release, Green Books by GolfLogix has become one of the hottest new products in golf – and it is now the ideal holiday gift for golfers everywhere. Golfers have already received rules-compliant Green Books for more than 2,000 top courses in 49 states, with more than 350 new courses being ordered each week.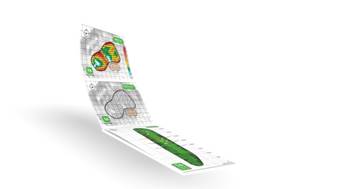 Using cutting-edge technology to map out the contours of every green with accuracy down to half an inch, GolfLogix has an  unprecedented catalogue of more than 14,000 courses, available for only $40 a course – a fraction of the price of the green-reading maps that professional and college golf teams use.
The topographical guides include three views of every hole. Quick-view heat maps outline the green's undulations and provide large, easy-to-see arrows which help golfers identify the areas to avoid when planning approach, pitch, and chip shots. Using these amazing course management features helps bring confidence to pressure putting where strokes are lost. A second, close-up perspective of the green highlights the subtle changes in elevation and direction that are often undetectable to the naked eye. Combined, the maps help make every putt read quick and simple, and virtually eliminate the 3-putt.
This printed guide also features yardage book-quality color images of every hole with 50-yard grids to help plan your tee shots and avoid the major hazards. Green Books mimic the GolfLogix app's Approach Mode, allowing golfers to strategically target positions on the green for their best opportunity of draining their putt.
The $40 GolfLogix Green Books can be purchased at  www.GolfLogix.com, store.golflogix.com, or on GOLF.com
The Perfect Gift for the Golfer Who Has Everything
Give an unforgettable experience with Club Champion club fittings
No need for a gift receipt this year — a golf club fitting from Club Champion will stand out as a memorable gift for your favorite golfer. With over 45,000 hittable club head and shaft combinations, Club Champion offers everything a golfer could want at their more than 74 locations nationwide.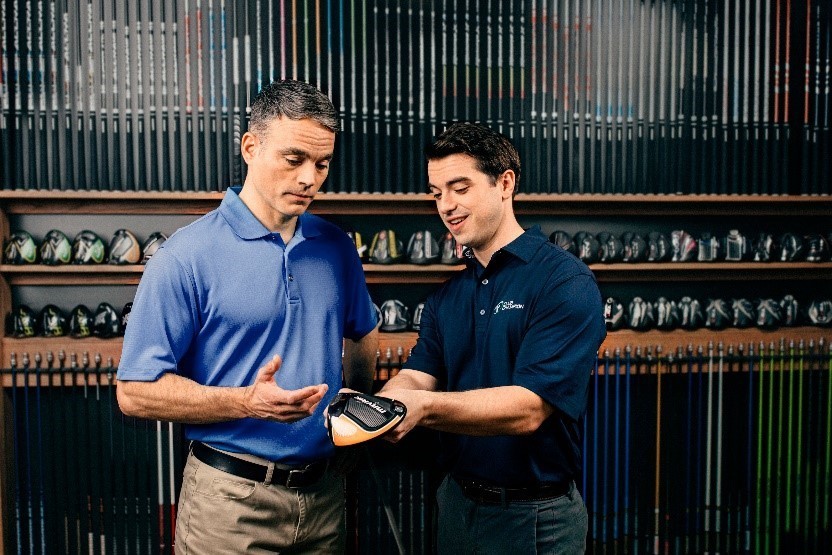 "We have everything a golfer needs to gain distance and lower scores. We're sort of like a candy store for golfers," said Nick Sherburne, Club Champion's founder. "From the moment you book an appointment, you're immersed in this Tour-level experience that allows you a peek into a professional golfer's life, with every club imaginable at your fingertips."
Club Champion's unique approach is brand agnostic; they focus on the golfer and not the manufacturer. This tactic allows them to give each customer a unique and informative experience that renders real results on the course. Speaking of results, a Golf Digest study found that eight out of nine Club Champion custom-fit golfers lowered their scores by as much as six strokes per round and added an average of 21 yards off the tee. A custom fitting is the gift that keeps on giving.
Club fittings aren't a new concept but offering a professional experience for amateur golfers is a relatively recent upgrade to an outdated practice. Golfers have always been able to visit local pros or retailers who have one or two fitting carts provided by club manufacturers; with this approach, golfers are unable to mix and match across brands to determine their ideal combinations. True customization just isn't possible outside of custom fittings, which is where Club Champion comes in.
Using cutting-edge technology, Club Champion master fitters are able to analyze a golfer's swing and match them to clubs that maximize their strengths. If the golfer in your life is serious about the sport, this game-changing experience will give them insight into their own swing mechanics and enhance their experience on the course. For more information about custom club fitting and Club Champion's process, please visit clubchampiongolf.com.
Volvik XT Soft Golf Ball
 Here is a great golf ball for the average high-handicapper golfer who has a swing speed of 75-95 MPH. FYI, it is Golf Digest's 2020 Gold Medal award winner!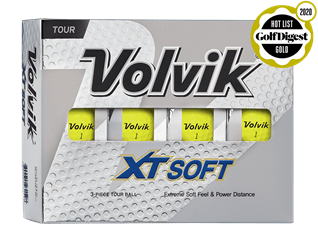 This urethane, 3-piece ball preforms extremely well. I like the explosive distance off the tee, its excellent greenside control, but mostly, the VATS (Volvik Alignment Tracking System) that creates a visual key off the tee and on the green.
Flight stability comes from its Cube Octahedron Dimple Design.
In a nutshell, the 70 compression ball offers great feel, control and distance at a very affordable price. It is available in traditional yellow or white gloss.
$37.99 per dozen   www.volvik.com
Galway Bay Rain Gear
So, maybe there are fewer Ireland or Scotland trips coming up on the calendar, but wet and cold weather is guaranteed– wherever you are. You can make your golfer happy with the gift of warmth and comfort.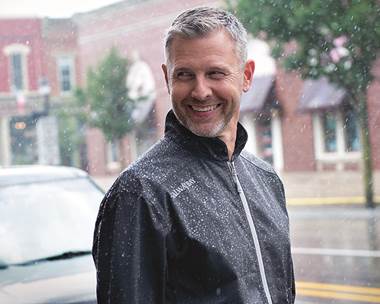 Galway Bay rainwear stands apart in the industry with lightweight, breathable fabrics that allow golfers to stretch and move freely while staying warm and dry. In fact, its proprietary Hydro-Flex 32 fabric is the most breathable waterproof technology in the industry– yet blocks wind and rain. It's strong and durable, without any "bulk." The design moves with a golfer, so they can swing comfortably.
Offered in several color options, the jacket features a soft, quiet fabric, as well as rubberized waterproof zippers. A high collar in the back tapers down and is rounded in the front– a small detail to elevate the golf experience.
Matching pants have belt loops, deep pockets, and optional lining, and are designed to look like and be worn as golf slacks, eliminating the need to dress in layers. They can be ordered to a golfer's exact waist and inseam sizes– optimizing comfort, fit and style.
Visit www.galwaybaygolf.com to learn more.
Orca Golf Bags
ORCA Golf is new and different, with models and new materials that are durable, lightweight, and elegant all while featuring your professional or personal brand.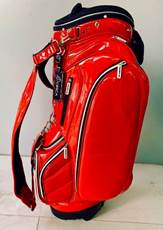 Why the ORCA? ORCAs are found in every ocean on earth. They live peacefully with even the smallest fish. The misconception – they are not truly a whale; they are actually in the dolphin family. ORCA golf brand represents all.
ORCA is offered for special corporate gifts, golf tournament gifts, luxury car brands, professional sports teams, fraternity and sorority groups, and a line of bags for special retail companies.
New to the market and exclusive to ORCA is the ORCA Pod™; a product which continues to gain 5-star reviews from golf clubs and individuals.  Keep in mind, their goal is to create products that golfers want and need, hence their tagline; Built Around You.
Watch out for our next article where we go in depth on the Orca golf bags, travel bags, and gloves.
In the meantime, visit www.orca-golf.com
GOLF TRAINING AIDS
Swing Align and Swing Align Short Game
What golfer doesn't want the gift of lower golf scores? The Swing Align training aid can offer just that. By helping golfers create a more "connected" swing from a proper set-up position, it helps them achieve a more stable and powerful move through the ball.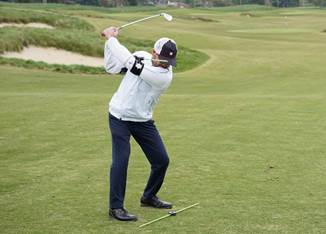 Swing Align was designed to help golfers line up squarely to their target and hit shots solidly by providing a strong visual alignment indicator. The lightweight, convenient device uses muscle memory to develop a repeatable golf swing with more power and accuracy, by keeping the arms and body synchronized when rotating.
Earlier this year, the Swing Align team unveiled a solution for golf's all-important scoring zone with Swing Align Short Game ( https://swingtrainer.com/products/swing-align-short-game). Swing Align Short Game teaches golfers to maintain proper arm spacing by teaching them to use their arms and shoulders to create the perfectly synchronized triangle, allowing the bigger muscles to control shots for more repeatable results.
For the holidays, consider 2020's best-selling Swing Align bundle that features the Swing Align unit, as well as the Swing Junction alignment rod package. Visit https://swingtrainer.com/products/swing-align-bundle.
Man Crates Personalized Golf Ball Crate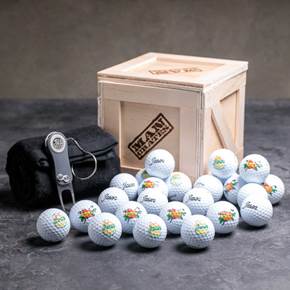 If you are looking for a very special gift or holiday present, consider Man Crates. A woman can of course buy them too! And there are a ton of options outside of golf, whether the recipient is into fishing, other sports, cooking, and grilling. Man Crates has options for all do it yourself themed gifts.
Choose up to three uniquely personalized designs for a total of 24 golf balls beautified with a state-of-the-art UV printer and guaranteed to last at least as long as it takes them to get lost in a pond.
Plus, they'll receive a monogrammed ball marker-divot tool combo and a towel to wave around in celebration every time they win Closest to Pin.
The crate includes 24 Monogrammed Callaway Golf Balls (Up to 3 designs), 1 Personalized Ball-Marking Divot Fixer, and 1 Golf Towel, all arriving in a sealed wooden crate with a laser-etched crowbar.
$79.99                      www.mancrates.com
Logo Chip Business Cards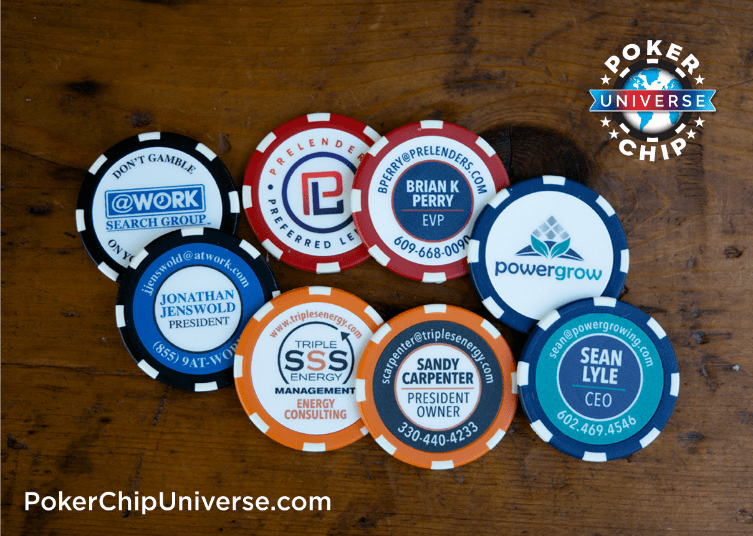 I use these logo chips for the PGTAA, PGA Tour players and for my golf writing business cards. Of course, I also use them as ball markers
The response is always complimentary and golfers are enamored with the chips.
As a holiday special ask for the FREE 100 chips when speaking to Mike.
Why continue handing out paper business cards when business card chips can be all in 1?
Your Business Card
Golf Ball Marker for Clients
Tee Gift to Sponsor Golf Tourneys
Event Giveaway
Magnetic Chips for Advertising (only .20 more)
Promo- Redeemable Coupon Chips
Call or email Mike Blake (mike@logogolfchips.com) and mention my name.
Barry Lotz, J.D., Ph.D. is the director of the Professional Golf Teachers Association of America. He is a member of the Golf Writers Association of America, the California Golf Writers Association, and serves both as a Consultant and Mediator to the golf industry. He is also the author of numerous books, including "333 Best Web Sites for Golfers", "How to Build Business Relationships through Golf" which is in the Top Ten Golf Business Book's bestseller list. His latest book," The Right Mind for Golf is now in its 9th printing. He currently works with 14 Tour Players on mental coaching and scoring techniques.
He can be reached at www.pgtaa.com  or   drlotz@cbsgolf.net