2021's Newest Drivers to Whet your Appetite.
As golf continues to thrive and more golfers pick up clubs, players are on the lookout for new products.
These new drivers are performance based, course friendly, and their collective technology shines through and will definitely improve your game and enjoyment. Have fun!
As I have maintained and preached for many years, do yourself justice and get fitted for your equipment.
Callaway Epic MAX Drivers
Already a winner at the American Express tournament this past week.
The Callaway Epic MAX Driver is built on the simple, yet profound equation that A.I. + Jailbreak + Callaway's new Speed Frame = more distance. With the MAX, Callaway engineered all of that speed into their most forgiving Epic ever. The MAX delivers an exceptional combination of a deep center of gravity, draw bias, and higher MOI for a tighter dispersion and straighter drives.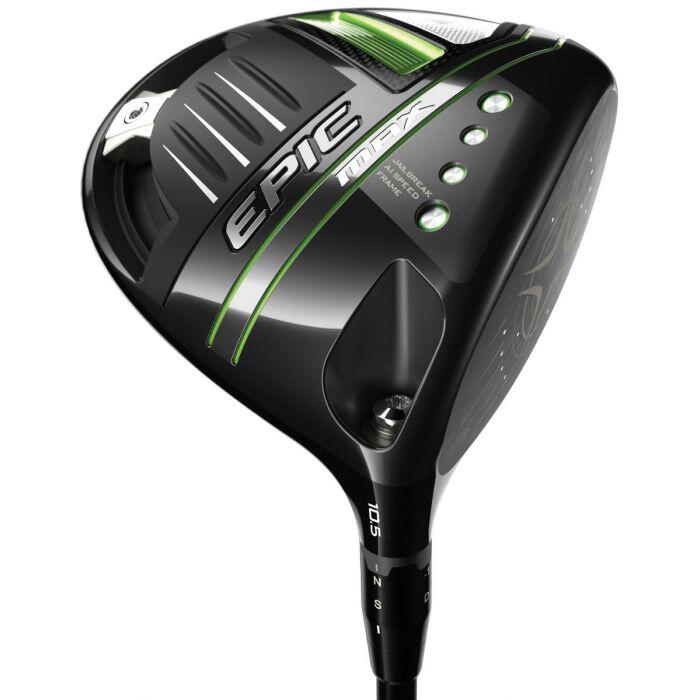 Epic ball speed starts with Callaway's new A.I. Jailbreak Speed Frame. While previous Jailbreak designs stiffened the body vertically, the new Artificial Intelligence design improves stability in the horizontal and torsional direction, as well. The result is exceptional ball speed across the entire face.
After having maximized the potential of the driver's body, it was time to move on to the face. Using the guidance of advanced Artificial Intelligence, Callaway crafted a uniquely optimized Flash Face design for each Epic model. The face's unique design and super strength titanium construction combine to produce optimal ball speed, forgiveness and spin robustness on both center and off center strikes.
The advanced composite design, allows the Epic MAX's exceptional forgiving quality. Callaway's proprietary Triaxial carbon now covers a larger portion of the crown, leading to weight savings of over 18 grams compared to a titanium crown. This allows Callaway engineers to strategically redistribute weight, promoting a high launch and enhanced forgiveness versus previous Mavrik designs.
With a 17 gram rear sliding weight, the MAX provides golfers the adjustability to promote their desired ball flight. Combined with the OptiFit hosel, the MAX provides up to 20 yards of shot shape correction.
Stock shaft offerings include Project X's Cypher and HZRDUS Smoke IM10, in addition to Mitsubishi's MMT. The stock grip is Golf Pride's Tour Velvet Align.
Also available is the Callaway Epic Speed Driver. The Speed variant of the Epic lineup differentiates itself with its Cyclone Aero shape. This advanced aerodynamic head shape promotes lower drag for higher club head speed, leading to higher ball speed. The taller ribbon and flatter crown help golfers generate more speed from their swing.
The third model available, the Callaway Epic MAX LS, where Callaway engineered all of that speed into a low spinning, ultra-high MOI offering, is ideally suited for mid-to-low handicap players.
Thanks to its advanced composite design, the Epic MAX LS is forgiving as well. Callaway's proprietary Triaxial carbon now covers a larger portion of the crown, leading to weight savings of over 18 grams compared to a titanium crown. This allows Callaway engineers to strategically redistribute weight for enhanced forgiveness versus previous Mavrik designs.
The LS variant is the most fade capable driver in the Epic family, and adjustable perimeter weighting provides up to 14 yards of shot shape correction to dial in the perfect shot shape.
Lofts: 9º, 10.5º, 12º(Epic Speed) 9º, 10.5º (Epic Max & Epic Max LS)
$529.99                www.calawaygolf.com
Cobra's RADSPEED Drivers
Such a cool name! Even better sound and feel than previous drivers!
Facts you should know: The more forward the CG (Center of Gravity), the faster the ball speed. The lower the CG, the lower the spin. The higher the MOI (Moment of Inertia), the more stability. By increasing the distance between the front and back weights, Cobra has created Radial (RAD) weighting, unlocking faster ball speed while maintaining forgiveness.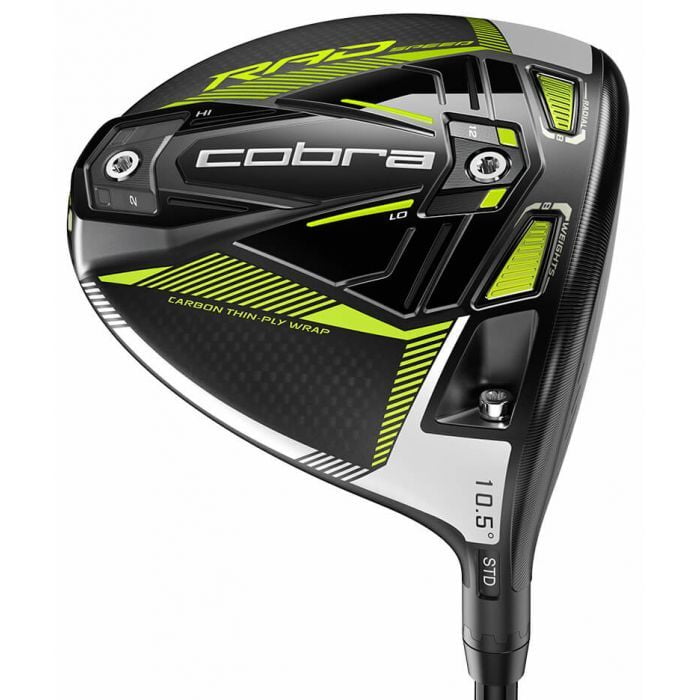 Using a design concept originating from a popular formula in engineering, Radius of Gyration — the distance from the club's center of gravity to each weight or technology location, Cobra's brain trust of engineers discovered that they could create a blend of fast ball speed, low spin, and forgiveness by increasing the Radius of Gyration and the distance between the front and back weights.
With a name inspired by its key technology, radial weighting, Cobra's new RADSPEED products are aimed at maximizing performance for the full spectrum of players through optimized weighting and an array of advanced technologies.
The RADSPEED driver frame features 28g positioned as forward as possible (16g of fixed weight and a 12g adjustable weight) to deliver ultra-low spin and fastest ball speeds. An additional 10 grams of weight positioned in the back (8g of fixed weight and a 2g adjustable weight) creates the perfect balance of front and back weighting for RAD speed & forgiveness.
Bu utilizing radial weighting, weight is strategically positioned in each of the three new driver models, thereby creating three distinct performances: The RADSPEED for faster swingers who want faster ball speeds and low spin; the RADSPEED XB for distance and consistency across the face in the form of forgiveness and stability; and the RADSPEED XD for those who want distance while reducing their slice or creating a draw.
The RADSPEED driver is designed with a 460cc traditional shape and forward-biased radial weighting for low spin, low launch and workability. By pushing the weight as far forward and back as possible, the driver looks to deliver maximum ball speed. Using a 7 gram lighter T-Bar Speed Chassis and a thinner Carbon Fiber Wrap Crown, engineers saved additional weight and repositioned it forward to lower the CG, producing more speed. The RADSPEED drivers also feature a CNC Milled Infinity Face, Cobra's proprietary CNC milling process which expands the milled area by 95%, increasing the zone of maximum ball speed. Available in 9o and 10.5o
The RADSPEED XB ("Xtreme Back") driver is designed for players who want speed and distance but value forgiveness and straight flight. The XB features an oversized address profile that inspires confidence, while a 460cc clubhead utilizes rear-biased radial weighting to deliver what Cobra calls the fastest and straightest ball flight of the three models. Available in 9°, 10.5o and   12.0o
The RADSPEED XD ("Xtreme Draw) driver is Cobra's longest and fastest draw-biased driver, designed to provide maximum distance and slice-fighting power. It features the same oversized 460cc profile as the XB, but with heel-biased radial weighting. Available in 10.5o and 12.0o .
As for shafts, the Project X HZRDUS RDX Blue, the Fujikura X F1 and Fujikura Motore (XTREMEback) X F3 are available with Lamkin Crossline (58+) Connect grips being standard.
$449.99     www.cobragolf.com
Srixon's ZX5 and ZX7 Drivers
Srixon continues to bring to market drivers that perform. For 2021 their standard bearers are the ZX7 and the ZX5 models.  The first thing that catches your eye are the great aesthetics of both drivers. They look elegant and sleek, and exude power. Both their address positions have excellent eye appeal, sure to satisfy many golfers.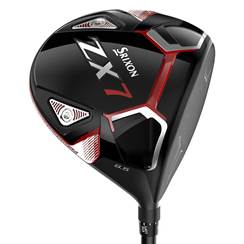 The ZX7 has a more compact, deeper-faced profile at address compared to the ZX5 model. This due to the flattened crown and taller skirt than the ZX5. It has a simple, no frills look on top with a glossy carbon crown and a very subtle alignment mark to minimize distractions over the ball.
The ZX5 driver has a rounded crown and a shorter skirt with a triangular rear shape and deeper height for a higher MOI (Moment of Inertia).
The ZX7 performs exceptionally well, is low spinning and has a penetrating launch. Use any of Srixon's premium balls and you have a match made in heaven!
The carbon crowns provide excellent acoustics and with the ability to reposition the adjustable hosel sleeve and two swappable sole weights, fades and draws can be achieved for the user to control accuracy.
The ZX5 features Srixon's new Rebound Frame Technology, the ZX5 Driver focuses your energy into the golf ball for incredible speed and distance. The new ZX5 Driver from Srixon is ideal for straight drives that launch high and carry far.
The Project X HZRDUS Smoke Black 60 shaft and the Golf Pride Tour Velvet 360 grip are standard issue for both drivers.
Both the ZX5 and the ZX7 are available in 9.5° and 10.5° and available in left and right hand models with additional weights for purchase (4,6,8,10 and 12 grams).
The ZX7 driver is shipped in a tour-standard straight setting with an 8g weight in the toe and a 4g weight in the heel. Reverse the weights for a draw biased shot shape. For more advanced adjustability, purchase additional ZX Weights which allow for additional shot shape customization.
$529.99 for the ZX7 and $499.99 for the ZX5     www.srixon.com
Barry Lotz, J.D., Ph.D. is the director of the Professional Golf Teachers Association of America. He is a member of the Golf Writers Association of America, the California Golf Writers Association, and serves both as a Consultant and Mediator to the golf industry. He is also the author of numerous books, including "333 Best Web Sites for Golfers", "How to Build Business Relationships through Golf" which is in the Top Ten Golf Business Book's bestseller list. His latest book," The Right Mind for Golf is now in its 10th printing. He currently works with 14 Tour Players on mental coaching and scoring techniques.
He can be reached at www.pgtaa.com  or   drlotz@cbsgolf.net