Ideal Golf shoes must offer Style, Performance, Stability, and Comfort
More time is spent using one single piece of golf equipment than any other – the golf shoe. This is the one item of equipment that draws more complaints than any other, yet, it is also the least updated piece of golf equipment.
The SQAIRZ, the Duca del Cosma, and the NXT Crafted golf shoes fit the bill to the nth degree.
SQAIRZ Arrow
Based on SQAIRZ's philosophy that golf is a sport that involves all elements – athleticism, concentration, practice, competition, cheerleaders, and the fact that there have been no significant changes to golf shoes since 1982, SQAIRZ has decided that the saddle shoe (designed circa 1800) needs to get a life. And so it should be, as we've seen golf evolve into a more powerful, technological game, with 400-yard drives and space-age materials, so why not shoes as well? The market is definitely there, especially with the Tiger and DeChambeau effect so predominant at this point in time.
Recently, in independent testing of amateur golfers, SQAIRZ has shown to increase swing speed by an average of 2.2 mph, translating into an average of 8.8 more yards off the tee!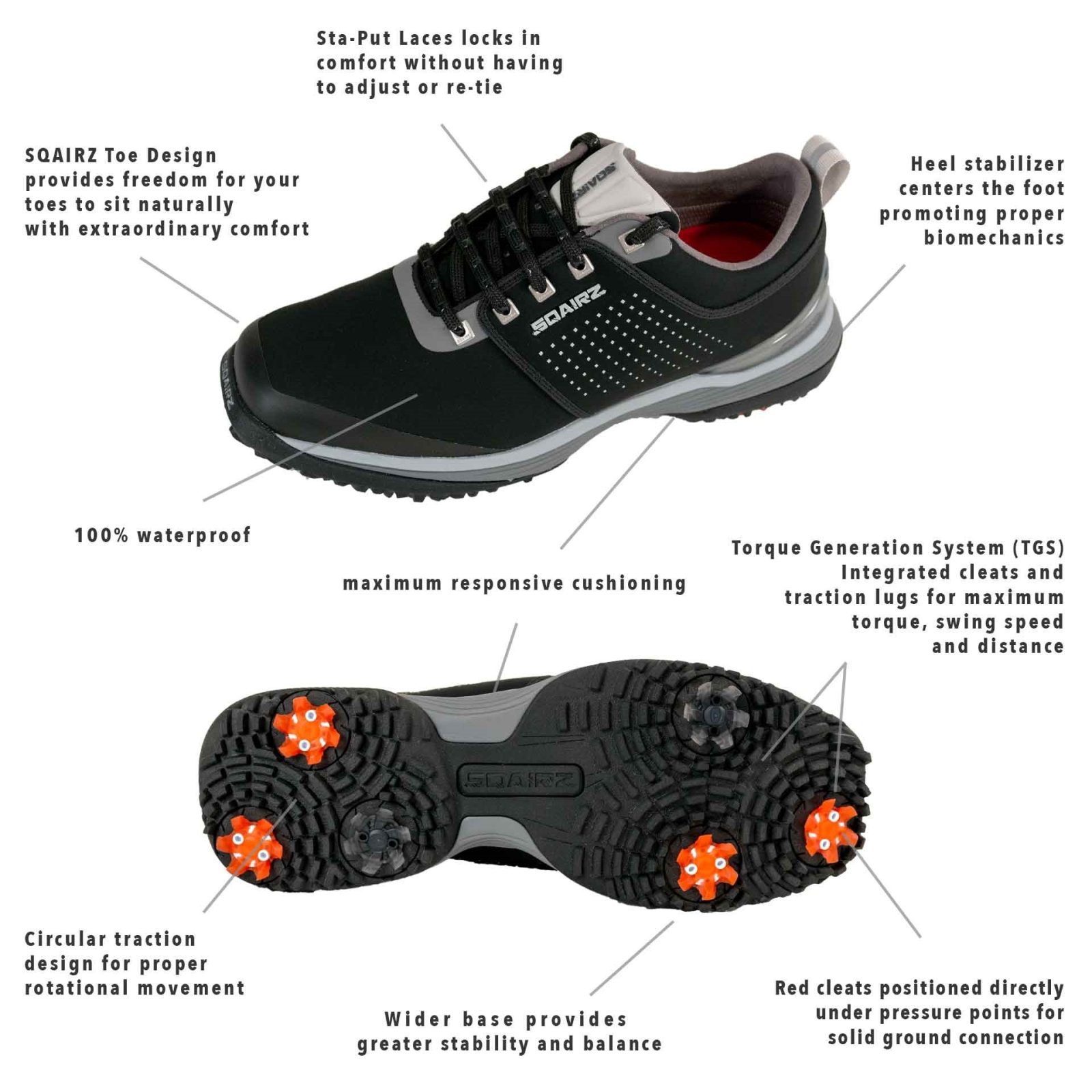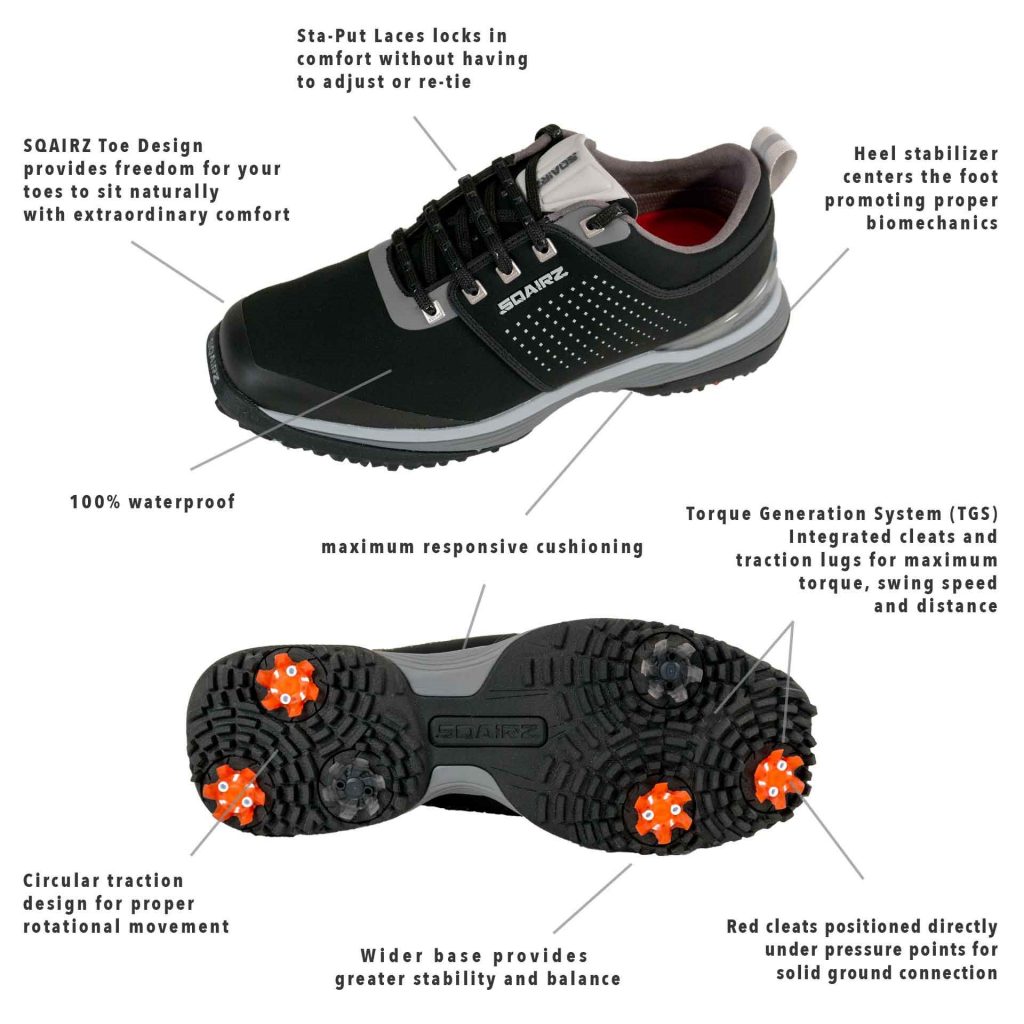 These shoes definitely break from the conventional. They are not designed as many of the current shoes, nor are they of the featherweight variety, or highly touted as a lifestyle type of shoe.
Their USP (Unique Selling Proposition) is the shoes' super-wide base, toe box, and sturdy platform, providing additional room for your feet to sit naturally and experience the full range of motion, unparalleled comfort, and feel for the ground.
Sir Nick Faldo has always said that "Good footwork is the mark of an accomplished player, and nowhere is the quality of the interaction you have with the ground more valuable than in the transition."
Just recently Faldo became an investor in SQAIRZ. I wholeheartedly agree with Sir Nick when he further stated, "These shoes are made for today's golfer, who no longer need to sacrifice comfort for stability and balance – or the other way around. Over the course of an entire round, the difference is huge! I'm thrilled to help golfers discover SQAIRZ and understand what we've all been missing.  Golf shoes are one of the only things we use for every single shot on the course and these will help your game."
Recognizing the critical role of technology in shoe design, SQAIRZ delivers an unmatched connection to the ground. Engineered around a patented SQAIRZ toe that allows feet to sit naturally, the shoes promote proper positioning, efficient biomechanics, athletic balance, and dynamic stability.  With breakthrough engineering optimized for performance, SQAIRZ is equipment for your feet.
I personally concur, because my wide (EEEE) feet, need tender loving care, and finding shoes that truly fit me properly has always been like finding the Holy Grail in comfortable, wide, and performance-based shoes. With SQAIRZ, there are no half sizes and the company's recommendation is that because of their unique fit, order a size smaller than you normally wear. If you are between sizes, definitely choose the smaller of the two sizes.
I have been wearing the square-tipped Sqairz shoes now for almost 3 weeks for both golf and just regular daily use.  I truly enjoy the support they provide. My feet do not cramp up, nor do I get tired. What a dream! On numerous occasions, people ask what kind of shoe it is, or compliment how great looking they are, and, of course, where can they be bought. For golf cart users particularly such as myself, you would be hard-pressed to find a fully cleated, full size, and more comfortable shoe than the SQAIRZ.
"Sta-put" laces comfortably form the shoe to the top of your foot and lock it in place without having to adjust or re-tie the lace during the round. The shoe is 100% weatherproof with a two-year waterproof warranty. The packaging, with a personal note and a pair of socks, is a touch of class. The Arrow model comes in two colorways, Black/Gray and White/Red. Sizes 7 – 13.
$199.97                www.sqairz.com
Puma's IGNITE NXT CRAFTED SPIKELESS GOLF SHOES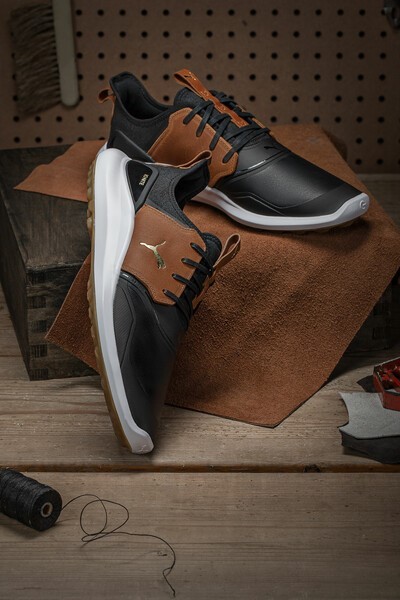 Puma's NXT CRAFTED is a premium take on this style, utilizing a natural leather saddle for a sophisticated, one-of-a-kind look.
The shoes are great both on-course and off the course. They are definitely very "classy & modern" looking. They definitely elicit many compliments even from non-golfers when I am wearing these shoes.
Additionally, just like the rest of the NXT family, these shoes are built from the ground up, using PUMA's Pro-Form TPU outsole with an organically-altered traction pattern, featuring over 100 strategically placed directional hexagon lugs in proper zones for maximum stability and traction. In addition, a full-length IGNITE Foam midsole, wrapped in SOLESHIELD for added durability, delivers unparalleled comfort and energy return to help golfers play their best all day long.
These are the shoes that Bryson DeChambeau and Gary Woodland are wearing on Tour.
SOLESHIELD is a micro-thin TPU film that is vacuum-formed around the midsole to make cleaning off dirt and debris a breeze. The upper features a premium leather saddle wrapped around PWRFRAME reinforcement. The PWRFRAME TPU is an ultra-thin frame that is strategically placed in high-stress areas of the upper for lightweight support and increased stability.
The IGNITE NXT CRAFTED shoes are available in 4 sophisticated colorways (White-Leather Brown-Team Gold, Black-Leather Brown-Team Gold, Peacoat-Leather Brown-Team Gold, and White-Hi-Rise-Team Gold) and come in sizes 7-14.
$140 per pair                       https://www.cobragolf.com/pumagolf/men/shoes/spikeless
Duca Del Cosma Men's Golf Shoes
Enjoy the difference of a golf shoe built by skilled European artisans.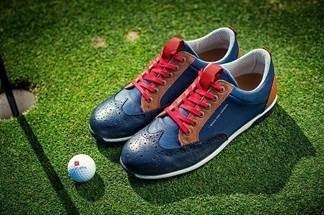 With maximum panache and technology, designed for people passionate about life (on and off the course), these are the shoes any golfer will appreciate.
The Nappa leather shoe, the Camelot, is Duca del Cosma's spin on classic golf footwear- an innovative combination of style and substance.
Featuring perforated detailing on the leather upper, these shoes come with extra wax laces, so you can mix or match for a touch of flair. Compliments abound when I am wearing the shoes both off and on the course.
Waterproofing ensures that your feet stay dry and comfortable, as well as looking on-trend. The Arneflex® is a high density, lightweight foam insert insole that is fully breathable, and anti-bacterial.
As compared to many other spikeless shoes I have tried, the traction and stability are what sets this spikeless shoe apart.
Duca del Cosma's Airplay VI outsole is anatomically designed for optimal traction and stability. The shoes, once on, conform to your feet, almost like a glove.
Sizes 7 – 13 are available in full sizes only.  A wide option is available.
Free shipping on orders over $200 and free exchanges.
$229.00              https://ducadelcosma.us/
Barry Lotz, J.D., Ph.D. is the director of the Professional
Golf Teachers Association of America. He is a member of the Golf Writers Association of America, the California Golf Writers Association, and serves both as a Consultant and Mediator to the golf industry. He is also the author of numerous books, including "333 Best Web Sites for Golfers", "How to Build Business Relationships through Golf" which is in the Top Ten Golf Business Book's bestseller list. His latest book," The Right Mind for Golf", is in its eighth printing.