The PGTAA's Worldwide Presence
The PGTAA is the single largest golf teaching organization in the world.
"Accredited, Accepted & Recognized Worldwide"©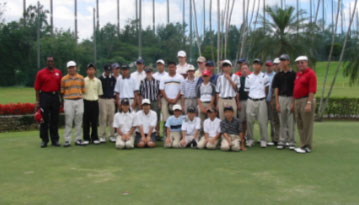 Okinawa, Japan 2003 – Sonny Gibbs (left)
The PGTAA continues to mature into the world's best teaching program and its acceptance worldwide is evidenced by the superior quality of its Master Teaching Professionals around the globe.
The PGTAA Newsletter, published quarterly, offers ideas and input from around the world that broadens your perspectives, exposes you to teaching methodologies incorporated in different cultures and sharpens your professional skills.
Listed below alphabetically are all the PGTAA worldwide divisions' professionals ready to improve your golf skills. Please feel free to contact them for further details about the PGTAA, how to become a Master Teaching Professional or to take lessons.

Australian Division
Paul Kang
Aust1ATpgtaa.com

 Brazil Division
Juan Malaret
Braz1ATpgtaa.com

 Chinese Division
William Kao
China1ATpgtaa.com

 French Division
Benoit Green
France1ATpgtaa.com

 Great Britain Division
Damian Donnelly
uk1ATpgtaa.com

 India Divisio
M & A Singh
India1ATpgtaa.com

 Israeli Division
Michael Rosenberg
Israel@pgtaa.com

 Jamaica Division
Jason Lopez
Jamaica@pgtaa.com

 Mexican Division
Sergio Poo Gomez
Mexico1ATpgtaa.com

 New Zealand Division
Robert McDonald
NZ1ATpgtaa.com

 Puerto Rico Division
Michael Haney
PuertoR1ATpgtaa.com

 South African Division
Lionel Wearne
lionelwearneATgmail.com

 Swiss Division
Brigitte Cappelletti
Swiss1ATpgtaa.com

 Thailand Division
Keeratika Waugh
Thai1ATpgtaa.com

 Czech Division
Veronika Patočková
vercapatockova@seznam.cz

Austrian Division
Karl Schuhbeck
AusATpgtaa.com

Argentine Division
Patricio Lopez
Arg1ATpgtaa.com

 Canadian Division
Gerard Coons
Canada1ATpgtaa.com

 Dutch Division
Johan Schwemmer
Dutch1ATpgtaa.com

 German Division
Johannes Horcher
Germany1ATpgtaa.com

 Hong Kong Division
Benny To Lam
hkong1ATpgtaa.com

 Irish Division
Dermot Dalton
Irish1ATpgtaa.com

 Japanese Division
Sonny Gibbs
Japan@pgtaa.com

 Malaysia Division
Chris Kwan
Malay1ATpgtaa.com

 Middle East Division
Marty Cowal
Me1ATpgtaa.com

 Portuguese Division
Noel Mitchell
Portugal1ATpgtaa.com

 Scottish Division
Tom McCaffery
Scot1ATpgtaa.com

 Spanish Division
Christian Pulz
spain1ATpgtaa.com

 Singapore Division
Bruce McGrath
Sing1ATpgtaa.com

 USA Division
Brandon Conway
admissionsATpgtaa.com