SuperStroke Grips
These are hottest grips on the PGA Tours and growing rapidly every week in its usage. If you have not tried these grips, do yourself a favor and watch your putting improve.
Why you ask? Simply because the non taper technology increases consistency and lower scores by allowing even pressure in both hands thereby eliminating added tension in the wrist and forearms. This in turn helps the arms to swing free, further enhancing a pendulum putting stroke. Additionally, the split color graphics are designed to ensure repeatable hand placement for more consistent putting.
SuperStroke grips are trusted by hundreds of top professional golfers. So far in 2023, SuperStroke users have won 38 tournaments on golf's major professional tours, totaling more than $27 million in first-place prize money in those events. 
Team SuperStroke is pumped for the upcoming Ryder Cup matches and is getting golfers into the spirit of the biennial event with limited-edition Team USA and Team Europe putter grips in all of its most popular and Tour-proven grip models (including the sought-after 17" 3.0 used by the reigning U.S. Open champion).
Superstroke has introduced the Officially Licensed 2023 Ryder Cup SuperStroke Putter Grips – a must-have, limited-edition offering that celebrates the prestigious biennial match in style. Available in exclusive Team USA and Team Europe designs in SuperStroke's most popular models, these stylish and colorful grips embody the spirit of international competition.
Crafted with SuperStroke's renowned quality and performance, the grips deliver exceptional control and precision on the greens, giving you the confidence to take on any putt. They also give golfers a chance to own a piece of golf history.
This limited-edition offering includes an array of SuperStroke's best-selling and most Tour-proven putter grip models, including the Flatso 1.0, played by three-time major winner Jordan Spieth and 2021 U.S. Ryder Cup team member Patrick Cantlay as well as the very popular Tour 3.0 17", played by the 2023 US Open Champion. The following grip styles are now available in Team USA and Team Europe designs exclusively at superstrokeusa.com:
Tour 1.0, Tour 2.0, Tour 3.0, Pistol Tour, Pistol 1.0, Pistol 2.0, Flatso 1.0, 2.0PT, Tour 3.0 17", and WristLock
The following putter grip models in Team USA and Team Europe designs are available at retail stores nationwide:
Tour 2.0  
Pistol 1.0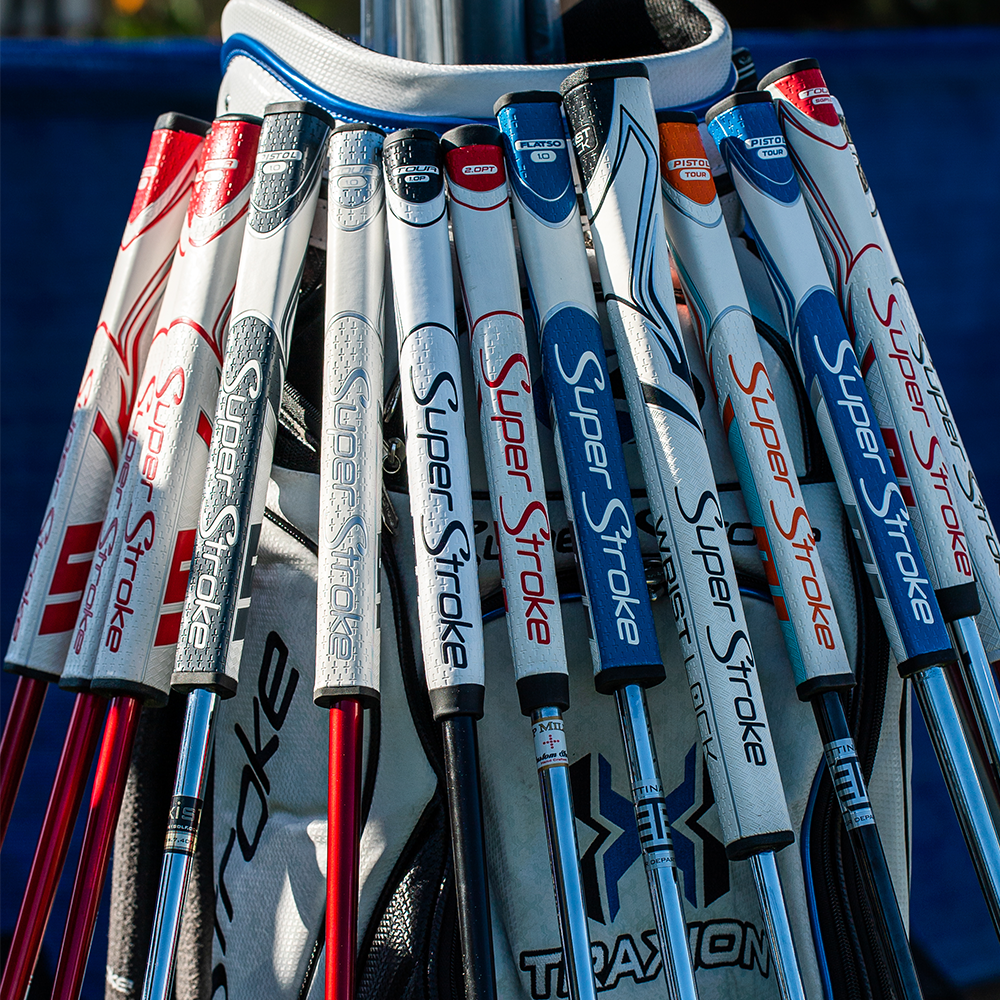 Additionally, SuperStroke has introduced its new Zynergy line of putter grips that offer a lot of options, shapes and sizes to accommodate just about any player.
SuperStroke's new line of putter grips feature enhanced Spyne technology, new multi-zone texturing, and patented no-taper shapes to help with confidence and to quiet your hands. The new Spyne™ Technology has an improved, embossed ridge along the underside of the grip, engineered to make it easier to square the face at impact, while the new multi-zone texturing is strategically placed in high-sensory areas designed to optimize feedback and comfort from the soft polyurethane outer layer.  
The patented No Taper Technology minimizes grip pressure with an advanced parallel design that enables golfers to quiet their hands and add consistency to their stroke.  
The Tech-Port located at the top of SuperStroke grips allows golfers to easily add game-improvement options including the patented CounterCore weight system and performance tracking sensors. The CounterCore can be crucial in fitting for the most advantageous weighting of the putter for optimal performance.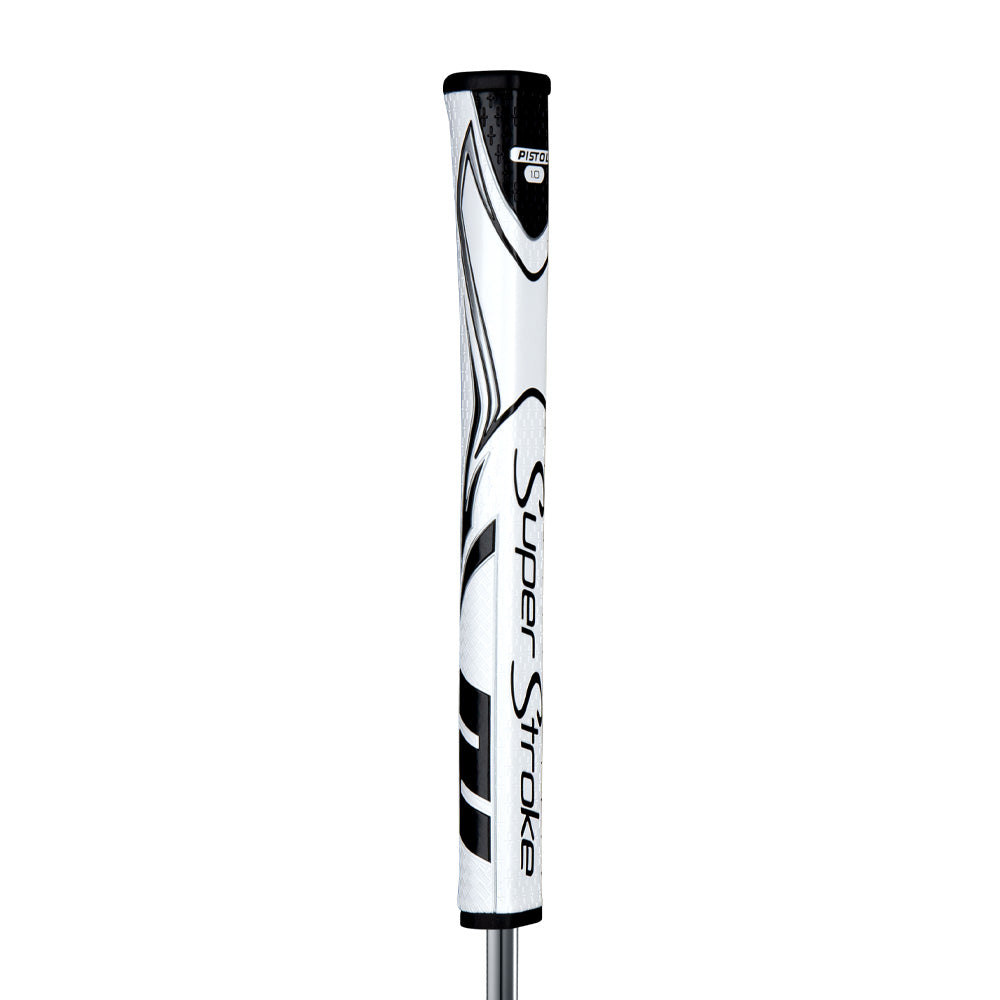 Of the new Zynergy models, the Pistol series is a modern take on a beloved classic. (Photo)
These putter grips merge a pistol-style top section that helps golfers lock in their upper hand position with "No Taper Technology" to help golfers maintain even grip pressure and boost the consistency of their stroke. 
The CounterCore weight is not included with this grip but may be added separately. It comes in 7 colors and 3 sizes. The Pistol grip is one of the most popular.  PGA Tour star Rory McIlroy just had a specially made "Rors" Zynergy Pistol Tour grip installed on his mallet putter.
The SuperStroke Flatso™ putter grip features a distinct pentagonal "Flatso" profile: a wide, flat front grip shape with five pronounced edges. Now with the addition of Enhanced Spyne™ Technology and Multi-Zone Texturing, the Flatso™ Series has been refined to offer even better feel and feedback. It is one of the most popular grips played on professional tours. PGA Tour professional Jordan Spieth trusted the Flatso™ grip for each of his three major championship victories. 
A CounterCore weight can be added, and this putter also comes in the Flatso™ 17-inch model as an extended version that meets the needs of golfers who prefer mid-length putters. It works well with its distinct pentagonal profile that is a smart choice for golfers who position the putter grip against their lead forearm, offering increased stability from its 17-inch length and wide-front design. These putters also come in 6 colors and 3 sizes.
The XL+Plus™ Zynergy Series grips measure 13.75 inches, which is 3.25 inches longer than the standard length. The XL+Plus™ extra length makes them a great fit for golfers who use mid-length putters or want a little extra counterbalance. They are available in three models.
The SS2R Squared has a unique one-inch square profile for players who prefer opposing hand placement. Heavier than most SuperStroke putter grips at 109 grams, the SS2R Squared provides additional back-weighting and pairs well with heavier putter heads.  A CounterCore weight is not included with the grip–but may be added separately.
 In 2022, SuperStroke users won 61 tournaments on golf's major professional tours, totaling more than $58.5 million in first-place prize money in those events. The company uses feedback from more than 450 tour pros in their designs and innovation.
With these and the many other new models of Zynergy grips that SuperStroke has introduced, it's well worth taking some time and visiting your local club fitter or retail dealer to find one that feels just right.
Prices per grip range from $29.99 to $34.99       
To learn more, visit: https://superstrokeusa.com/collections/putter-grips
Barry Lotz, J.D., Ph.D. is the director of the Professional Golf Teachers Association of America. Visit www/facebook.com/PGTAA to see all the latest mental strategies, travel and equipment reviews. Currently, he also works with between 10 to 12 PGA Tour players on the mental side of golf.
He is a member of the Golf Writers Association of America and serves both as a Consultant and Mediator to the golf industry. He is also the author of numerous books, including "333 Best Web Sites for Golfers" and his previous book, "How to Build Business Relationships through Golf",  is still in the Top Ten Golf Business Book's best seller list. His current book, "The Right Mind for Golf", is now in its 13th reprint and is available on Amazon and at the Torrey Pines Golf Course.  Just released on June 1st, is his new book, "The Right Mind for Putting", is now available at https://www.pgtaa.com/product-category/books-and-apparell/