The 5th Annual Anthony Anderson Celebrity Golf Classic presented by Lexus.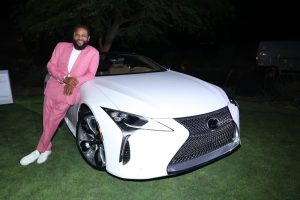 This spectacular golf event was played last month at the exclusive Bighorn Golf Club in Palm Desert. Simply put, this golf event has no equal in the charity golf event domain. If you are looking for a first-class golf charity event at one of the country's best private clubs, this is where you need to be next year. When you get to visit and play Bighorn Country Club, you are in for a treat that many people never experience.
Anderson, an Emmy and Golden Globe nominated actor, who starred in ABC's multi-award nominated sitcom "black-ish" for eight seasons and is hosting his third season of the ABC game show "To Tell the Truth", knows how to put on a show. His quick wit was on full display during the two-day event that is produced by Bill Hammond and his entertainment company.
The Hammond Company (https://www.hammondentertainment.com/)  knows its oats. Bill Hammond's company is dedicated to enhancing golf outings through improved technology, formats, and fundraising. His staff was on the ball making this one of the best planned golf outings I have attended.
The tournament, Anderson's fifth annual, helped raise six-figures in funds for The Anthony Anderson Family Foundation that benefits: Children's Hospital LA, Boys & Girls Club of America, The Black Academy of Arts & Letters, Los Angeles Mission, Compton Jr Posse Youth Equestrians, Tomorrow's Aeronautical Museum, Children Striving Together, and Compton Initiative and Compassion for Teen Life, Inc.
Just as important, Anthony brought attention to Type 2 Diabetes and how he is tackling this condition. Visit https://www.getrealaboutdiabetes.com/anthony-andersons-diabetes-story.html to read his story and learn why you should get checked for Type 2 Diabetes.
The fun and the laughter began with the Sunday VIP Pairings Party at the Canyon Steak House at Bighorn that included an impressive turnout of legendary athletes and celebrities such as: Cedric The Entertainer, Don Cheadle, CC Sabathia, Roland Martin, Vince Coleman, Marcus Allen, Norm Nixon, Seth Joyner, Galen Gering, Dondre Whitfield, Ozzie Smith, David Justice, Jack Wagner, Mike Woodson, Sterling Sharp and many more.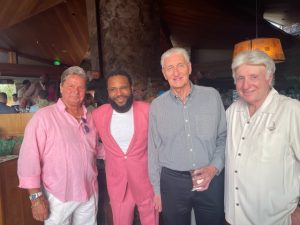 Guests enjoyed a "Thank You Lounge" created by GBK Brand Bar where they received items like: PHASE Clothing, Yasso Butta, Murad Skincare, Vacations through Sail Rock Resort and Lush African Safari.
The night was filled with prizes, music and lots of laughs—not to mention the private VIP Celebrity Cigar Lounge, featuring Davidoff Cigars that set the stage for Monday's main event that was even better. My evening was spent smoking cigars with Seth and Kendra Joyner and Sterling Sharp.
The exclusive private Canyons Course at Bighorn has hosted professional events, and it is no wonder why this Tom Fazio-designed layout is generally regarded as one of the best among more than 100 in the desert area. Meandering through one of the most scenic layouts that I have played, with its many lakes, streams, palm trees, rock outcroppings, and wildflower blooms, Bighorn personifies the finest in desert golf properties.
The Canyon Course is a challenge for players of all levels, but sports ample-wide fairways with demanding greens that will test even the best players.
The casual scramble format of the Anderson Celebrity Classic was made for an event like this—fun golf with more food than you could eat in a week, prizes at every hole, a massage station at the turn—not to mention enough laughs to fill the entire valley!
The Post Golf Reception and Awards dinner at the Canyon Steak House continued the fun vibe of the day, and again the presentation was memorable with Anderson's entertaining remarks that kept the crowd engaged.
The Anthony Anderson Celebrity Golf Classic was a memorable experience for all participants. Next year's event will take place in May 2024 – don't miss it!
Barry Lotz, J.D., Ph.D. is the director of the Professional Golf Teachers Association of America. Visit www/facebook.com/PGTAA to see all the latest mental strategies, travel and equipment reviews. Currently he also works with between 10 to 12 PGA Tour players on the mental side of golf.
He is a member of the Golf Writers Association of America and serves both as a Consultant and Mediator to the golf industry. He is also the author of numerous books, including "333 Best Web Sites for Golfers" and his previous book, "How to Build Business Relationships through Golf",  is still in the Top Ten Golf Business Book's best seller list. His current book, "The Right Mind for Golf", is now in its 13th reprint is available on Amazon, and at the Torrey Pines Golf Course.  Just released on June 1st, is his new book, "The Right Mind for Putting", is now available at https://www.pgtaa.com/product-category/books-and-apparell/.