The Main Tool in The Game of Golf is the Golf Ball.
The Latest and Greatest Balls have Arrived!
Part One
Fact:  Not all golf balls are created equal. Every type of golfer can select from many different internal and external ball constructions suited to their level. There are 2-piece, 3-piece and even 5-piece constructed balls featuring a variety of materials for the outer core to many types of inner construction materials. Prices also vary from $11.00 to $50 a dozen.
Suffice to say, that as with clubs, you owe it to yourself to get the ball custom fitted to your personal needs.
Below are the extensive details of the most popular and latest iteration of golf balls currently on the market. As the construction of golf balls is highly technical, much of the data shown below is directly from the manufacturer to ensure you, the reader, understands the nuances of the specific brands covered, and I have the correct technical data.
2021 Pro V1 and Pro V1x golf balls
After 20 years as the top ball manufacturer of the most popular golf ball, Titleist just released their latest iterations of the world's most played golf ball – the 2021 Pro V1 and Pro V1x are the result of new core, casing layer, cover and aerodynamic technologies – including proprietary 388 (Pro V1) and 348 (Pro V1x) dimple designs, optimized for extraordinary distance and consistent flight. They combine to make the most trusted and best performing golf balls in the game even better.
Our testing group, to the man and woman, raved about the balls. They loved the feel, the responsiveness of whichever ball they used, especially around and on the green. They loved the sound of the satisfying click from playing with their irons, in particular.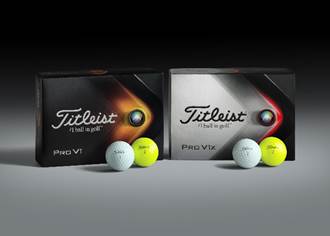 From the best players in the world to amateurs of all skill levels, new Pro V1 and Pro V1x are designed for golfers who prioritize performance  above all else. Both new 2021 models deliver longer distance, increased Drop-and-Stop™ greenside control, softer feel and long-lasting durability – while maintaining their differences in flight, feel and spin:
• New Pro V1 offers the greatest combination of speed, spin and feel in the game, providing the best fit for the majority of golfers. Pro V1 flies lower than Pro V1x with a penetrating trajectory and has a very soft feel.
• New Pro V1x has a fast, high flight and delivers spin when and where a golfer wants it. Pro V1x is designed for players who want a higher trajectory and increased spin relative to Pro V1, with a slightly firmer feel.
"When a golfer chooses Pro V1 or Pro V1x, they are choosing absolute performance," said Jeremy Stone, Vice President, Titleist Golf Ball Marketing. "Our R&D and Operations teams have spent years engineering new technology into each and every component of 2021 Pro V1 and Pro V1x. When it comes to the performance and quality of these products, we will continue to go to every length possible to help golfers play their best and shoot their lowest scores."
2021 PRO V1 AND PRO V1x TECHNOLOGY
Advancements in Titleist's industry-leading multi-component technology are precisely designed to work together, providing total performance and extreme consistency on every shot:
• Reformulated 2.0 ZG Process Cores deliver increased distance in the solid core Pro V1 and dual core Pro V1x. 
• Faster High-Flex Casing Layer adds speed and lowers long game spin. This highly-resilient, high-speed ionomer was initially developed for and validated by Pro V1x Left Dash. 
• New, Softer Cast Urethane Elastomer Cover – the softest cover formulation ever used on a Pro V1 or Pro V1x – increases greenside spin for more control in the short game.
• New Spherically-tiled Tetrahedral Dimple Designs – featuring a 388 dimple layout for Pro V1, and 348 for Pro V1x – are optimized to each model to maximize distance and flight consistency. Pro V1 maintains its penetrating trajectory while Pro V1x will fly higher than the prior generation.
AERODYNAMIC BREAKTHROUGHS
The new dimple designs on 2021 Pro V1 and Pro V1x – the first entirely new patterns since 2011 – are the result of Titleist's unparalleled commitment to understanding and improving the flight of the golf ball. 
Since the original Pro V1 debuted 20 years ago, Titleist R&D has designed, manufactured and tested more than 1,900 aerodynamic patterns. That includes more than 60 different iterations of 2021 Pro V1's 388 dimple layout, and more than 30 versions of Pro V1x's 348 dimple design.
"When we find a pattern we like, the next step is making sure we find the best possible version of that pattern by building and testing different variations of dimple depths, diameters, shapes and surface coverages," said Mike Madson, Titleist R&D's Director of Aerodynamics & Research Engineering "It takes years of work – we've been working on these new packages for almost a decade – but it is that commitment to research that ensures each golf ball is optimized to fly at its longest and most efficient trajectory."
PRECISION MANUFACTURING
The continued investment in advanced technology and quality control at Titleist Ball Plants 3 and 4 – where every Pro V1 and Pro V1x are manufactured by Titleist associates to the industry's highest performance and quality specifications – ensures that every new generation of Pro V1 and Pro V1x are the best performing and most consistent models ever. Consistency from ball to ball, and dozen to dozen is critical to allowing golfers to consistently execute the same types of shots, round after round. 
PLAYER VALIDATION
Since their October 2020 introduction on the PGA Tour, many of the world's best players have teed up new Pro V1 and Pro V1x in competition including Adam Scott (Pro V1x), Justin Thomas (Pro V1x), Tony Finau (Pro V1), Ryan Palmer (Pro V1x), Scottie Scheffler (Pro V1) – and Cameron Smith, who became the first player in the history of The Masters to finish with all four rounds in the 60s while playing new Pro V1x.
"When I first tested it, it was a bit hotter off the driver, which was great," Smith said. "The ball flight and windows were great. But the biggest thing that stuck out was the control coming out of the rough and around the greens. I can control my shots – especially those difficult, soft shots – so much better."
 Available in White (play numbers 1-4, 5-8 and all the same play number 00 or 1-99) and  High optic yellow (play numbers 1-4). $49.99 MAP.
YOUTUBE | INTRODUCING NEW PRO V1 & PRO V1x : https://youtu.be/ZSk1z0VgEq8
Callaway's ERC Soft Golf Ball
The ERC Soft is the company's longest ball with soft feel, while also providing exceptional greenside control.
This new lineup will appeal to a wide range of golfers, and each offering promotes fast ball speeds, exceptional feel and outstanding greenside control.
ERC Soft is Callaway's longest golf ball with soft feel, and it's built for increased control around the green.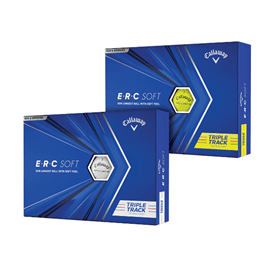 To create all that distance, their engineers developed a High Energy Core that promotes maximum speed and total performance from tee-to-green.
The ERC Soft also features a new Hybrid Cover made with a PARALOID™ Impact Modifier from Dow (NYSE: DOW). This high performance, multi-material construction promotes high launch and low spin for long distance, along with great feel in a durable offering.
Around the green it provides outstanding control, so golfers can play aggressively on approach shots, and in their short game. With the PARALOID™ additive, Callaway is able to deliver the exceptional speed and spin profile for this ball.
To complete the ERC Soft design, a High Speed Mantle works with the core and cover to further enhance ball speed and greenside control. And the Company's popular Triple Track alignment utilizes Vernier Hyper Acuity to help you choose the right line for better putting accuracy.
$34.99 per dozen. It will be offered in white and yellow color options.
Callaway's latest golf ball is the Chrome Soft X LS Golf Ball.
It promotes low spin for max distance, with Tour level short game control, and expands the popular Chrome Soft Golf Ball lineup. Chrome Soft X LS is a tremendous offering for low- handicap players who want to hit their longest, straightest drives and attack the pin.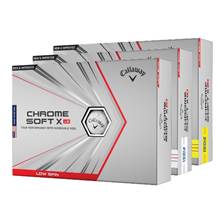 This new golf ball is especially suited for better players who want to "bomb it" off the tee, with a tremendous combination of long distance and a straight ball flight from their longer clubs.
It's a 4-piece, single core construction that's engineered to increase speed through a SoftFast Core, a Dual Mantle System, and a refined urethane cover. The high-speed core design is significantly larger to create more distance through the bag, and it works with the mantle system to deliver high resilience and speed. 
Chrome Soft X LS also promotes maximum greenside control from the thin proprietary urethane cover for high spin, low launch and excellent feel in your scoring clubs. Marc Leishman and Wesley Bryan are already using this ball on the PGA Tour, while players on the LPGA, European and Korn Ferry Tours are using it in competition as well. 
$47.99                                         www.callawaygolf.com
Bridgestone TOUR B XS
This month Bridgestone Golf, introduced their extremely popular Tour BX S in yellow. The demand for yellow balls has shot through the roof over the past years. I for one, am extremely pleased, as I had pleaded over 3 years with Bridgestone for yellow balls.
Bridgestone Golf's stable of icons include Tiger Woods, Fred Couples, Matt Kuchar, Bryson DeChambeau, and Lexi Thompson.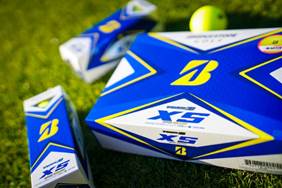 Like the standard white TOUR B XS, the yellow version features REACTIV cover technology, which employs an "impact modifier," to allow the urethane to behave differently based on swing speed.  
For example, when struck with a driver or any longer club, the REACTIV urethane cover "reacts," as a firmer, more resilient material, providing more speed and distance. However, on slower swings with a wedge or short iron, the cover performs like a softer material, creating more shot-stopping spin and control.
"While others focus on marketing hype and decorations, we've focused on making a better performing ball," said Dan Murphy, President and CEO of Bridgestone Golf. "The REACTIV cover technology is the most dramatic change to cover construction since 2000 when we led the industry from Balata to Urethane covered Tour balls."
Other features of the TOUR B XS yellow include a three-piece construction, patented Gradational Compression Core, and an Active Acceleration Mantle that helps provide maximum distance in the long game. Another noteworthy aspect of the TOUR B XS yellow is that unlike many other colored urethane models, it does not need to be painted, as the injection molded urethane cover material already contains yellow pigment. Removing this step in the production process yields a more consistent product that performs identically to the standard white model (which also does not require a painting process).
For help selecting which premium Bridgestone model is the right ball for you, try Bridgestone's VFIT for a free video ball-fitting consultation.
$44.97                                          www.bridgestonegolf.com
Bridgestone e12 Contact Ball
Following the great success of the award-winning TOUR B series featuring REACTIV cover technology, the latest e12 is designed with next-generation contact science and aimed at players looking for a combination of game-changing distance and forgiveness with exceptionally soft feel and enhanced short game performance.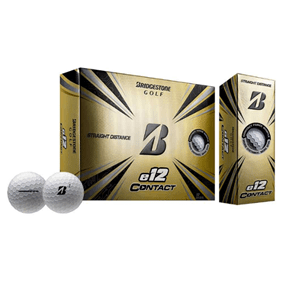 The new Bridgestone e12 CONTACT is straight distance you can see! The true game-changer is a new CONTACT Force dimple, which features a unique structure with a raised area in the center and an outer portion that slows horizontal rotation during flight.
The raised area allows for 38% more contact with the clubface at impact than traditional dimples, yielding a much more efficient transfer of energy and improved core activation. The result is faster ball speed and straight distance with every club in the bag. Available in white, matte green, matte red, and matte yellow colors.
The true breakthrough in the e12 CONTACT design is the innovative new CONTACT Force dimple, which features a unique structure with a raised area in the center and an outer portion that slows sidespin during flight. The raised area of the new dimple allows for 38% more contact with the clubface at impact than traditional dimples, yielding a much more efficient transfer of energy and improved core activation. The result is faster ball speed and more distance with every club in the bag.
"Bridgestone has long been a pioneer in bringing to market unique dimple shapes, sizes and constructions in the golf industry, but up until this point that has primarily been a means of achieving optimal aerodynamic performance," said Elliot Mellow, Golf Ball Marketing Manager for Bridgestone Golf.  "In the new e12 CONTACT, dimples actually serve as a source of increased power and distance as well. They also contribute to minimizing hooks and slices, making the newest e12 a golf ball that provides performance you can actually see in terms of straight distance."
The new CONTACT Force dimple design not only creates more efficient energy transfer and less in-flight drag for longer straighter shots, it also promotes longer contact time with the clubface on pitches and chips for increased spin and control on shots in the scoring zone. Many players will also see benefits on the green with more consistent putting results due to improved putter face contact. In addition, a new, softer core contributes to significantly enhanced feel on all shots.  
"REACTIV was our first significant foray into increasing performance through contact science," said Dan Murphy, President and CEO of Bridgestone Golf. "Now our engineers have determined that with the cutting-edge CONTACT Force dimple design we can transfer more energy to the core for greater distance while also optimizing aerodynamics to cut down slice and hook spin. It really is an amazing development."
The 3-piece Bridgestone e12 CONTACT features a street price of $29.99 per dozen.  In addition to the classic white version, the e12 CONTACT will be available in Matte Green, Matte Red and Matte Yellow color options.
For help selecting which premium Bridgestone model is the right ball for them, consumers should try Bridgestone's VFIT for a free video ball-fitting consultation.
Bridgestone e6 Balls
The new e6 is a soft feeling and long distance ball – everybody golfer's dream.
The new, reformulated e6 ball, the longest running current model in the company's lineup, is now made a with larger, softer core, offering moderate swing speed players more distance with improved feel and overall performance. 
Features of Bridgestone's newest e6 include a two-piece construction with a larger, softer core for an exceptionally soft, responsive feel and added distance for moderate swing speed players. Though the e6 has enjoyed an impressive 15-year track record of success, the new design is specifically tailored to modern players who value a ball that provides a melted-butter feel at impact without the loss of distance sometimes associated with lower compression models.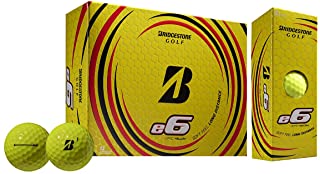 In the case of the new e6, those with moderate driver swing speeds can greatly benefit from the larger, more responsive core formulation as well as Bridgestone's advanced dimple technology and aerodynamics. In a nutshell, the new 2-piece construction with low compression core is designed for high ball speed while maintaining soft feel. Available in white and optic yellow
"The e-Family has a lengthy, storied history at Bridgestone," said Elliot Mellow, Golf Ball Marketing Manager – Bridgestone Golf. "The e6 is actually the longest running model in the e-Family and is our most successful two-piece Surlyn golf ball model to date. It has a significant following among moderate-speed players who demand a very soft feel with maximum distance off the tee and enhanced forgiveness on the long- and mid-irons. As a bonus it also provides incredible feel on and around the green".
Available in white and optic yellow  
$21.99
Bridgestone Lady Precept golf ball.
Building on a lengthy heritage that has produced the best-selling women's ball of all time, the new Lady Precept is specifically designed to help players with moderate swing speeds hit higher and longer shots.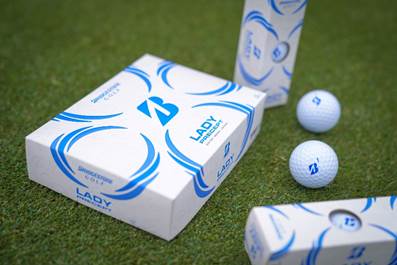 "A lot of brands have given up on a lady's golf ball design and simply re-labeled one of their distance models," said Elliot Mellow, Golf Ball Marketing Manager at Bridgestone Golf. "We actually design a ball that benefits this segment of players in a specific way."
Aimed at players with moderate or slower swing speeds, the new Lady Precept was designed with a softer, reformulated gradational core that's engineered to provide easier and faster launch for increased distance and a bit more forgiveness on off-center hits.
"The heritage really started with the MC Lady in the late 90's," said Mellow. "The target audience for the Lady Precept is still the same, but the gradational core technology, design, and overall performance has improved significantly over the years."
The 2-piece Bridgestone Lady Precept is available now with a street price of $19.99 per dozen. In addition to the classic white version, the Lady Precept is also available in Optic Pink. For help selecting which premium Bridgestone model is the right ball for them, consumers should try Bridgestone's VFIT for a free video ball-fitting consultation.
RZN Golf Balls
Nike Golf balls are back without the iconic Swoosh!
If you were a Nike golf ball devotee and wanted to play the ball Tiger and Rory played, know this: In January 2020, at the PGA Merchandise Show in Orlando, Florida, RZN Golf relaunched the line of the RZN Technology golf balls to the U.S. market.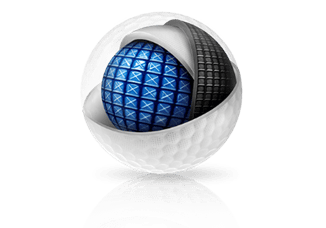 These golf balls, with RZN Technology, were co-developed and manufactured for NIKE by Feng Tay.
Since NIKE made its strategic business decision to transition out of golf equipment in August of 2016, Feng Tay purchased all the patents and trademarks to the RZN Technology and made a commitment to take over the production of golf balls.
They are now the owners of RZN GOLF brand and all proprietary golf ball technologies and will continue the RZN legacy with their Revolutionary technologies, Zealous in the pursuit of perfection, and dedication to Nature-caring
.
From 2011 to 2016, golf balls with RZN technology helped elite golf athletes claim more than 50 wins in professional golf tours around the world (PGA Tour, LPGA Tour, PGA European Tour, Ladies European Tour….), including 4 majors.
So what exactly is RZN all about? These are RZN's USPs (Unique Selling Proposition)
Compared with rubber core, resin core is lighter and faster.  Applying resin core to ball design not only enhances the ball performance in many ways, but also helps the nature-caring with fully recyclable materials.
High MOI (moment of inertia): A feature only for balls with resin inner core + rubber outer core, such as RZN Pro and RZN Distance. This technology grants the ball with a piercing and stable flight, especially in windy conditions.
SPEED LOCK CORE – 3D texture to maximize contact surface for better energy transfer and longer distance.
SPEED LOCK MANTLE – 3D texture on a mantle surface to maximize energy transfer for higher speed in all shots. The Mantle has more contact area with cover = Mantle grabs cover better for more greenside spin.
MICRO DIMPLE SURFACE – A. 13,558 micro-dimples on the entire ball surface. B. Reduces air drag and enhances carry distance.
ANTI SLIP URETHANE- the soft TPU cover enhances grip and control in wet conditions.
RZN HS-TOUR
RZN Tour is a four piece golf ball with soft urethane cover and a 3D resin outer core manufactured with state of the art technology of the RZN Brand. It's designed to provide Tour level spin control without sacrificing distance. A ball targeted for High Swing speed players. $34.95
RZN MS-TOUR – SOFT & POWERFUL is RZN's EASIEST PLAYING TOUR BALL FOR ALL SWING SPEEDS – RZN MS-Tour is a three piece tour performance golf ball with soft urethane cover and 3D speed lock technology. Designed with state of the art technology of the RZN Brand. Expect a soft and powerful tour ball targeted for Medium Swing speed players. Also available in Optic Yellow. $29.95
RZN DISTANCE – SPECIAL RESIN CORE FOR A PURE DISTANCE BALL – RZN Distance is also a three piece golf ball with a resin core and high resilient ionomer cover manufactured with state of the art technology of the RZN Brand. It's designed to maximize distance with effortless swing while keeping a soft feel of the ball. $19.95
RZN SPEED – SOFT AND EASY PLAYING GOLF BALL PROVIDED WITH
GOOD DISTANCE AND A HIGH FLIGHT TRAJECTORY – RZN Speed is a two piece value performance golf ball with low compression and ionomer cover. The wide diameter core is formulated with balanced rubber compositions for good distance and soft feel, making RZN Speed an overall easy playing golf ball.  $11.95
Srixon's new Z-STAR golf ball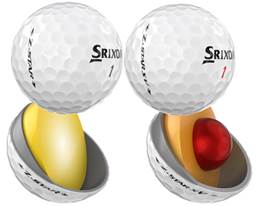 Aside from a full range of golf clubs, golf balls, and accessories, Srixon has introduced their newest golf ball, the Z-STAR and Z-Star XV.
Srixon's Z-Star 2021 family is the seventh generation for this line of golf balls and includes the 3-piece Z-Star and 4-piece Z-Star XV with both having enhanced spin plus more ball speed from a gradational density core.
The Z-Star is softer, lower compression, and is higher spinning around the greens for those critical scoring shots than the Z-Star XV, but expect the mid to high trajectory XV to be longer than its stablemate. Srixon says each have low spin off the driver and both use Srixon's FastLayer Core which, if you are not familiar with it, is softest in the center becoming firmer towards the edge.
"The new Z-STAR and Z-STAR XV golf balls are specifically designed for better players and they feature advanced technology to add performance from tee to green," said Jeff Bunski, Vice President of Research and Development. "The Z-STAR XV is played by some of the longest hitters on professional Tours around the world, and this new generation features a reformulated inner core to add even more distance. The new Z-STAR produces the highest green-side spin of any ball in our line-up, thanks to its super soft urethane cover and Spin Skin coating."
Srixon Z-Star golf ball specs:
The ball is a 3-piece, 90 compression ball using a 0.6mm urethane cover with 338 dimples that employs
Srixon's Spin Skin urethane coating and FastLayer Core.
White or yellow is available.
$42.99 dozen
Srixon Z-Star XZ golf ball specs:
The ball is a 4-piece, 102 compression using a 0.5mm urethane cover also with 338 dimples that employs the same Spin Skin urethane coating and FastLayer Core as the Z-Star.
White or yellow is available.
$42.99 dozen      https://www.srixon.com/
Part Two will be published next month.
Barry Lotz, J.D., Ph.D. is the director of the Professional Golf Teachers Association of America. He is a member of the Golf Writers Association of America, the California Golf Writers Association, and serves both as a Consultant and Mediator to the golf industry. He is also the author of numerous books, including "333 Best Web Sites for Golfers", "How to Build Business Relationships through Golf" which is in the Top Ten Golf Business Book's bestseller list. His latest book," The Right Mind for Golf is now in its 10th printing. He currently works with 14 Tour Players on mental coaching and scoring techniques.
He can be reached at www.pgtaa.com  or   drlotz@cbsgolf.net