The most Iconic Golf Clothing Brand in Golf – FootJoy
 "FootJoy, the #1 Shoe and Glove in Golf and the leader in on-course Apparel"
FootJoy is synonymous with style, quality, elegance and durability.
FootJoy comes under the umbrella of Acushnet Holdings Company, which also owns Titleist and Scotty Cameron. Acushnet acquired FootJoy in 1985.
FootJoy is a golf clothing company based in Massachusetts and founded in 1857. Acushnet Company's primary brands are FootJoy, Scotty Cameron, Titleist and Vokey. Not only is Acushnet steeped in history, their product lines are packed with technology.
Acushnet employs roughly 3000 people in Massachusetts, making it one of the largest employers in the region. It is headquartered in Fairhaven, Massachusetts alongside its Packing and Distribution Center about three miles (five kilometers) south of its original location.
They also have two golf ball manufacturing plants and an R&D Technology Center located in the New Bedford Industrial Park, as well as a Custom Golf Ball plant located in New Bedford.
FootJoy products include athletic shoes, golf gloves, clothing (shirts, shorts, pants, socks, sweaters, jackets, hoodies,), and accessories (bags, gloves, caps, umbrellas).
Professional golfers such as – Justin Thomas, Adam Scott, WebbSimpson, Bernd Wiesberger, Jason Dufner, Rafa Cabrera-Bello, Ian Poulter, Max Homa, and countless others around the world have trusted FootJoy for many years with good reason. Many pros forego sponsorship/ contracts with other companies to wear FJ apparel.
FootJoy knocked the ball out of the park when 2003 they introduced a customization platform for their golf shoes called MyJoys. MyJoys are still one of the most popular and comfortable shoes available. FootJoy's Pro|SL and FLEX are amongst the most popular FootJoy shoes offered. FootJoy continues to be the #1 golf shoe in Golf.
Starting from the ground up, these are the products we tested and highly recommend:
HyperFlex BOA Golf Shoe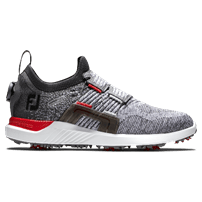 These awesome looking, modern golf shoes are designed to be waterproof and enjoy a 2-year waterproof guarantee. The breathable mesh is lined with a waterproof membrane barrier for complete protection and breathability in any weather condition.
A precision fit is provided by the asymmetric WRAPID configuration which creates a highly flexible and stable shoe, delivering an unparalleled precision fit with a reduction in pressure on the top of the foot. The super-soft ribbed knit cuff delivers a snug, no-slip fit.
Limited to just 3 colors and even less laces than most of FootJoy's shoe line, these "Avant Garde" shoes perform extremely well and are so marvelously comfortable. Currently available only in men's sizes. Extra wide is available.
Lastly, the HyperFlex Boa is designed to absorb shock for max walking comfort and also maximizes energy return to reduce walking fatigue. The HyperFlex is also available without the BOA system. ($149.99)
$179.99
Premiere Series – Packard BOA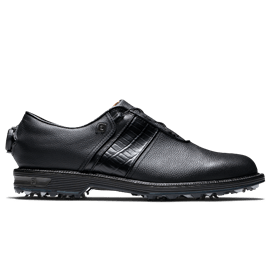 Using premium full grain Pittards leather, full leather linings and the BOA System, the Packard BOA also features the VersaTrax+ outsole.
The VersaTrax+ outsole is engineered with traction elements to create an outsole that is perfect for on course performance with wear-to-the-course versatility. Translucent rubber traction elements offer a high end look and feel while maximizing traction with each step you take. The unique anti-channeling traction pattern is designed for grip from any lie or angle.
The Packard offers unparalleled beauty, fit, and resistance to stretching. Calfskin leather detailing delivers an iconic look for players with a discerning sense of style.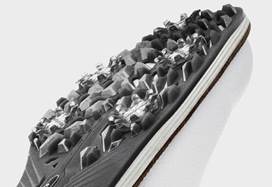 As for the type of cleat used in the shoe, the Fast Twist 3.0 cleat system with Pulsar LP cleats is the insert system of choice. The Fast Twist system was the first ever 3-click insert system on the market. The locking post design secures each cleat with consistent torque for balanced performance.
Multiple durometers of TPU (thermoplastic polyurethane) in the Softspikes Pulsar cleats provide traction characteristics targeting different types of surfaces. Harder TPU elements are for ultimate on-course grip, and softer TPU for traction on harder surfaces.
The Packard's advanced materials and custom in-shoe technology deliver a next-gen performance golf shoe. A firmer density cup around the heel provides perimeter heel support and stability through the swing. And the latest OrthoLite EcoPlush FitBed is a custom cushioning system designed to limit walking fatigue for all-day comfort and performance.
Sizes range from 7-15 and is available in extra wide.
$229.99
FJ ProDry Lightweight Crew Socks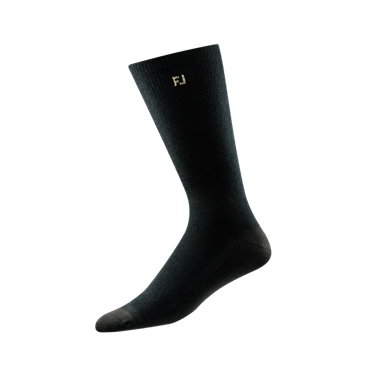 OMG! These are without doubt the most comfortable socks I have ever worn! Use every day for ultimate comfortability – golf, or no golf!.  Made with 46% Acrylic, 36% Polyester, 12% Nylon and 6% Spandex. Care tip – toe nails need to be trimmed both for comfort and to avoid holes!
The cushioning on these socks make you feel you are walking on air. There is a double-layered durability in the heel and the Comfort Seam Toe Enclosure makes for a cozy, smooth fit.
On the golf course, the ProDry golf socks with DrySof Technology wicks moisture off your skin, allowing for a drier, more enjoyable sock.
Available in sizes 7-12.   $11.99
You should also try the FJ TechSof Tour socks. Made with 46% Acrylic, 36% Polyester, and 12% Nylon, and 6% Spandex. This sock has many of the advantages of the ProDry but also includes a Complete Arch Support that conforms to your foot and has target cushioning in both the ball and the heel for added comfort. TechSof Tour golf socks offer anatomically shaped foot-beds which provide enhanced cushioning in targeted areas of high impact.
These socks are made from 36% Polyester, 33% Acrylic, 26% Nylon, and 5% Spandex. They will fit slightly tighter than the ProDry socks.
I really like the fact that each sock is marked "Left" and "Right". Most socks do not offer this labelling. A classy touch.
Available in 4 colors    $13.99
FJ Solid Lisle Soft Color shirt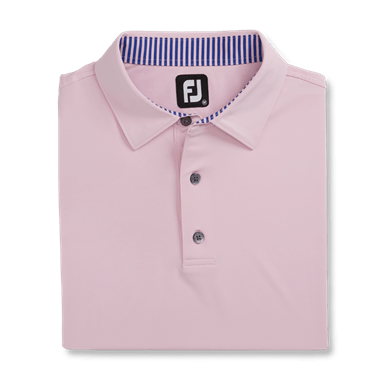 A classic golf shirt if there ever was one. You know when you see a FootJoy shirt. They are that discernible. ProDry® Performance men's golf shirts from FJ are the ultimate high-tech performance garment to wear on the course. Key elements of PRODRY technology are a four-way stretch, anti-microbial, UV protection with moisture wicking fabric that is breathable.
These shirts are 88% Polyester and 12% Spandex. They feel so good!
Offering contemporary styling with UV sun protection and easy care fabric, these golf shirts for men wick moisture away from the body and regulate body temperature keeping you cool and dry.
Even after numerous washings, the shirt still looks brand new.
Available in 15 colors.
$65.00
FJ Performance Golf Slacks aka Trousers or Pants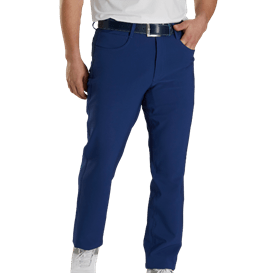 If you are always looking for great long golf pants that make you look good, are so comfortable, and last more than a season, then FootJoy's 5-Pocket Pants are the ones for you.
This is the best $95 you will spend for a pair of pants! They ensure a comfortable fit, superior movement, and breathability.
FJ pants feature flat front styling and two side pockets with generous depth for golf use. And the Jean style pockets are located on the front and back to provide easy access, comfort and warmth for your hands.
The fabric composition, like the aforementioned shirt, is 88% Polyester and 12% Spandex.  This allows for extreme comfort, and the four-way stretch of this performance fabric allows a complete range of motion during the swing, or when bending down to putt or pick up the ball.
These slacks come in eight colors and offer an easy to care for fabric that avoids wrinkling, fading or shrinkage.
$95.00
FootJoy Full Zip Knit Vest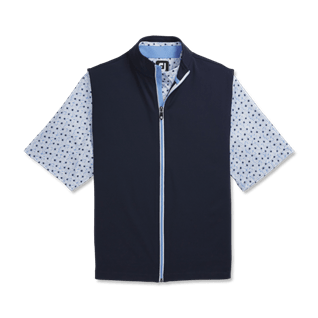 This machine washable, antimicrobial based technology filled vest is a real "classy" and great looking product.
The vest features FootJoy's exclusive ProDry fabrication which provides superior moisture control that quickly wicks away moisture, keeping you dry and comfortable.
The Double Stitched Seams offer added durability, while the lock stitched hem provides reinforced construction with a tailored look.
 The vest is finished with an embroidered FJ logo on the back neck and is made from 86% Polyester and 14% Spandex.
Available in 4 colors to match any of your outfits, this vest is ideal for March/April climates in Southern California particularly. It is a warm layering piece perfect for early season wear .The fit is true to size, athletic looking, and the fabric has some give to it, allowing for ease of play.
Sizes are available from Small to 2XL.
$95.00
FootJoy Customer Support
Dealing with many customer support operations, whether it is golf related or any other category whatsoever, FootJoy is an absolute "joy" to work with. They go more than the extra mile, they go an extra 5 miles! With competent staff like Jason Connors, I want to buy more products from Acushnet.
Barry Lotz, J.D., Ph.D. is the director of the Professional Golf Teachers Association of America. He is a member of the Golf Writers Association of America, the California Golf Writers Association, and serves both as a Consultant and Mediator to the golf industry. He is also the author of numerous books, including "333 Best Web Sites for Golfers", "How to Build Business Relationships through Golf" which is in the Top Ten Golf Business Book's bestseller list. His latest book," The Right Mind for Golf is now in its 10th printing. He currently works with 14 Tour Players on mental coaching and scoring techniques.
He can be reached at www.pgtaa.com  or   drlotz@cbsgolf.net