These 3 products are going to improve your Golf Game. 
As technology continues to evolve, the latest releases of these products will help improve your scores and enjoyment of the game.
Irons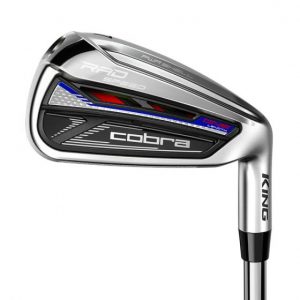 Why make life difficult when you can use one swing for all your irons. The biggest advantage of single–length irons is that they make the game easier to learn. Because the clubs are the same length and weight, beginners aren't having to learn a series of different swings.
For good players, the consistency that single–length clubs afford is undeniable, especially after the learning curb has been mastered.
Cobra KING RADSPEED One Length Irons
I just absolutely love these irons. They "de-stress" me just thinking about them!
As a firm proponent of simplification of all things possible, mainly life, controlling stress, deep breathing to mention a few, I wonder why golfers, in this instance, do not subscribe to one length irons. One set up, one swing, that simple.
A ONE Length set configuration allows golfers to utilize one, repeatable setup and swing from their hybrids to their wedges. This results in increased confidence and more consistency from every distance to the pin.
The KING RADSPEED ONE Length irons feature cutting-edge technologies that make them even easier to hit and more consistent than ever before. Each iron has been reengineered to match 7-iron length (37.50") and weighting to dial in optimal feel and performance through the set. The distinction between normal RADSPEED irons versus RADSPEED One Length irons is that the sole width is wider in long irons (4-6) and traditional in short irons and wedges.
Cobra uses a forged PWRSHELL face insert made of thin 17-4 stainless, which is designed to increase flex on the face and the sole for faster ball speed and higher launch.
Both RADIAL WEIGHTING is included in the irons, and the first-ever 3D printed medallion to create Cobra's longest, fastest, and most forgiving ONE Length irons.
For those golfers who prefer a hybrid in their set make up, there is a KING RADSPEED One Length Combo set consisting of one hybrid and six irons ($1,099.00)
Every Cobra club also features a 90-day free trial of COBRA CONNECT, a technology by Arccos Golf that supplies automatic shot tracking via an A.I. platform that features, Arccos Caddie Rangefinder, Smart Distance Club Averages, Stroke Gained Analytics and Caddie Advice to help all golfers make smarter decisions, improve faster and shoot lower scores.
Steel (KBS) or Graphite (UST Recoil) shafts are available. My personal preference in shafts, and the majority of those in our testing group, were totally enamored with the Graphite Design Tour Ad AD-55 iron shafts.
$899.00              www.cobragolf.com
Graphite Design Shafts
Graphite Design is the one shaft that I have recommended to my Tour players, PGTAA members and consumers. Graphite Design's shafts are a perennial winner on all the Tours.
One of Graphite Design's most popular shaft is the Graphite Design Tour AD IZ – "Into the Zone", designed and manufactured at the Graphite Design Japan factory headquarters, has a very stealthy look to it in black with white/orange accents and a sleek new matte finish. 


The Tour AD IZ shafts are available in 40g R2, R1 and S flex, 50g R2, R, S and X flex, 60g SR, S, X and TX flex, 70g S, X and TX flex and 80g S and X flex. 
The Tour AD IZ, like all of the premium Tour AD wood shafts, utilizes aerospace quality 50t carbon-fiber materials in order to deliver the best feeling and performing shaft available to golfers.
The Tour AD IZ shaft has a firm stiffness starting at the handle, and medium center section and a firm+ tip profile to promote a high launch angle and low-ball spin rates. The Tour AD IZ also utilizes TORAYCA ® T1100G carbon-fiber pre-preg with NANOALLOY ® technology in the tip section of the shaft for additional shaft stability, exceptional feel and precise ball control. 
On Tour, Graphite Design shafts recorded 37 Global tournament victories in 2020 and have helped numerous golf professionals earn well over 375 victories and multi-millions of dollars in prize money since inception.  Graphite Design continues to be the most dominant, #1 shaft brand on the Japanese JGTO Professional Tour for the past seventeen years. 
Edison Custom Fitted Wedges
Wedges are critical to your scoring ability.
Next to the putter, golf wedges are the most efficient weapons to improve your short game. Golfers can reduce their handicaps significantly by being fit for course conditions and being custom fitted.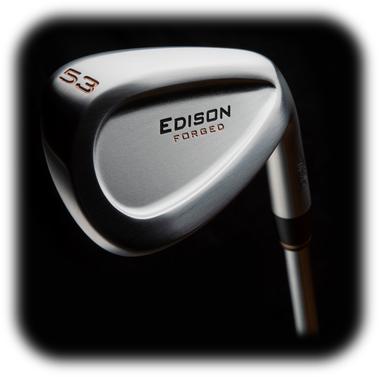 Edison Golf, owned by the "Disruptor in Chief" of the wedge industry, Terry Koehler (Merit Golf, Eidolon, SCOR and Ben Hogan fame), was created to bring this knowledge and expertise to all golfers and to make wedges that fit the golfer's swing, not fit the swing to the club that they have purchased.
It is estimated that 75% of shots during a round are played within 100 feet of the pin. As a consequence, over the past decade, wedges have become increasingly sophisticated, and dexterity with these instruments will certainly both lower your score and add to your enjoyment of the game.
Many golfers, including pros, now carry 2 to 4 wedges in their bag, yet what sets them apart is their mastery, through practice. The pros spend hours every day honing their skills with their wedges. The key for them is knowing their distances with each wedge.
Grooves in irons channel moisture and grass away from the club surface, thereby allowing for better, cleaner contact with the golf ball much like treads on a tire.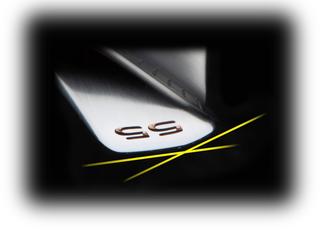 Bounce is where the trailing edge of the wedge sits below the leading edge at the address position. Generally, for tight lies such as those found in the deserts of Arizona and California, lower bounces are more desirable, whereas fluffy lies (Kikuyu grass) require more bounce.
The Edison Forged wedges feature the most recent iteration of the patented "Koehler V-Sole", which has been earning a loyal following for nearly 30 years. 
The "One Sole Grind Option" is where the main rear portion of the sole has a low bounce so it can handle tight lies, firm turf, and shallow swing paths. Conversely, the leading portion of the sole has a high bounce so that same wedge can handle softer lies and steeper swings.
Low handicaps may prefer a little less bounce (around 8). This enables a low handicapper to judge shots more accurately from all sand conditions. However, it requires more skill to benefit from the low bounce – you must be able to hit the selected spot behind the ball with good precision, especially in softer sand where the sole will not slide that easily.
Edison heads are engineered to odd numbered lofts because they launch lower and fly further than typical 'tour design wedges of the same loft.  Edison can deliver even-numbered lofts by bending the lower number to one degree weaker.
As I have previously written, and again, without fear of contradiction, a custom made club will deliver superior performance and will reduce your score.
After the putter, wedges are the next most important clubs in a player's bag and the most difficult to fit properly.
It should be noted that "Tour Design" wedges aren't forgiving. A ½-inch miss can be up to 52 feet short!
On the other hand, Edison's USP's (Unique Selling Proposition) is that Edison Forged Wedges put you 31 feet closer- over twice as accurate as what is in your bag, and the versatility of their wedges is unmatched in the wedge industry.
According to Terry Koehler "Our name — Edison Golf — was inspired by the relentless inventor Thomas Edison.  He was noted for his dogged pursuit of making lives better, and while we don't aspire to changing the world as he did, we do believe we can change golf games for the better.  Our mantra of "Bold ideas. Better golf shots." reflects by our commitment to challenging 'conventional wisdom' where it doesn't serve you best."
Most fitters do not have a clue how wedges work and all but a few amateurs know what their wedges should look like with regard to bounce and grind.
Edison Wedges personifies the innovative thinking and relentless attention to detail and powers the new Edison wedge to achieve even better results for golfers of any ability.
From personal experience, my wedge play with Edison wedges has improved dramatically. What I really like is the way the wedge feels, sets up, and the confidence I feel over each shot. The buttery feel and dart-like accuracy is a beautiful thing to experience!
What impressed our testing group the most was the versatility and forgiveness of the wedges. Additionally, they all were enamored with the graphite shafts as they just felt "more comfortable" and had a tighter dispersion rate – dart-like accuracy, over their steel shafted gamer wedges.
Edison Wedges offer one of the best guarantees available in the golf industry – "if you don't like your custom made wedges, they will buy them back!"
A set of three Edison Forged wedges – Matched sets, sell for $537.00. Individual wedges for $179.00.
Barry Lotz, J.D., Ph.D. is the director of the Professional Golf Teachers Association of America. Visit www/facebook.com/PGTAA to see all the latest mental strategies and equipment reviews. He is a member of the Golf Writers Association of America and serves both as a Consultant and Mediator to the golf industry. He is also the author of numerous books, including "333 Best Web Sites for Golfers" and his previous book, "How to Build Business Relationships through Golf", is still in the Top Ten Golf Business Book's best seller list. His latest book, "The Right Mind for Golf", is now in its 10th reprint is available on Amazon and at the Torrey Pines golf course shop. In the works is "The Right Mind for Putting", due out in early 2022.
He can be reached at drlotz@cbsgolf.net