Two Outstanding Putters that will definitely lower your Putts per Round
Putters are the key money makers at Tour level, and all the major companies pay big bucks to have a Tour player use their putter (Odyssey, Scotty Cameron, PING, and Taylormade), yet smaller companies (Axis, DirectedForce, SIK, Bettinardi, and SeeMore) all have a small presence on Tour.  Always remember that with putters, different grips, weighting and shapes affect the putting stroke, so get fitted for your putter.
Axis1 Rose Putter.
This is an excellent putter regardless of your age, and it will definitely reduce your putting strokes. Axis putters are 100% perfectly balanced and Torque free.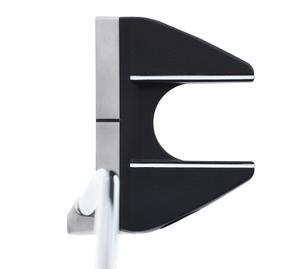 The Axis1 Rose is a 350 gram, CNC milled head made from 303 Stainless Steel with a ceramic bead blasted finish. It has a loft of 2.5 and a lie angle of 69 and uses a stainless steel shaft.
Axis1's patented unique technology places the center of gravity exactly in the center of the striking face and in-line with the Axis of the shaft creating a perfectly balanced putter. The putters remain square at address, do not rotate throughout your swing and will not twist upon impact with the ball, delivering a smoother and more accurate stroke.
Because Axis1 putters are perfectly balanced, they don't naturally open-up, resulting in more on-line putts and lower scores.
Luis Pedrazza, the inventor/designer, accomplished this unique feat by pushing the weight forward with a patented heel counterweight that, for the very first time, places the center of gravity right on the center of the striking face and aligned with the axis of the shaft.
Our testing group all came to the same conclusion; these putters perform and that all the Axis putters that were tested make it effortless for golfers to deliver a square putter face at impact. All the golfer needs to do is pick the right line, the right speed, and execute your natural stroke.
Axis just recently introduced the Axis Tour-HM – a putter that swings like a blade putter, but has the alignment benefit of a mallet putter.
Both the Axis 1 Rose and the Axis1Tour – HM retail for $449.00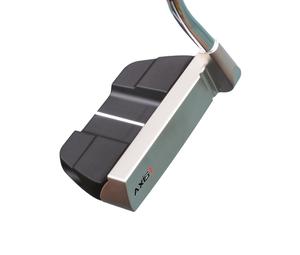 Axis currently has 9 putter models – all of which can be seen at www.axis1golf.com.
SIK Pro Putter
SIK (Study in Kinematics), the putter made famous by Bryson DeChambeau, features three of the most desired components of a great putter – feel, roll efficiency and stability. It inspires confidence.
SIK putters are 100% CNC milled from 303 Stainless Steel bars. So EVERY putter SIK makes is the same as Tour players receive.
All SIK putters are made to spec. This means SIK does not pre-build putters. The putter you choose is built for you. SIK makes custom putters, and as a result, all their putters are built to order. Simply stated, SIK starts with a raw steel head, which is then configured with a raw steel hosel and bead blasted, hand painted, shafted, specs adjusted (loft and lie), and then cut and gripped.
The DW is basically the Pro aesthetic (classic Anser style) from address, with double the width. This allows for the advantages of a mallet (MOI) with the look of a blade. The head weighs 390 neck. 
Their USP (Unique Selling Proposition) is their DLT Technology (Descending Loft Technology) milled face technology. It really works! There's a four degree change in loft from the top (which has the most loft at 4 degrees) to the bottom (which has the least loft at 1 degree). 
DLT delivers consistent launch angles regardless of shaft lean at impact which leads to more consistent and predictable rolls.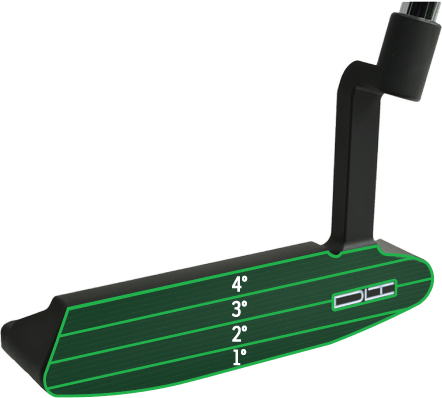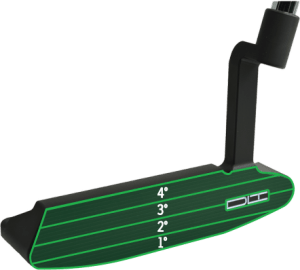 When your shaft is pressed at impact the ball contact will be higher on the face, same is true in reverse. DLT delivers consistent launch angles from putt to putt which lead to more consistent and predictable rolls. 
Simply, DLT is basically a self-correcting putter. Our testing group were most impressed with the quality, the feel, and the aforementioned consistency and predictable rolls they experienced while putting, using their personal putting stroke.
SIK putters are available in blade, mallet, and high MOI blade designs.
SIK heads are available in Plumber's Neck, Slant Neck, or Post Neck (Double Bend). Satin and Matte heads are available.
Due to the high demand and custom nature of their putters, the Satin Heads have a 3-4 week build time and the Matte Black Heads have a 4-6 week build time. The new Matte Black finish is applied in the USA and is exceptionally thin, so it does not affect the face grooves or DLT Technology in any way. The finish also does not change impact feel, so players can choose from the traditional chrome or Matte Black options freely without consideration of performance impact.
Bryson's Arm Lock putters are also available. For additional details on all SIK putters, besides visiting their website, you can email SIK at info@sikgolf.com.
$399.00 – $605.00     www.sikgolf.com