Wedges Are Critical to Your Scoring Ability
Get Custom Fitted and Reap the Benefit
Next to the putter, golf wedges are the most efficient weapons to improve your short game. Golfers can reduce their handicaps significantly by being fit for course conditions and being custom fitted.
The best way to optimize spin is to improve how the face makes contact with the ball.
It is estimated that 75% of shots during a round are played within 100 feet of the pin. As a consequence, over the past decade, wedges have become increasingly sophisticated, and dexterity with these instruments will certainly both lower your score and add to your enjoyment of the game.
Many golfers, including pros, now carry 2 to 4 wedges in their bag, yet what sets them apart is their mastery, through practice. The pros spend hours every day honing their skills with their wedges. The key for them is knowing their distances with each wedge.
Grooves in irons channel moisture and grass away from the club surface, thereby allowing for better, cleaner contact with the golf ball much like treads on a tire.
These new wedges from Callaway, Cleveland, and Honma, make it very easy for you to find the perfect wedge for your game and provide "dart thrower" results.
Callaway Jaws MD5 Wedges
Callaway's new and good looking Jaws MD5 wedges have been designed for those golfers looking for a little confidence boost around the greens.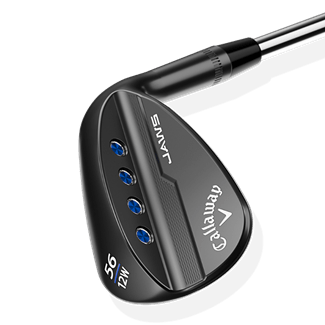 Made of 8620 soft carbon, JAWS MD5 wedges come in 23 different loft/bounce combinations with 5 distinct grind options: C-Grind and New Low Bounce W-Grind feature 8º of bounce. The S-Grind features 10º of bounce and X-Grind and W-Grind feature 12º of bounce. Also available in women's specific models: 52º, 56º and 60º all in the W-Grind.
With the range of bounce and grind options, it makes finding the perfect wedge to suit your game extremely easy. JAWS wedges are available in 10 color zones and new medallion paint-fill color options. Stamping choices, gives golfers more ways than ever to personalize each wedge and make it their own.
These wedges perfom! Don't get carried away with comparisons to a conventional blade-style wedge.  Optimized head-shaping progresses from traditional shaped lob and sand wedges to a compact player preferred design in the gap, and pitching wedges for a seamless transition into an iron set.
According to Roger Cleveland, Callaway's chief engineer, "The spin you get from the JAWS Groove is remarkable! It's all about the trajectory and control from the added spin – JAWS is absolutely the perfect name".
The JAWS MD5 spin rate is even better than its previous model. Each JAWS groove is rendered to the tightest tolerances Callaway has ever achieved, promoting consistent spin rates from shot to shot. Our testing group absolutely loved the trajectory that the new wedges offer with full shots. They all agreed that you could really dial shots at the flag knowing that the ball was going to stop quickly and consistently.
Callaway's proprietary new JAWS groove is designed to a 37º wall angle, an extreme difference vs. the 5º used in the MD4 series which elevates the groove-edge sharpness to a new level for maximum grip and spin from all types of lies. JAWS grooves are particularly effective from 80 yards and in, producing a player preferred "one hop and stop" trajectory.
JAWS MD5 also incorporates Callaway's proven Groove-In-Groove Technology. These milled Micro-Positive grooves are placed in the flat parts of the face for added surface roughness and grip. Three raised micro-ridges are featured between each groove, adding grip to the ball's cover to increase spin on a variety of shots. This combination of JAWS grooves, plus micro-grooves, provides 84 different contact points to promote more spin.
According to our testing group, the strike feels extremely pure on full-length shots and they loved the extremely responsive feel from short chips around the green.
Our testing group was further enamored with the amount of spin that was generated out of the rough. Though not as controlled as a flushed shot off of the fairway, they felt that you could be rather aggressive out of the rough and still manage a good amount of control.
Lofts of 46˚, 48˚, 50˚, 52˚, 54˚, 56˚, 58˚, 60˚ are available in both Chrome and Tour Grey finishes
$159.99                  www.callawaygolf.com
Cleveland RTX ZipCore Wedges
Cleveland has held nothing back with its new RTX ZipCore wedges.  New are three finishes, three different models, three soles, new face technology, and a relocated sweet spot, providing the golfer new technology and plenty of options.
It's USP (Unique Selling Proposition) is that the CG (Center of Gravity) is just 1.4mm from the center of the face and also a little higher positioned. This results in more shots hitting that sweet spot, leading to better feel and feedback, right alongside a lot more spin and distance control consistency as well.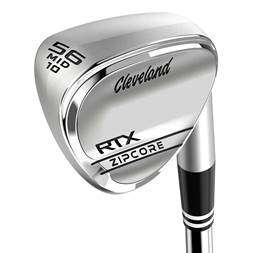 The RTX ZipCore wedge is both radically new and ultra-familiar. Its new core has unlocked design freedoms pushing the performance beyond any wedge in Cleveland Golf's history. Yet, the RTX ZipCore maintains that sleek, yet traditional design that is familiar and inspires confidence at address.
ZipCore features an aluminum-silicate compound. This compound is not a metal, but rather an engineered compound that has a low-density (about 4-times lower than steel) and an extremely high melting point. It's located within the lower hosel and heel area of the clubhead.
Cleveland's design team removed the heavy, stainless steel at the heart of the new RTX ZipCore wedge and replaced it with a very lightweight core instead.
Each groove is closer (7.4%) so there's two more grooves per face. The grooves are also deeper (7.4%) so they're better at channeling away debris, as well as being 11% sharper to maximize spin on every single shot.
The ZipCore's new grooves are more durable. The heat treatment process during production rearranges the head's grain structure improving durability. Its resistance to twisting (MOI) on high to low impacts is 9% higher than the company's previous RTX 4 model.
Bottom line is that your new grooves stay sharper for longer.
Our testing group found the spin-rate varies from 200 RPM to almost 1000 RPM depending on loft and shot-type. Hitting high spin shots were effortless. They found that on retaining spin, or on less-than-perfect shots, the new RTX ZipCore wedges performed exceedingly well.
ZipCore wedges come in three sole grind options (low, mid- the most popular, and full sole), but if that's not enough, and you want to add extra toe, heel or trailing edge relief like a tour pro, a new custom Tour Rack service will soon be available. Cleveland craftsmen will customize any Tour Rack Raw head for you.
The standard shaft is the Dynamic Gold Spinner Tour issue.
Lofts are available in 46°, 48°, 50°, 52°, 54°, 56°, 58°, 60° and 62°
$149.99                   www.clevelandgolf.com 
Honma TW-W Wedges
Designed to mirror the TW737 iron sets, the TW-W Wedge helps line up for loft and bounce to equip the serious golfer with every style of play.
T//World wedges are beautifully crafted performance products that deliver feel and precision. T//World W4 wedges are progressively designed from loft to loft for scoring and shot-making.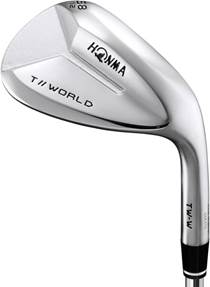 A soft iron-forging method of manufacturing delivers exceptional feel on impact to help promote a level of confidence and comfort. The entire face features a blast finish to help golfers visualize that more of the face can be used in order to maximize technique and performance. The blast finish also reduces glare reflecting off the club face, allowing for more focus on shot making when it matters most.
The wedges feature an I-Sole and a C-Sole. These two sole grinds deliver clean turf interaction and impressive versatility around the green. Specifically, I-Sole designs are in lower lofts (48°, 50°, 52°, 54°).
C-Sole designs are in higher lofts (56°, 58°, 60°) which feature a crescent shaped sole with heel and toe relief for versatility around the green. The CG is positioned higher in the higher lofts for trajectory control, while the lower lofts offer a deeper CG for a solid feel on full shots.
A classic teardrop shape with a long hosel and a special grind to flatten the sole on the higher lofts (56° and 58°) is featured, enabling precise control on the shortest grass. The wedge uses the soft-cast Nippon NS PRO Modus 125 and has a chrome mirror finish.
Like all Honma clubs, the TW-W is hand-built to order in Japan, where each head is finished, measured and balanced by hand – hence the price.
Our testing group really liked the buttery feel of the wedges and the ease of getting out of a bunker with these wedges in particular.
The wedges feature Honma's TW rubber grips.
Right-Handed and left -handed lofts in lofts of 48°, 50°, 52°, 54°, 56°, 58°, 60°
$149.99                         https://us.honmagolf.com/
We used two balls during out testing:
The Volvik XT Soft, a 3-piece urethane covered, soft compression (70) ball with Volviks's V*A*S (Volvik Alignment System).
With the wedges used, our testers liked the feel and responsiveness the ball offered, especially on chips around the green.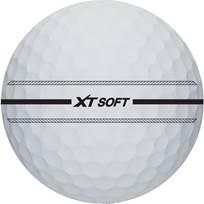 The Volvik Alignment Tracking System is aligned perpendicular to the Brand Stamps on each side of the ball.
Our testing group also found that they were picking up yards off their drives and loved the tracking markings when putting.
FYI, according to Volvik, the XT Soft alignment system is slightly different than Callway's Triple Track because Callaway has 3 solid lines which are blue and red, while the XT is just a black print and the outer two lines are slightly faded or not fully colored in. Volvik also states that this helps with it not being so straining on the eyes when you are staring down for so long. Volvik claims that it's a better contrast as well.
$37.99 and available in white and yellow.    www.volvik.com
Bridgestone Tour B Balls
We also tested Bridgestone's new TOUR B golf ball family which features the brand's new REACTIV cover technology, an innovation they teamed up with 15-time major champion Tiger Woods to bring to market.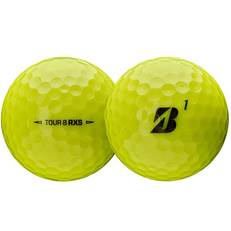 REACTIV is golf world's first ever SMART urethane – using "impact modifier" to deliver a shock absorbing soft cover on slow impact shots for more spin and control, and high resilience on high impact shots for more power and distance.
The material reacts differently depending on the force of the impact. In essence, on the violent impact of a driver, REACTIV rebounds quicker than other urethane covers, generating more ball speed and longer distance.
On the softer touch and feel of wedge shots, REACTIV keeps the ball on the face longer, allowing golfers to impart more spin and have better control in the short game.  Our testers really liked the consistency of the Tour B RXS for their short game.
$39.99 per dozen available in TOUR B XS and TOUR B X versions for swing speeds greater than 105 mph, and in traditional white and optic yellow in the TOUR B RX and TOUR B RXS models for swing speeds less than 105 mph.
Both Vokey and Taylormade wedges will be covered at a later date.
Barry Lotz, J.D., Ph.D. is the director of the Professional Golf Teachers Association of America. He is a member of the Golf Writers Association of America, the California Golf Writers Association, and serves both as a Consultant and Mediator to the golf industry. He is also the author of numerous books, including "333 Best Web Sites for Golfers", "How to Build Business Relationships through Golf" which is in the Top Ten Golf Business Book's bestseller list. His latest book," The Right Mind for Golf" is now in its 9th printing. He currently works with 14 Tour Players on mental coaching, putting and scoring techniques.
He can be reached at www.pgtaa.com or drlotz@cbsgolf.net