The Holiday Season is upon us, so I've put together some ideas for products that would make great gifts for golfers. I've included several products ranging in price from $8.99 – $620.00. Part Two will appear in November's issue.
Hook + Gaff Watch Company
Hand-assembled by expert watchmakers in the Carolinas, each Hook + Gaff timepiece is meticulously manufactured to be reliable in the most adverse conditions.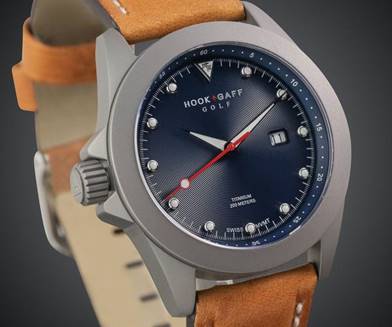 Utilizing durable materials like scratch-resistant sapphire and lightweight titanium, Michael Sims, Hook + Gaff's inventor and president of the company, has created a stalwart timepiece to keep you on course (excuse the pun) through the toughest conditions, while exuding a classic aesthetic.
One of the watch's USP (Unique Selling Proposition) is the left-side crown placement. This is a brilliant idea itself. Placing the crown in this manner will avoid wrist irritation, and the crown will not to get in the way of your swing.
The scratch resistant sapphire crystal and a custom 41mm solid high-grade titanium case with screw-down crown will give this watch many years of enjoyable service. Intended for long hot days on the course, the titanium case doesn't conduct heat like stainless steel watches and its antireflective crystal won't shine bright in your eyes. Water resistant up to 200 meters.
This performance-driven timepiece is just as fashionable as it is functional. While other performance watches are bulky, this is a watch that you will actually want to wear because of its timeless, elegant style that can take you from day to night, the course to the office, and even a night out on the town.
You can easily elevate your style for any occasion with interchangeable options such as woven G10 straps in 10 styles and an Italian Rubber Drive strap in 10+ colors, and hand-stitched leather. The watch itself comes in blue or white dials with white circular hour markers and a striking red second hand. The hands and hour markers utilize Swiss Super-Luminova.
"Hook + Gaff Golf watches are creating a new category of golf watches," said Sims. "We have meticulously selected features that will make the functionality and style of the watch timeless. A Hook + Gaff Golf watch is not the Rolex that you are fearful to wear on the course and is not the watch that you will need to replace in a couple of years because the features are outdated. It is the watch that doesn't get in the way of your swing, the watch you can wear without worrying about damaging it, and is the watch you can confidently wear with its refined style."
Each Hook + Gaff Golf timepiece is packaged in a complimentary, custom tumbler along with a watch guide and personal note from Michael Sims. Most importantly, Hook + Gaff stands behind their product as evidenced by all the compliments and reviews on their Facebook page.
Last but not least, Hook + Gaff also manufactures the highly sought after Sportfisher II Moonphase watch series.
$620.00 www.hookandgaff.com
What Can You Get A Golfer Who Has Almost Everything?
A Tour Quality Club Fitting Experience
How about a Tour-quality custom club fitting experience from Club Champion, the #1 premium club fitter, builder and retailer of all the best brands in golf? Their master fitters and builders are unrivaled experts and they offer more than 35,000 hittable head and shaft combinations. A Golf Digest study found that 8 out of 9 Club Champion custom fit golfers lowered their scores by as much as six strokes per round and added an average of 21 yards off the tee.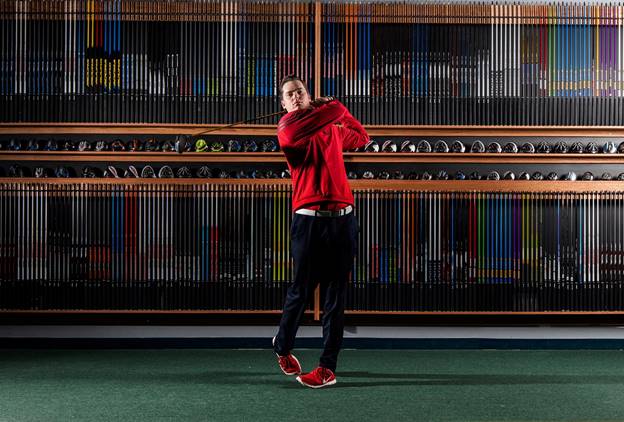 Unique among fitters, Club Champion builds clubs in-house and to exacting tolerances. Variables such as swing weight, length, lie and flex DO alter performance. That's why Club Champion calibrates their loft, lie, and swingweight machines at each studio to match those in their corporate club-building facility. The experience and know-how combining these parts perfectly together is what separates Club Champion from its competition.
I personally have been fitted twice over a 12 month period. The original fitting was fun and accurate. My clubs felt better, I gained additional yards and lowered my score. So why the second fitting? Major surgery and new products such as shafts, grips and more-forgiving equipment had been introduced. Once again, the fitting allowed me to increase distance and use irons and fairway woods that now matched my new physical capabilities.
World-renowned instructor David Leadbetter explains, "It never ceases to amaze me that golfers buy clubs off the shelf and assume they're right for them. Whether you're a great golfer or a casual one, getting a custom club fitting is one of the quickest ways to improve your game."
A gift card from Club Champion is the perfect holiday gift. What could make a Club Champion Christmas gift even better? A 50% discount!  If your golfer books and completes their fitting between November 5, 2018 and January 31, 2019, he or she will receive 50% off a full bag fitting or 33% off any other custom club fitting. Purchase online at clubchampiongolf.com or call 888-340-7820.
These are the discounted winter promotion fitting prices:
Full bag fitting $175 (Regularly $350)
Driver or iron fitting $99 (Regularly $150)
Putter fitting $66 (Regularly $100)
Prices are for fitting only. Clubs are available for purchase. Club Champion can also optimize a golfer's current clubs.
To find your nearest location, visit  www.clubchampiongolf.com
Golf Rules Quick Reference 2019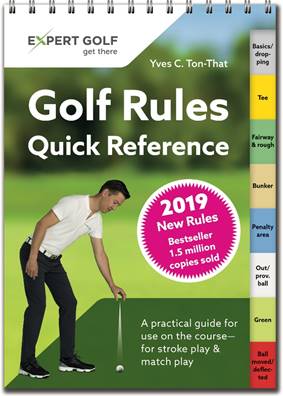 As of 2019, new golf rules apply worldwide. It is the most major revision of the rules for more than 30 years. Every golfer now has to familiarize themselves with the extensive changes and get a new rules book for their golf bag.
The Swiss author Yves C. Ton-That, with his "Golf Rules Quick Reference" pocketbook, has been a leader in this field for many years. The multi award-winning guide contains the solutions to all the rules issues that commonly occur on the golf course and, with more than 1.5 million copies sold, it is the world's best-selling golf book. It is no surprise that the book is also recommended by golf associations.
The completely revised new edition with the rules valid from 2019 has just been published and, like the previous version, it delivers what its title promises. "Golf Rules Quick Reference" explains the rules in a short, concise and easy-to-understand way. A new addition is the brief summary of the most important rules changes on the book's opening pages that can be used to quickly gain an overall picture in order to benefit from all the new relief procedures.
The book is designed for use on the course and therefore has a practical pocket-sized format, water-repellent paper and a protective cover. As each rules case is illustrated, the right solution can be found at a glance and the rules are explained in easy-to-understand language on the basis of specific golfing situations. A particularly practical feature is that it is divided by index tabs that correspond to an actual round of golf − Tee, Fairway & Rough, Bunker etc. Finding the right solution is therefore extremely easy.
To sum it up, "Golf Rules Quick Reference" is the ideal companion on the course and belongs in every golf bag.
$14.95 Available at www.expertgolf.com, from good golf shops or book stores.
Can't Wear Sunglasses for Golf?…Scheyden Eyewear May Have the Answer   
Scheyden Eyewear, known as the finest eyewear in General Aviation, carries its quality, comfort, and function into the golf industry with its latest product release. The 'Confidence in Action,' or the "CIA," golf-specific sunglasses are now available and make an awesome gift!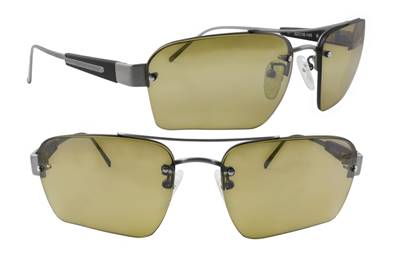 Scheyden, a supplier to the United States Air Force Thunderbird Team, focuses on activities that require the highest quality in terms of comfort, function, and lens clarity. A complete round of golf can be very similar to a pilot flying a 4 or 5-hour mission. Fatigue is always a factor during a long day of intense focus and concentration. Scheyden has brought to the forefront a "golf-specific" frame and lens combination with a level of quality that has not yet been seen in the industry.
Jeff Herold, pilot, golfer, and CEO of West Coast Trends, Inc. explains, "Our goal here at Scheyden Eyewear is not to simply impress those who regularly wear sunglasses on the golf course, but furthermore, to impress those that have never been able to wear sunglasses during a round of golf. If you take note of the PGA Tour, more than half of the players never wear sunglasses, primarily because they believe it somehow hinders their game. If we can bring to market a product that will not only protect a player's eyes, but actually enhance their ability to see and play with confidence, then we have hit a grand slam home run."
The golf-specific 'CIA' is handmade in Japan and features a feather-light, incredibly strong, titanium frame with a high definition, dye infused, LT33 polyamide lens. The lens is a decentred eight base, 33% Light Transmission wrap.
This lens actually appears to brighten and sharpen your vision on the golf course, yet still provides 100% UVA and UVB 400nm protection. The LT33 lenses are top drill mounted eliminating 60% of the lower frame and allowing for an unobstructed view while addressing the ball. The frame also includes adjustable, oversized, soft, tacky, silicone nose pads that will keep the frames comfortably in place during the most powerful of golf swings.
Herold adds, "When blending dyes to colorize the tint on any lens one must consider the reaction that the 'visible light spectrum' has on the human brain. After several attempts in blending the dyes, we feel we have found the perfect sweet spot within the visible light spectrum that will create the perfect contrast and colour for the game of golf. This sweet spot will allow the player to put the Scheyden CIA's on and keep them on during the entire round, including while performing shots in the shade of a tree."  "sensitive eyes" slightly darker lens within the same light spectrum is on the horizon."
The CIA frame retails at $349. Prescription is available at an additional cost.
Get a Grip on Your Clubs!
Golf Pride's Breakthrough Tour Velvet ALIGN Technology Enables Players to Feel Clubface Awareness throughout the Swing
Give the gift of better golf to the golfer on your list this year.  With Golf Pride's new Tour Velvet ALIGN grips, it is easier than ever before to get your hand in a consistent position swing-after-swing.  And with consistency comes better scoring.  And, for just over $100, they'll feel like they are swinging a brand new set of clubs.
Golf Pride Grips Division has infused the Tour Velvet, the #1 grip model on TOUR, with the revolutionary ALIGN Technology.  The proprietary ALIGN Technology, which was first introduced in the flagship MCC and MCC Plus4 grip families last year, features a dedicated raised ridge that extends down the back of the grip for consistent hand placement allowing a golfer increased clubface awareness throughout the swing and at impact.  With the introduction of Tour Velvet ALIGN, the TOUR's three most preferred grip models will all be available with ALIGN Technology.
Tour Velvet is the #1 grip played on all global Tours, with nearly 50% of the field in any given event choosing to rely on its proprietary feel and proven "plus-sign" texture performance.  Introducing ALIGN Technology to the Tour Velvet may appear straightforward on the surface; however, adding this innovative technology to the gold standard of tour performance grips proved to be more intricate. Golf Pride engineers answered the challenge through advancements in both material and process developments, while ensuring its same world-renowned feel and performance.Â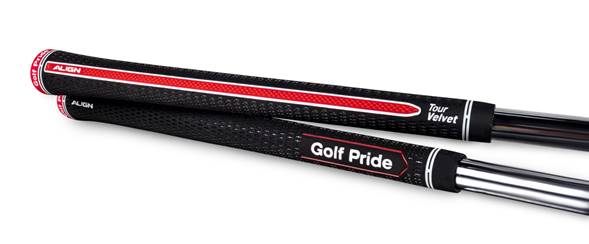 ALIGN Technology activates upon installation with a dedicated raised ridge on the back of the grip allowing for consistent hand placement and an enhanced clubface awareness. ALIGN Technology also features a unique micro-diamond texture and firmer material compared to the surrounding grip area to amplify its pronounced feel. A flex channel separates the ALIGN Technology ridge from the grip body to maximize elevation lift and lock the grip into the fingers, while conforming to the rules of golf.
Our testing group raved about these grips. They loved the feel, the look, and most importantly, the performance.
$8.99 – standard, $9.49 – midsize per grip
Cleveland Golf's new RTX 4 Wedges
The name Cleveland is synonymous with wedges that perform.
Cleveland Golf remains at the forefront of wedge design, producing short game innovations and technologies since 1979. With the RTX 4, Cleveland Golf held nothing back during development, creating a made-for-tour wedge in its purest form. Utilizing their latest face technologies, tour-preferred shaping, expanded grind offerings, and the most popular components used by Tour professionals, the RTX 4 is Cleveland's most tour-authentic wedge of all time.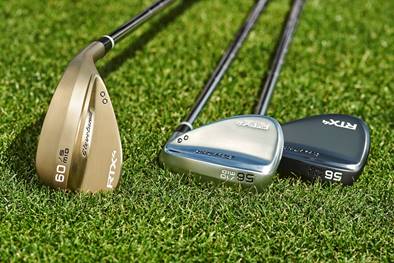 The foundation of RTX 4 is the 4th generation of Cleveland's proprietary Rotex Face Technology.
With the RTX 4, you get more Spin with SHARPER TOUR ZIP GROOVES, MORE DURABLE LASER MILLING and CENTERED ROTEX FACE MILLING.
Sharper, deeper grooves slice through grass, sand and water for more consistent spin on every shot. Longer-lasting laser milling brings face roughness right to the conforming limit for more friction and more spin on all shots. Milling that's in-line with your strike pattern increases backspin on all full, pitch, and chip shots.
Following extensive tour feedback, the RTX 4 features a more compact blade shape, with less offset and a smaller overall profile to provide that classic blade design that tour players prefer. Additionally, the RTX 4 offers four new sole grinds, including an all-new XLOW grind, to provide the versatility to execute the most challenging greenside shots.
Cleveland's RTX 4 wedges are offered in a variety of different degrees and grinds. The FULL Sole grind is offered in 56 through 60 degrees, the MID Sole grind is offered in 46 through 60 degrees, the LOW Sole grind is offered in 56 through 64 degrees, and the XLOW Sole grind is offered in 58 and 60 degree lofts. The wedges are available in three different finishes, (Tour Satin, Black Satin and Tour Raw) and left and right-handed options.
The 46 degree mid sole was used by our testing group. All the testers loved the soft feel, the bounce profile, but most of all, its dart-like accuracy. Many of the higher handicappers loved the ease of use in obtaining distances, vis a vis, improving their short game control.
$139.99 www.clevelandgolf.com
Let's face the facts, if you have uncomfortable and ill-fitting golf shoes, you are going to suffer mentally and physically.
For myself, personally, finding a comfortable and well-fitting shoe has been a full-time quest. Puma's Ignite PWRADAPT has proven to be one of best.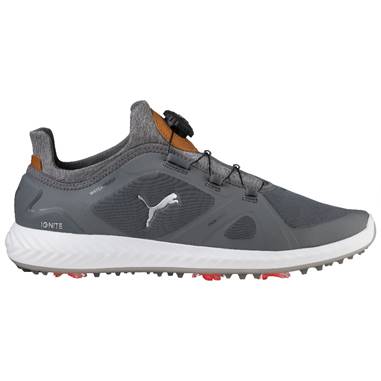 PUMA Golf, a leader in golf footwear innovation, design and style, is revolutionizing golf footwear, taking traction to the next level with its cutting-edge PWRADAPT traction system in its new line of footwear. The new IGNITE PWRADAPT collection presents three outstanding designs (IGNITE PWRADAPT, IGNITE PWRADAPT DISC and IGNITE PWRADAPT Leather) to provide golfers with state-of-the-art technology, comfort and stability in three stylish silhouettes.
Each of the models in the family utilizes PUMA Golf's proprietary PWRADAPT sole technology that introduces revolutionary 3-dimensional traction pods and responsive cushioning with IGNITE Foam, utilized in the entire length of the midsole for the first time in a cleated shoe, for the ideal blend of industry-leading technology, style and performance. PUMA's IGNITE Foam is an ultra-responsive cushioning foam with incredible energy return properties for comfort, support and stability, while the PWRADAPT pods provide ground-grabbing traction and enhanced comfort from tee-to-green, with every move a golfer makes.
The IGNITE PWRADAPT family comes with a two-year waterproof warranty.
IGNITE PWRADAPT
The new IGNITE PWRADAPT provides golfers with the power to adapt to any number of changing surfaces throughout the round. Combined with the full-length IGNITE Foam cushioning platform, PWRADAPT delivers responsive comfort and 3-dimensional traction that seamlessly adapts to the way a golfer moves.
The new Comfort Construction mesh bootie replaces a traditional tongue for improved fit, comfort and support, while the PWRFRAME, an ultra-thin TPU frame, is strategically placed in high stress areas on the shoe's upper for lightweight support and enhanced stability. Available in three stylish colourways (Quiet Shade/Quiet Shade, Black/White and Peacoat/White) the IGNITE PWRADAPT shoes come in sizes 7-14.
IGNITE PWRADAPT DISC
Like the traditional lace version, the IGNITE PWRADAPT DISC utilizes the same blend of PWRADAPT, PWRFRAME and IGNITE Foam technologies to deliver multi-surface comfort and enhanced stability golfers will love.  However, PUMA's proprietary DISC tightening system delivers ultimate convenience with a micro-adjusting dial system that quickly and easily secures golfers' feet for a locked-in, consistent custom fit.  Available in the same on-trend hues (Quiet Shade/Quiet Shade, Black/White and Peacoat/White) the IGNITE PWRADAPT DISC shoes come in sizes 7-14.
IGNITE PWRADAPT Leather
The new IGNITE PWRADAPT Leather shoes offer sophisticated style and crazy comfort with a premium full-grain leather upper combined with a mesh hybrid bootie lining for an ideal fit.  PUMA, then combines its proprietary PWRADAPT, PWRFRAME and IGNITE Foam technologies to offer more traction and better comfort across the full range of golf playing surfaces.  Available in classic white/white and black/black colourways, the IGNITE PWRADAPT Leather shoes will be available in sizes 7-14.
$170.00 www.cobragolf.com/pumagolf/men/shoes
The Swing Logic EFX1 Aim, Align yourself and go.
Experiencing problems with your alignment? This multi-functional golf training tool, that fits in your pocket, works remarkably well for use with your driver, and especially well to increase your own putting prowess. It is considered a training aid and cannot be used in competition. There is nothing wrong with using it during practice rounds to develop your game.
It is an innovative golf training aid that helps you develop proper posture and positioning before each drive or for the putting training aspect.
For putting training, it is the upgraded version of Tiger's two-tee setup, but the ramped up version. The feedback and visual effect is more pronounced and beneficial. My putting prowess is on the rise with this product!
Improved Shot Accuracy
The Swing Logic EFX1 helps beginners, amateurs, and professionals to improve targeting their ball down the fairway up to 30% more, compared to practicing with a tee alone. It is great for youth, seniors and everyone in-between.
Positive Swing Reinforcement
Designed to create a perfect line of reference in your swing path, the golf training tool sits right underneath the ball.  With a low profile, it reduces the change of impact during a swing. By using Swing Logic EFX-1 over time, it will enhance your play. It is perfect to use during practice rounds to develop your game.
Versatile
Lightweight and small enough to fit in your pocket, it helps you expand your ball targeting capability when you're driving off the tee to help improve your long-distance shot. It can also be used to increase your putting direction control, by placing it on the side of the ball pointed to the desired putt direction.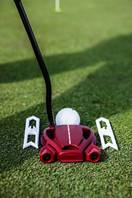 The product is made from an impact resistant composite and comes in white, pink or yellow with tees. The tees are replaceable from any golf store. The center hole and the retainer clip will fit with about 90%+ of all standard tees out there to include wooden ones. The specialty tees are a little trickier, but standard tees do work with a high rate of success. The Included 6 Tees are from Evolve Golf and are their Epoch model which is one of the most premium tees available on the market.
It really shines on the range too, where you can insert a tee in the center and quickly rotate it with your clubhead to drill on finding a line of approach on the varying angles from your position to the many flags and their position.
You don't have to hit off of it directly to enjoy the benefits either. Use in front, behind, or beside your balls position, put one near your feet, one at the ball etc…Your imagination is the only limit.
Dimensions: 4.75" x 1" x 0.394"
$9.99 for a 3-pack www.divotisland.com
 Bridgestone Golf Balls
Meticulously designed for golfers who are looking to find their edge, TOUR B Golf Balls represent the most innovative and performance-oriented balls in Bridgestone history. Gradational Core construction amplifies distance through higher initial ball speeds and lower side spin. A proprietary urethane SlipRes Cover formulation equipped with Dual Dimple and Seamless Cover technologies sets a new standard for feel, control, accuracy and performance.
How to select Your TOUR B:
TOUR B X LOW handicap golfers seeking FEEL + ACCURACY. Firmer urethane cover reduces driver spin for accuracy off the tee.
TOUR B XS LOW handicap golfers seeking FEEL + DISTANCE. Softer urethane cover creates added friction for feel and control.
TOUR B RX LOW/MID handicap golfers seeking DISTANCE + ACCURACY. Firmer urethane cover reduces spin for increased accuracy.
TOUR B RX Optic Yellow LOW/MID handicap golfers seeking DISTANCE + ACCURACY. Firmer urethane cover reduces spin for increased accuracy. Hi-Vis cover color.
TOUR B RXS LOW/MID handicap golfers seeking DISTANCE + FEEL. Softer urethane cover creates added friction for feel and control.
TOUR B RX/RXS vs. TOUR B X/XS
TOUR B RX/RXS models feature a new 338 Dimple Pattern to maximize surface coverage and slow rotation for increased consistency and forgiveness.
Extra distance and enhanced aerodynamics are a result of the Dual Dimple technology. The added distance comes from a more efficient ball trajectory, thanks to less drag when the ball is in flight.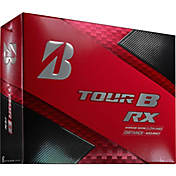 TOUR B X/XS models feature the standard Dual Dimple pattern for golfers who more naturally control their ball flight and desire workability.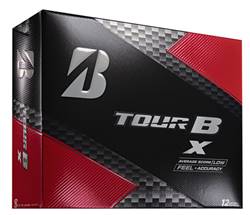 The X line provides low-handicap players with tremendous spin and greenside control due to a soft urethane cover formulation, while increased distance comes from enhanced aerodynamics and an improved 330 Dual Dimple design.
The enhanced feel of the TOUR B X comes from a softer cover as a result of the SlipRes technology. The TOUR B X gets accuracy as a result of lower side spin from the gradation core construction. Tee through green, the TOUR B X is designed to give you an edge on the course.
Each TOUR B Series golf ball features proven characteristics which continue to make Bridgestone Golf among the most respected brands in the industry. They include:
Accuracy -Gradational core optimizes energy transfer to create low side-spin and high ball velocity for incredible distance and accuracy gains.
Consistency-Seamless cover design utilizes injection molding technology to stabilize ball flight on all shots.
Distance-Aerodynamically superior dimple profiles provide different player types with vastly enhanced length and control.
Feel-SlipRes cover technology increases friction by creating more stability between the ball and club for enhanced control with irons and wedges.
The TOUR B XS Tiger Woods Edition golf ball is a collaboration between Bridgestone Golf and Tiger Woods to benefit the TGR Foundation. With Tiger Woods taking the golfing world by storm in 2018, and especially after his winning the FedEx Cup, Bridgestone is both experiencing and enjoying the sales increase throughout all their ball models.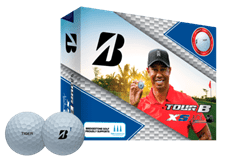 The golf balls feature a custom "TIGER" logo that replicates how Woods marks his competition golf balls and distinct packaging to highlight the charitable benefits and limited, special-edition product. From a performance perspective, the Tiger Woods Edition ball is identical to the standard TOUR B XS model, which Woods currently uses on the PGA Tour.
The enhanced feel of the TOUR B XS Tiger Woods Edition comes from a softer cover as a result of the SlipRes technology. The TOUR B XS Tiger Woods Edition gets distance as a result of increased ball speed from the gradation core construction.
A portion of all proceeds go to the TGR Foundation.
In addition to Woods, Bridgestone Golf's professional staff includes FedExCup champion Brandt Snedeker, Olympics bronze medallist Matt Kuchar, Masters winner Fred Couples, rising stars Bryson DeChambeau and LPGA stars Lexi Thompson and Cheyenne Woods.
$44.99 www.bridgestonegolf.com
Happy shopping, happy holidays and enjoy your new toys, equipment and clothes!
Barry Lotz, J.D., Ph.D. is the director of the Professional Golf Teachers Association of America. Visit www/facebook.com/PGTAA to see all the latest mental strategies and equipment reviews.
He is a member of the Golf Writers Association of America and serves both as a Consultant and Mediator to the golf industry. He is also the author of numerous books, including "333 Best Web Sites for Golfers" and his previous book, "How to Build Business Relationships through Golf", updated for 2011, is still in the Top Ten Golf Business Book's best seller list.
His latest book, "The Right Mind for Golf", is now in its 7th reprint is available on Amazon and at the Torrey Pines golf course.
 
He can be reached at drlotz@cbsgolf.net