A Primer on How To Visit this Awesome Country with No Expense Spared
Lions five feet away? Cheetah walks? Phenomenal accommodations that are so luxurious that leaving the hotel is a sad event? Riding on the most luxurious train in the world?
This is all available in one of the most sought after world destinations, according to Condé Naste Traveler Magazine who recently rated Cape Town as the second best city in the world 2012. It is assumed of course, that flying first class, commercial or private, is a given. BUT if that is not in your budget, go anyway, and allow a day to rest when you arrive….
The Saxon Boutique Hotel, Villas and Spa -Egoli/Johannesburg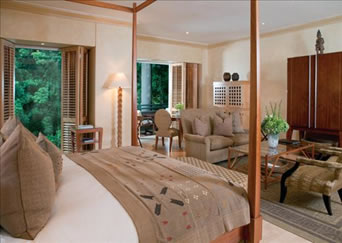 This exceptional all-suite hotel is situated on ten prime acres of land in the heart of Sandhurst, amongst opulent mansions and close to Sandton City, the largest shopping center in Johannesburg. Within close proximity to the central business district and the two major shopping areas in Johannesburg, the Saxon has been voted the World's Leading Boutique Hotel every year since 2001.
Here at the Saxon is where Nelson Mandela edited his best-selling autobiography, "A Long Walk To Freedom". The serenity, the renowned luxurious guest rooms, the outstanding concierge services and the food are hallmarks of the Saxon. This hotel is where returning royalty, nobility, statesmen, Nobel prize-winners and celebrities have called it a home away from home.
This exclusive luxury hotel epitomizes/personifies authentic African elegance, combined with discretely personalized attention to detail. The Saxon's contemporary African interior is a tempered mixture of novel Eastern influences and African artifacts.
There are 24 suites in the Saxon main hotel and three Villas, adding an additional 29 suites – each incorporating a strong element of African Art, state-of-the-art facilities, writing desk, in suite laptop and wireless Internet access.
One of my favorite rooms at the hotel is the well-stocked library with traditional weaponry and artifacts and is a haven of peace and quiet.
George Cohen, the hotel's general manager since opening, is both knowledgeable and friendly. His attention to detail and service permeate to every staff member. Nothing is too much to ask for during your stay. I recommend a visit to see the Villas and to use the spa services – as they say in South Africa – Stunning!
Professional butlers are included in the Presidential Suites and in the truly majestic Nelson Mandela Platinum Suite.
David Higgs is the Executive Chef. His culinary skills can meet or exceed any world famous chef one can think of. His use of textures and flavors, coupled with innovation, creativity and an unrivaled ability to perfectly recreate old classics, are second to none. So is the wine selection.
Rates start around ZAR 8,00.00 (US $1,000.00) per night, making it the most expensive hotel in the country and probably in Africa. They are warranted, simply because the rooms are amazingly decorated and comfortable, the security is impressive. The public areas such as the lounges, pool, cigar bar and especially the service and the food are outstanding . The Saxon simply makes you feel good! A stay here should be a top contender for your bucket-list.
www.saxon.co.za
Ulusaba Private Game Reserve



Sir Richard Branson calls this un-spoilt, game rich, 13, 500 hecatares, his South African home and often visits with his family. As far as private game reserves go, Ulusaba is in the top three. The Ulusaba Private Game Reserve is set in the heart of the Sabi Sands Game Reserve that borders to the south west of the sprawling Kruger National Park in South Africa's Mpumalanga province. Ulusaba is accessible by air as well as by car. Ulusaba has 21 rooms and suites spread over two lodges. Rock Lodge is 'Heaven in Heaven', perched high on the summit of a koppie (rocky hill) with views over miles of the South African bush below.
Nearly 500 meters away is Safari Lodge, known as 'Heaven on Earth' and is built "tree-house" style. Built along the banks of a dry riverbed, Safari Lodge guests cross swing bridges between the exquisite tree house style rooms. For the ultimate experience, guests can share their time between both lodges.
Aside from the exceptional personal service, be prepared to see an amazing range of animals and 350 species of birds in the game reserve, particularly as animals from the neighboring Kruger Park can cross ranges into Sabi Sands. The Big 5 (Lion, Elephant, Black Rhinoceros, Leopard and Cape Buffalo) are in abundance. We were fortunate in that we saw numerous sightings of leopards, lions and lionesses, playful elephants, rhinos, hippos and wild dogs.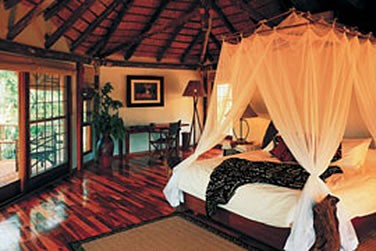 Once you have settled in to your room of choice, of which all are extremely comfortable and well furnished, you will appreciate the stillness, solitude and the smells of nature. Your daily routine looks like this: Game Drive – 5:30am wakeup call from your game ranger for coffee and light snacks, at 6:00 am you start your game drive. Dress warmly (in cool winter months) layering is advised. You return at about 10am to an extremely, nice, large communal and à la carte breakfast, whilst sharing stories and sightings with the rest of the guests and rangers. Thereafter, you can relax in your room, work out, take advantage of the Aroma Boma Virgin Touch Salon, catch up on world news, as Internet is available, or just have lunch at whatever time you choose.
The afternoon game drive begins around 4:30 pm. One of the most enjoyable highlights of the afternoon drive is "the Sundowner" – cocktails with snacks such as nuts, biltong (beef jerky) and chocolates. When you return, you can freshen up and then prepare yourself for an outstanding dinner around 8pm.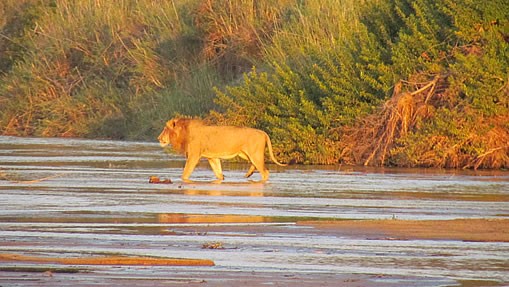 The food at Ulusaba is superb, as is the South African wine collection. Try the Haute Cabriere Chardonnay Pinot Noir. (I am a owner in this winery) . Whether you eat in a Boma (outside) or in the main lodge, the atmosphere, both literally and figuratively, makes the trip so worthwhile. You will be fast asleep by 10:00 pm ready to repeat the day's earlier activities. Both Ian and Corinne are exceptional culinary masters, whose dishes are as good as can be found at any 5-star restaurant in the world.
Both our game ranger and Shangaan (a native tribe of South Africa) tracker seemed exceptionally knowledgeable on a complex range of topics, from the diversity of wildlife and fauna, to animal behaviors, tracking techniques, astrology, geology, local tribes/myths and even weaponry (they have to carry rifles, so makes sense!).
Highly recommended is a walking safari with a game ranger. Not only is it exciting, but being close to nature in the bush, with animals all around, is an experience unlike many others. It is like being underwater and knowing sharks are possibly close by. It definitely changes your perspective and comfort zone. And the appreciation that your ranger is competent and has a rifle is most apparent when you hear the call of the wild!
Rates, aka Tariffs, depending on time of year, range R4750 (US $550) to R14,700 (US $1650) per night , per person, all inclusive. Rate conversion as of October 23, 2012 $1.00 equals R8.75.
www.ulusaba.virgin.com
Sabi Sabi Earth Lodge, Sabi Sand Game Reserve
Sabi Sabi offers four completely separate luxurious, all-suite, award-winning lodges with very distinct characters and atmospheres – those of "Yesterday, Today and Tomorrow" . The "Yesterday" experience is the romantic Selati Camp; "Today" , the more contemporary lodges are the Bush Lodge and the Little Bush Camp and "Tomorrow" is the ground-breaking Earth Lodge.
Sabi Sabi Earth Lodge with its 13 ultra-luxurious suites is the only choice if you want to enjoy a South African eco safari. This eco safari lodge has many unique features and is designed using green techniques.
What sets the sumptuous Sabi Sabi Earth Lodge apart from almost all of the private game reserves in South Africa, is that this upscale reserve combines opulence with environmental sensitivity, truly great food and outstanding service, treating the senses to a fusion of comfort and the untamed wilderness. Drienie, the general manager, is like a genie – ask her for anything and it expeditiously appears. The service at the Earth Lodge is amazingly excellent!
Each of the suites at this luxury lodge features individually designed furniture, a private plunge pool, en-suite glass fronted bathroom and indoor and outdoor shower. The natural wooden sculptures by renowned South African artist Geoffrey Armstrong add a powerful magic.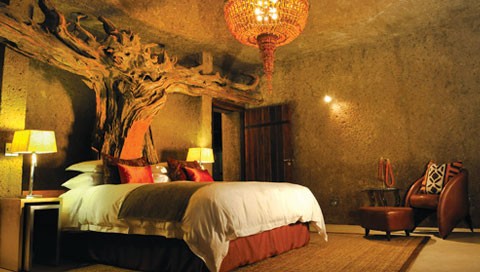 The Earth Lodge is committed to ecologically sustainable tourism, and has been built in a sustainable way, which makes it one of the most eco friendly African safari destinations for the discerning traveler.
This eco safari lodge has many unique features, especially the design of the rooms. It is both fascinating and stunning to see your room upon arrival. Taking time to observe the natural materials and green techniques is in and of itself, very rewarding.
As with all private game reserves, game drives are the main feature and highlight of your safari. Your daily routine looks like this: Game Drive – 5: 30am wake up for coffee and light snacks, at 6:00 am you start your game drive. You return at about 10am to enjoy an extremely tasty buffet of fruit, breads, hot foods per your request , all while getting to meet and speak to the other guests, if you so choose. Conversations are predominantly about sightings and the best part, beside the food, is your ranger dines with you and your Land Rover fellow passengers.
The Big Five are in abundance, as are many other species of animals such as giraffes, warthogs, cheetahs, and so many different bird species. Best of all, we experienced the sighting of a rare Honey Badger.
Take a walk around the main reception area. Its contemporary look, though very natural, blends in with the bushveld. You can relax and rejuvenate body and mind with a sensual massage at the Amani Spa at Earth Lodge; or feel your cares drift away while in the meditation area. In the middle of the day, you can sunbathe by your own private plunge pool, while reading a book from the library.
The game rangers ensure that you experience the beauty of the African night on an evening safari where you will catch a glimpse of the many nocturnal animals that live in the African bush. Those with an interest in the stars can also use the lodge observatory and enjoy the beauty of the African night.
Solitude and service are two of the USP (Unique Selling Proposition) of the lodge and to that end have instituted a child policy: Children are not permitted at Sabi Sabi Earth Lodge, unless the entire camp is privately booked.
Rates, aka Tariffs, begin at R9300 (US $1100) up to R17,000 (US $2,000) per night (Amber Suite), per person, per night and depending on time of year. All meals and drinks are included. These rates available through December 31, 2012. Rate conversion as of October 23, 2012 $1.00 equals R8.75.
www.sabisabi.com
Rovos Rail Luxury Train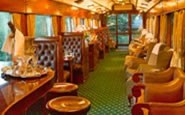 What a thrill it is to go back to a bygone era of travel on a train as luxurious as Rovos Rail.
Rovos Rail, otherwise known as "The Most Luxurious Train in the World" is, indisputably the world's most luxurious train with an international reputation for world-class travel experiences. It is a fantastic and slow way to travel and a great way to relax and de-stress with the country air and the dream ride enhancing the whole experience.
The 5 -star treatment begins at the rail station in Pretoria with Champagne, sandwiches and red carpet service. Meeting fellow passengers and inspecting the Rovos Rail's steam engine put you in the right frame of mind immediately. You can even pull the train's steam whistle!

Each of the carriages on the Rovos Rail have been impeccably and lovingly restored to capture the lavishness of a bygone era with each of the carriages carrying its own story. Some date back nearly a hundred years, others have transported royalty—but all are utterly opulent. It is the only train in the world with a private bathroom in each cabin. The library carriage offers peace and solitude. There are no radios or television sets on board and the use of mobile phones and laptops are confined to the privacy of your suites only. Smoking is only allowed in the privacy of your suite and in the Club Lounge. Land line phone service is available at each town the train stops.
Train stops in Kimberly, to see the Black Hole , and a stop in Matjiesfontein to see a South African museum, chock-full of historical memorabilia, gives you a chance to stretch your legs and make phone calls, if needed. Plus the museum is fascinating, especially their collection toilet bowls, costumes of the day and a fully-stocked 1930's apothecary.
If you embrace the atmosphere around the nostalgia, unexpected stops in the middle of the Karoo giving you the opportunity to walk for an hour, you will have an experience for life. The scenery, especially going from 5,000 feet above to sea level, is outstanding, especially as you approach Cape Town.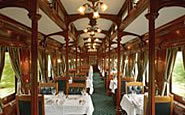 Rovan Ros and his family, throughout the whole train, have painstakingly ensured that every detail has been considered: wood-paneled walls feature intricate art. Traditional furniture and finery recall turn-of-the-century elegance.
The linens are soft and cosy, the bathroom is more than adequate in each cabin, especially the Royal Suite. The Victorian dining room provides world-class ambiance for five-star cuisine, and suites are the most spacious in the world, melding Edwardian elegance with modern amenities. A fine selection of wines are available, such as Haute Cabriere – try the new Unwooded Pinot/ Chardonnay.
The food was exceptional, the service marvelous and the staff goes out of their way to ensure your enjoyment and cater to your every need. Meeting people in the Observation carriage, while the professional bar men and women fix your favorite drink, whether tea, wine or liquor, coupled with deserts and sandwiches, is part of what makes this rail trip so entertaining.
This is truly a travel experience unlike any other—travelling through a storied land in unmatched luxury… riding on a legendary "iron horse" with a singularly velvet touch.
Rovos offers Cape To Cairo trips, trips to Victoria Falls and Safari and Golf trips.
RATES: 1 October 2013
to 30 September 2014

Pullman Suites

Deluxe Suites

Royal Suites

CAPE TOWN

R14 300 $1650.00

R21 600 $2500.oo

R28 600 $3300.00
www.rovos.com
Cape Grace Hotel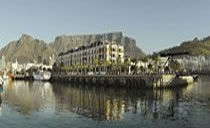 Sheltered beneath the familiar shape of Table Mountain, Cape Town is the birthplace of modern South Africa, as well as an historic port with a vital role in overseas trade between Europe and the East. Perhaps the most picturesque city in all of Africa, the city presides over a coastline of stunning grandeur, mountains rising above the seashore, and romantic, outlying vineyards whose proprietors have been practicing the art of winemaking since the 18th century.
The Cape Grace Hotel is situated on the West Quay of Cape Town's Victoria and Alfred Waterfront with Table Mountain as its majestic backdrop. "The Waterfront", as it is known, is home to many shops and upscale boutiques and superb restaurants such as Willoughby's, Sevruga, Melissa's and Balducci's.
A not to be missed sojourn would be to Robben Island. The ferry for Robben Island, the former political prison where Nelson Mandela and his partners in the struggle against apartheid were held captive for decades, is set on an island about 30 minutes from mainland Cape Town. The hotel's concierge is excellent in obtaining tickets to all events and tours.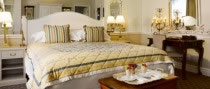 This elegant luxury hotel's architecture reflects the strong French historical influence on the Cape. Furniture of the finest design and quality grace the public and private rooms. Each room has lounge areas, walk-in dressing rooms, bathrooms with separate showers and double vanities, so as to cater for the privacy and individuality of its guests. A CD player and DVD machine is also available for in-room entertainment. These spacious suites, with their French doors, open out onto generously sized balconies overlooking Signal Hill, the yacht basin, the working harbor and Table Mountain – the perfect setting for a private dining experience.
Other hotel facilities include a contemporary and private restaurant, cigar bar and selection therein. All are outstanding. Just beyond the doors of the hotel, the V&A Waterfront provides a choice of international cuisines, a range of boutiques, arts and crafts centers, and the world-renowned aquarium.
Two to three weeks are more than adequate and tours to all South Africa's places of interest , both in Johannesburg and Cape Town and are readily available from the hotel's concierges. Table Mountain, Robben Island , the Kirstenbosch Gardens and the wine country tours to Franschoek and Stellenbosch, will make your trip memorable.
Barry Lotz, J.D., Ph.D. is the director of the Professional Golf Teachers Association of America. He is a member of the Golf Writers Association of America, the California Golf Writers Association, and serves both as a Consultant and Mediator to the golf industry. He is also the author of numerous books, including "333 Best Web Sites for Golfers", "How to Build Business Relationships through Golf" which is in the Top Ten Golf Business Book's bestseller list. His latest book," The Right Mind for Golf", released in February, 2012 is already in its third printing.
He can be reached at www.pgtaa.com or drlotz@cbsgolf.net
Website maintained by Visualwebz LLC