March 10th, 2011
Dear Barry,
I was very impressed with the wealth of the information provided. I found the test to be inclusive and demanding, requiring me to combine knowledge of the material provided with my personal experience as a golfer and extensive research of online resources. All this preparation has provided me the sound foundation necessary to take a position as a teaching professional within the golf industry. The confidence that successful completion of this course has imparted to me will translate to increased enthusiasm for me and superior instruction for my students.
Thank you also for your personal attention to all my concerns.
Gratefully and sincerely,
Jack Richter
---
December 15, 2010
Dear Dr. Lotz,
I am 64 years old and have been playing golf since I was 10. Over the years I have read hundreds of instruction articles in golf publications as well as numerous books from authors such as Bob Toski, Ben Hogan, Harvey Pennick and others. I have taken lessons from numerous teachers and have gleaned helpful information from all these sources. As a teacher I wanted to enhance my knowledge as well as achieve credibility with my students.
While there are several avenues to achieve this goal I chose the PGTAA to take my knowledge to the next level. I have been delighted with the information I gained from this course and the credibility I have enjoyed with my students. It has been a valuable investment and I recommend the PGTAA to anyone who is serious about becoming a better golf teacher.
Bob Pickard
Cypress, Texas
robertpickard@att.net
---
December 10th 2010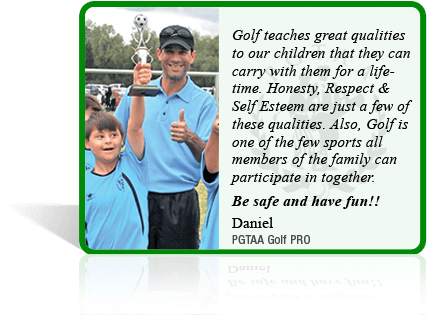 Dr Dr. Lotz,
I hope this email finds you well.
With the help and certification of the PGTAA, my new company, L A Golf Schools, launched our website today!
Please visit and sign up for the newsletter. I would love your comments to:. www.LAGolfSchools.com or at facebook: http://www.facebook.com/pages/L-A-Golf-Schools/122523044479184 Please LIKE us!!
Daniel Berger dmb65@earthlink.net
---
November 5th 2010
"Dear Dr Lotz: I would like to thank you and commend you on your course.
From the day I ordered it, the delivery time was three days to my door. When
I called with a question you were there to answer every time. The way the
course makes you think about how to talk to a student is right on, they are
the reason we take it. This is a course I have already recommended to my
friends in the industry and will continue to recommend. I have recently
started a job in the industry and this course did help me get the job. Thank
you very much."
Respectfully
Scott Chism scchism@bellsouth.net
---
August 15th 2010
"The PGTAA gives you instant access to the best information, and prepares you thoroughly for becoming a Master Teaching Professional, or a regular Teaching Professional. The PGTAA is the fastest way to get your foot in the Professional Golf Industry. The Manuals and books that come with this curriculum are second to none…….. as I couldn't be happier with my association".
Dade McDermott
PGTAA Class A Master Teaching Professional
Falmouth Country Club
diomcd24@hotmail.com
---
April 10th 2010
Golf Coaches Association of Peters Township
Coach Kuhn is a certified PGTAA Class A Master Teaching Professional and oversees all aspects of the instructional programs. As the coach of the Peters Township HS Boys team, he has compiled a record of 169-25 including 2 WPIAL titles and a PIAA Runner-Up finish as well as 15 tournament titles in eight seasons. His teams have consistently ranked in the top echelon of high school golf in the state of Pennsylvania and over 15 of his former players have moved on to play golf at the college level. Coach Kuhn is also a member of the WPIAL Golf Committee, a PIAA Golf Rules Official, and spent eight years as the Director of Golf for the TourneySport USA Hawaii Junior Golf Classic on the islands of Maui, Oahu and Kauai.
12th February, 2010
Dr. Lotz,
I hope this note finds you well. My first seven years as a PGTAA Master Teaching Professional have been truly outstanding. Since my certification, I have had many highlights as an instructor including:
– National Director of Golf for the TourneySport USA Hawaii Junior Classic for six years (2001-2007) at Kapalua Resort, Turtle Bay, Ko'Olau and Poipu Bay annually running instruction & championships for some of America's top junior golfers.
– Co-chairman of the Western Pennsylvania Interscholastic Athletic League's Golf Committee (America's largest high school athletic league), organizing quality events including having the great Arnold Palmer host our 2007 championship in person at his Latrobe Country Club in recognition of the 60th anniversary of his last Western PA. Golf Championship. We also had the greatest female amateur player of all-time, Carol Semple-Thompson, host our girls event that year at her home course of Allegheny Country Club.
– Head Coach of one of Pennsylvania's most successful high school programs ( www.peterstownshipgolf.org ) with over 15 college golfers produced in the past eight years (seven NCAA Division I players since 2005) and winning WPIAL Team Titles in 2004 and 2008 and making it to the championship finals an amazing 6 of the last 7 years (there are 130 boys golf teams in our region).
– Running my own instruction business and golf schools with a staff of four instructors ( www.davidkuhngolf.com) touching 200-300 kids in our area annually..
None of this would be possible without the education and certification that I have received from the PGTAA. I would like to personally thank you for the opportunity that the PGTAA has provided for me.
Additionally, please do not hesitate to consider me for teaching or helping with PGTAA certification classes as I would be very interested in working in that part of the profession as well.
I look forward to hearing from you soon and hope to continue to be an exemplary representative of the PGTAA for some time to come.
Warmest Regards,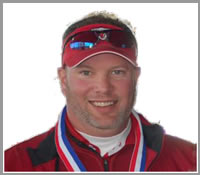 David Kuhn
www.davidkuhngolf.com or www.peterstownshipgolf.org
---
Effective March 1, I will become the Director of Instruction at the "NEW" Spring Hill Golf & Country Club. Under the ownership of US Golf Properties and President, Roger Thompson, I'll be ordering all of the brands of equipment you'd expect for the Pro Shop and of course, teach, provide custom fittings and make any club adjustments, repairs and re-grips on site. I could not have done this without my PGTAA Master Teaching Professional certification.
Thanks for always being available and helpful with all my questions. – Steve LaFalce
Owner and PGTAA Master Teaching Professional
The Indoor Golf Center, LLC and Spring Hill Golf & CC
727-510-1669 Cell 352-556-5237 Pro Shop
---
February 5, 2010
Dr. Barry Lotz,
I just wanted to say hello and send you an email. I owe a lot of credit to your program.
In May, 2009, I completed the PGTAA Home Study Course. I was living in Wellington, Fl at the time with my mother. I wanted to instantly pursue a teaching career, and that's exactly what I did. I built a website and a name, "Scratch Golf School." I would have to say having a PGTAA certification helped my business dramatically.
I moved back to Massachusetts in early June, 2009 and I decided to look for opportunities around Boston. I applied to a large number positions such as assistant professionals at private and public courses. I also applied for work at driving ranges, camps, and other summer programs. Finally, I was contacted by a Nike Golf Camp and they were looking for a Head Golf Instructor. The PGTAA certification gave me the recognition I needed. I was soon hired and was in charge of the whole golf program.
The camp was spectacular. I truly enjoyed working with kids. I kept searching around the internet for other opportunities and then I applied for the Head Golf Coach position at Newbury College. Within a couple hours I recieved a phone call from the Athletic Director asking me questions about my PGTAA certification and experiece as the Head Golf Instructor at the Nike Golf Camp. I was hired within a couple days. To this day, I'm the head golf coach at Newbury College in Brookline, MA
I continued my search since the coaching job was mostly part time. I knew about an indoor golf teaching center right by my home in Stow, MA called the GolfRite Learning Center. I walked in to talk to the owner and he asked me a lot of questions about my experience as a player and teacher. I told him mostly about my recent history as a golf instructor. I think he noticed that I was ambitous enough to become successful so he asked me to join his team. So, not only do I continue to coach at Newbury, but I'm also one of the Teaching Pros at GolfRite.
I'm very excited about my future as a golf teacher, and I just wanted to thank you for your program. It has opened a lot of doors for me and given me the type of recognition to become successful.
Thank you very much!
Adam
Adam Kolloff adam@scratchgolfschool.com (978) 339-3318
---
December 15, 2009
I appreciate you. I plan on coaching golf next year at a high school or college. Kelsey, my oldest daughter is playing college golf for Oklahoma State University on a full ride. I was her only instructor sense she was 8 years old and I owe it all to you and your program. She also was a state UIL high school state champion here in Texas. God Bless and have a great Christmas and a great New Year!
Jim Kirkpatrick
jimkirk58@yahoo.com
---
November 24, , 2009
Dear Dr. Barry Lotz,
Thank you for granting me the honor of being a PGTAA teaching professional.
I have studied the golf teaching principals, golf terminology, DVDs and outstanding PGTAA materials and gained more knowledge about golf to the point it is surprising.
I am very much aware and appreciative that the PGTAA helps create excellent golf teachers using outstanding golf teaching techniques and participates in ways that brings the art of teaching golf forward so well.
Thank You.
Sincerely,
Allen Youn (Jong Won Youn)
wonny6778@hotmail.com
---
Hi Barry & Mike,
I wanted to let you know that I am now the Head Golf Coach for the Fenwick Boys High School Golf Team in Oak Park,IL. I`ll be handling all aspects of the program.
I have full control of the program, from instruction to handling the roster and matches. I also have a few of the golf team players as students.
Besides this I have been very busy with lessons at Bushwood we have been quite busy with lessons even with this economy. I will still be teaching at Bushwood since the golf team season is only 3 months long.
Once again thank you for everything.
Sincerely,
Chris Curran
312-501-0974
---
These latest training and teaching aids featured in an article by Dr. Barry Lotz for over 20 golf magazines, are now availabe to PGTAA members at PUD prices.
---
Barry,
I thought you would be happy to hear that we won our first golf invitational
in three years… AND, that it is the fourth golf victory (ever) in our
school's history on Div. III. It is just the beginning, though. However, it
wouldn't be a beginning without the training I received from PGTAA. Check
this photo out…
Luis C. Almeida, Ph. D.
Head Golf Coach (Men & Women)
PGTAA Master Teaching Professional
---
Barry: Thank you so much! Also, Thank you for making this one of the most thought provoking learning experiences of my 59 years on this planet. I truly must say it was not easy, which makes it that much more rewarding. The joy and pride I feel at this moment is amazing. Hope someday to thank you in person…..
Rich Happach drichman51@hotmail.com
---
Dr. Barry Lotz,
First off I want to thank the PGTAA for opening so many doors for me at such a young age of 21. Becoming a Master Teaching Professional has allowed me to teach golf and learn the tricks of the trade full time now.
Golf has always been a strong passion of mine and lets be honest teaching golf is one of the world's best jobs. I have recently accepted a position as Teaching Professional at the Bridges of Tillsonburg in

Ontario, Canada

, where I am planning to open a golf academy for the 2009 season. I am honored to see the expanded growth of the

PGTAA

, especially in

Canada

, as I am a loyal member. Best of Luck to all

PGTAA

members!

Cheers,

Tim Ament
Master Teaching Professional
January 18, 2009
---
Dr. Barry,
First thank you for the PGTAA and all of the help that you have given to me personally. I credit a lot of hard work, my PGTAA training, two courses in Kinesiology, and some physiology training for the round of a life time. I carded a 29 on the front nine and 30 on the back for a total of 59. I played with two wonderful gentlemen that I met that day.
My bag proudly displays the PGTAA logo and my name leaving no doubt that I am a professional golf instructor. After the newspaper ran a story about a 65 year old pro breaking the 60 barrier my schedule is booked until late March. The range that I teach at has heated areas for the winters here in Ohio. It is the first time I have ever taught in the winter here, ever.
So, thank you again for the training, the organization, and maintaining a high degree of professionalism.
I am including a signed score card for you to look over.
Bill Peace
wwmpeace@cinci.rr.com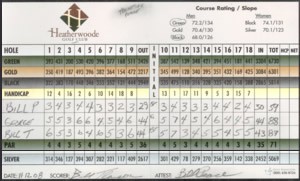 ---
You may want to know that with my PGTAA certification I am the assistant golf coach at Cabrini College where last year we went to the Division III nationals.
http://cabriniathletics.com/coaches.aspx?rc=66&path=mgolf
Dean Marino – Assistant Coach – Second Season – dam723@cabrini.edu
---
Dear Dr. Lotz, I wanted to thank you for changing my life .. I am the assistant pro at ColoVista Country Club here in Bastrop and it is wonderful…
Again thank you so very much.
Mickie L. Joyce -PGTAA Master Teaching Professional mickie2000@sbcglobal.net
I also wanted to let you know that my PGTAA card has been recognized by a majority of facilities in this area also and has been an asset in more ways than one.
Robert Guiseppe
Southaven, Ms.
---
To : PGTAA
Please feel to use the following information for any/all PGTAA promotional publications you may so desire.
Thanks to the excellent training program offered by the Professional Golf Teachers Association of America (PGTAA), my golf career continues to experience growth. Not long after completing my PGTAA program I developed a youth golf program at a State of Georgia Golf Course located in Reidsville, Georgia. My program was an instant success with youths of all ages joining the program. Within seven short months I had three star students competing on High School Golf Teams holding the #1 seat boys, # 2 seat girls and # 3 seat boys. I trained my students using the golf teaching knowledge I gained under the PGTAA program.
Very satisfied with what I had accomplished I began working on my own game to venture into tournament play. Soon after beginning a rigid training program I placed upon myself I became a Bridgestone Pro Member. Excited with career improvements I set my goals even higher. I applied all my efforts to building an outstanding reputation in Youth Golf Training. Again, falling back on my PGTAA materials studied during my certification process. Each time I would revisit this material I found additional information to improve my teaching methods.
Today, I am very proud to say thanks to the PGTAA and their golf program I am now the Head Golf Professional/General Manager of Hawk's Point Golf Club, Inc. located in Vidalia, Georgia. I gave consideration to many golf programs and selected the PGTAA. I remain a member and proudly display PGTAA on my tournament golf shirts. Should you be considering a golf career as an instructor or desire to even venture further as I did, I strongly recommend the PGTAA to all reading.
I fully endorse the PGTAA and extend my sincere thanks to the many accomplishments I have achieved due to my association with the PGTAA
Good Golfing!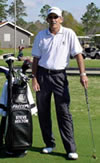 Steve J. Holton
Head Golf Pro/General Manager
Hawk's Point Golf Club, Inc.
1801 Loop Road
Vidalia, Georgia 30474
(912) 537-9256 Pro Shop
(912) 537-9257 Fax
email: sholtonhawkspoint@bellsouth.net
---
Named Waynesburg University Head Golf Coach
Hello Barry,
This is Luis Almeida, one of your new members. I am writing to let you know that I was named Head Golf Coach here at Waynesburg University. I have A LOT of work to do.
http://www.waynesburgsports.com/staff.aspx?tab=staffdirectory
http://www.pacathletics.org/links/pac_members_waynesburg.html
I am spreading the PGTAA brand around here in Greene county Barry
Yellow Jacket golfers finish 6th at PAC Fall Invitational
Senior Tommy Rohanna ties for fourth at the 40-man event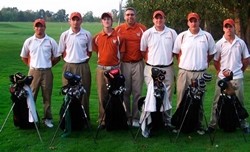 ---
Sergio Poo, PGTAA Master Teaching Professional, named new director of golf at Westin Roco Ki Beach
The Westin Roco Ki Beach & Golf Resort is pleased to welcome the new director of golf operations, Sergio Poo, who will oversee the management of the Faldo Legacy Golf Course. This spectacular 18-hole, par-72 course is Nick Faldo's first course design project in the Caribbean. Sergio Poo was appointed by Troon Golf and the Roco Ki Golf Club.
Poo has more than 14 years of experience in the golf industry. Prior to assuming the management of the Faldo Legacy Golf Course served as general manager and clubhouse operations director at St. Lucia Golf Club where he was responsible for the continued maintenance of the golf course and daily operations. Poo had also served previously as operations manager at the Playa Mujeres Golf Club, a Troon Golf-managed facility in Cancun, Mexico overseeing the grand opening of the golf course and clubhouse.
---