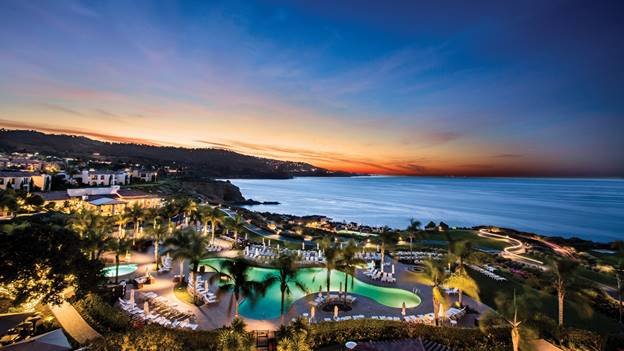 One visits Terranea, a self-contained, luxury destination resort with its luxury accommodations and superb amenities. And when you arrive, your soul and mind will thank you for the chance to regenerate.
Opened in 2009 by developer Rob Lowe (not the actor), this gorgeous resort on 102 pristine acres, poised above the Pacific, offers an unparalleled setting with 270-degree ocean views and a luxury vacation and adventure experience. The 100-acre, 582-room Terranea in Rancho Palos Verdes offers a range of features that's unrivaled among upscale hospitality properties in California. It is safe to say that Terranea provides more "breathing room" than any other luxury, ocean front hotel in California and is just an hour away from the hustle and bustle of the Los Angeles metropolis. The town's lovely coast has been a frequent backdrop for Hollywood films, including Con Air, Pearl Harbor, and the Pirates of the Caribbean movies.
What is truly remarkable and takes a little time to realize, is the tranquility of Rancho Palos Verdes, a town on the southwestern outskirts of Los Angeles. This cushy coastal enclave has fresh air and lots of space and is quiet and peaceful – a totally relaxing vibe.
Rancho Palos Verdes is a picture of natural beauty, with tall ocean side cliffs and relatively little development. To the west of Terranea is Point Vincente Lighthouse (which is closed to the public) and Point Vincente Park, which offers whale-watching opportunities, playgrounds, and nature walks. Guests must drive to anything that isn't on the resort grounds.
Inside the resort, attention to every minute detail is evident. Talking elevators announce the floor as they arrive, and the entire property has been painted different shades in an effort to make it look like a collection of old California mansions, rather than a brand-new resort.
What really caught my eye throughout my stay and visits to all public areas, is just how spotless Terranea is on a daily basis. Kudos to the staff and management!
Terranea Resort is an easy drive, especially from LA as well as from San Diego and Palm Springs. And a world unto itself. With breathtaking views, a superb spa, nine-hole golf course, six restaurants, and pristine manicured grounds – a week's stay is not long enough!
Exceptional dining, outstanding service, great rooms with well-appointed bathrooms, more than two miles of public trails, kids club, shopping, an outdoor adventure concierge service, pointe discover, and four swimming pools, along with a 140′ waterslide and splash pad, makes Terranea a positive and fun destination.
Even though Terranea is both kid and pet friendly, solitude is possible. A separate adult-only pool (with beverage service) has some of the resort's best views. One of Los Angeles' only hotel Kids' Club gives parents the time to actually use it. There is also the Spa pool which offers drink service and private outdoor hot tubs, accessible with a day pass to spa facilities.
Accommodations range from villas, casitas, bungalows, suites and guest rooms, while offering a casual elegance that blends effortlessly with the natural setting. Specifically, standard rooms are 450 square feet, which are larger than the average Los Angeles hotel room, and suites are 900 square feet and have a separate living room area; master and guest bathrooms and two 42-inch flat-screen TVs. All the rooms have balconies and most have ocean views, Turkish robes, Serta pillow-top mattresses, 37- inch flat-screen TVs with HBO and in-room movies, plus iPod docks are standard fare. Internet access is included in the resort fee.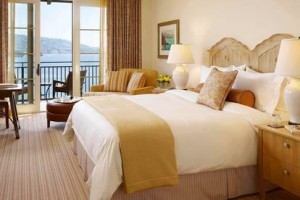 Two-, three-, and four-bedroom "villas" are also available, with their own garages, full kitchens, hot tubs, and outdoor fireplaces. Resort casitas, with their own entrances, full kitchen, living rooms, and laundry facilities round out the accommodation options.
Terranea caters extensively to guests of all ages. Many of the resort's kid-friendly activities are expensive, but the long hiking trails, exceptional pools, and large rooms offer families many perks at no additional cost.
The "Tide Pool Kid's Club" has computers, arts and crafts, board games, video games, photography and nature activities. Costs vary.
The main pool has a waterslide and a fountain.
Both restaurants, Bashi's and Nelson's, have room service that offer kids' menus, and a kids' buffet at the Catalina Kitchen is available during Sunday brunch.
Babysitting arrangements can be made through concierge, but services are not affiliated with the hotel.
"Teen Scene" nighttime activities by reservation for guests ages 13 to 17; daily Rock Band video game activity for a fee.
Suites can be expanded into lock off two-bedroom apartments for families.
For golfers, an award‐winning nine‐hole, par 3 golf course of 1,239 yards and a par 27, The Links is really enjoyable. You need just 3 clubs – a 5 or 7 iron, a wedge and a putter to get around the course. Club rentals and pull carts are available. No motor carts are allowed, but this did not dampen the experience, rather it enhanced the round. $55 is reasonable for a course with outstanding greens, excellent conditioning and awesome views. Pull carts are available.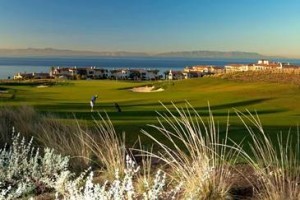 Want to play a full round of ocean front golf? Going south and less than 8 minutes away, is Trump National, 7311 yards, par 71. A free resort shuttle is available at no charge to carry you to the course and pick you up when called.
There is another public course, about three miles north, the Los Verdes Golf Course, which is 18 holes, 6,617 yards and a par 71. Here the green fee does not include golf carts or equipment rental, and the free resort shuttle takes guests to the course.
Additionally, the award‐winning Spa at Terranea also boasts 25 treatment rooms, great ocean views, a salon, and a Wellness & Fitness center with boutique and cafe.
Terranea's multiple hiking paths are well signed, encouraging visitors to watch for local species like the endangered El Segundo Blue Butterfly and the California Gray Whale.
What I loved about Terranea, despite its size, is the highly personal service – from the concierge, to the front desk clerks, bellmen, and restaurant staff. They are excellent at remember guests' names and extremely helpful. My wife was actually taken outside the building to point out the resort's best jogging paths and I was driven to The Links and to the furthest point of the property – insights abounding from the bellman.
Though the resort does not offer a "sandy beach", if you do need to be on a beach or surf, eight miles and 20 minutes away, is Redondo Beach. The "beach" at Terranea is too rocky to really be considered a beach. The small patch of sand is at least a five-minute walk from the hotel, and the actual waterline is overrun by rocks. You cannot swim here.
It should be pointed out, that the "normal" attractions of LA such as Rodeo Drive/Beverley Hills, Hollywood Boulevard, Grauman's Chinese Theatre and Universal Studios theme park are all at least an hour away. You are about 45 minutes to LAX.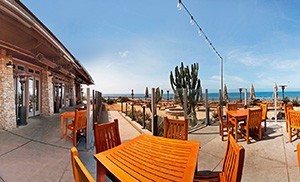 There are plenty of dining options on-site at Terranea; all the food is good and offered at typical LA prices. All the restaurants have outdoor seating with spectacular views of the ocean.
Casual dining all day at Catalina Kitchen, which also has an excellent breakfast buffet; entrees range from chitarra spaghetti to double Colorado lamb chops.
Haute Cuisine dining at Mar'sel open for dinner Tuesday through Saturday; entrees range from California Chanterelles to Wagyu ribeye steak.
Pub fare and micro brews with great views and patio dining is at Nelson's which is open for lunch and dinner every day; kids' menu available; entrees range from turkey BLT to fish and chips. Hamburgers were excellent, sunset views are incredible.
The newest addition to the hotel is Bashi, a poolside restaurant serving Asian fusion cuisine.
For a quick bite, breakfast lunch or dinner, Sea Beans Café offers pressed sandwiches, gelato, and coffee, as well as snacks like energy bars, smoothies and chips.
The Lobby Bar is popular with guests, who tote martinis around the lobby and cigars are for sale which can be enjoyed on its back patio.
The adult pool bar, Cielo Point, offers snacks and drink as does the Spa Cafe, in the spa.
24-hour room service with a delivery charge and a 20 percent gratuity automatically added.
The closest off-site dining is a set of affordable restaurants, including a Starbucks and a Subway, at Golden Cove, a mile drive down the road.
You will also enjoy, which is fairly standard for this upscale category of hotel, and as mentioned previously, highly attentive check-in staff who remember your name, poolside drink service, daily turndown with a chocolate and water, and the free daily guided hikes and free croquet. Shuttle service takes guests anywhere within a five mile radius — first-come-first-served basis.
Other daily services provided are the Los Angeles Times or USA Today, same-day laundry/dry cleaning, free boccie ball, kids' s'mores, Kayak tours and group bike tours charged per person.
There is a 24-hour Business Center with four computers, two printers; Internet and printing which is covered by resort fee.
The Terranea Resort is expensive, but well worth the splurge, and you should budget a minimum of $500.00 per day for room, taxes, meals, parking and resort fees. The resort has many packages available for weddings, business meetings golf and social functions.
Rates vary drastically depending on type of room, size and view, from $390.00 to $2300.00, before taxes.
Parking is $35 per night. Daily resort fee is $25.
The Links Golf Course is $55.00 per round.
I can hardly wait to revisit Terranea!
For more information, please have a glass of wine, relax and visit www.terranea.com.
Barry Lotz, J.D., Ph.D. is the director of the Professional Golf Teachers Association of America. Visitwww/facebook.com/PGTAA to see all the latest mental strategies and equipment reviews. He is a member of the Golf Writers Association of America and serves both as a Consultant and Mediator to the golf industry. He is also the author of numerous books, including "333 Best Web Sites for Golfers" and his previous book, "How to Build Business Relationships through Golf", updated for 2011, is still in the Top Ten Golf Business Book's best seller list. His latest book, "The Right Mind for Golf", is now in its 7th reprint is available on Amazon and at the Torrey Pines golf course.