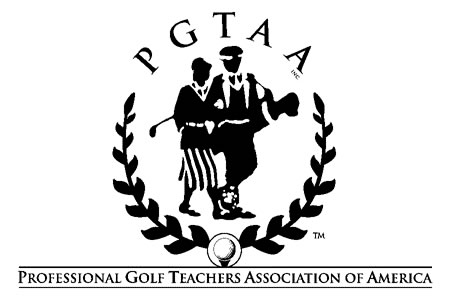 Golf is a game for everyone; you just have to practice to be good at it. If you have been practicing and are confident enough to teach others, but lack the qualifications, then the Professional Golf Teachers Association of America (PGTAA) can be of help. We offer a 100% teaching curriculum that will give you extensive training on how to instruct and motivate your students to learn the game. At PGTAA, we train our students to become successful golf instructors so that they can immediately take up coaching positions after their certification.
About the PGTAA
The PGTAA, or the Professional Golf Teachers Association of America, was founded in 1996 with the sole aim of teaching individuals so that they can learn to teach golf. Often called 'the Harvard of Golf', the PGTAA offers a Master Teaching Professional certification which allows the student to learn all that is required to become a motivating golf instructor. Besides the professional qualification, at PGTAA the focus is also on teaching our students to use this qualification to either set up their own teaching academy, or to be an asset to an established golf club as a manager/teacher/instructor, all rolled into one.
Established by Dr. Barry Lotz, the PGTAA is the "largest organization of strictly golf teaching professionals in the world". Its superior curriculum which can be taken as a 5-Day Onsite Course or a Home Study Course, is designed to add teaching and marketing skills to the existing golfing skills of an individual. In its 20 year history the PGTAA has contributed as a premier golf teaching association in the world and its contribution has been acknowledged by the professional tour players, as well as the golf academies throughout US, Europe and Asia. PGTAA students have gone on to manage professional country clubs, public golf courses, golf schools, golf learning centers, driving ranges, indoor facilities, and have served as able instructors at high schools, colleges, universities and clubs.
The PGTAA has remained popular amongst men and women who are looking for an intensive golf teaching course which will arm them with the necessary skills required to train and manage a golfer or golf program. The PGTAA admits all individuals over 21 years of age, irrespective of their country of origin or residence. Unlike the PGA (Professional Golf Association), which only accepts US citizens, the PGTAA is open to all. At the PGTAA, we focus on not only making you the finest golf instructor but also teaching you the psychological and philosophical skills to motivate those who will be training under you, since we feel that an instructor's enthusiasm is critical to the student's success.
Though we share some of our values with the PGA, we are also different from this sports organization which is almost a hundred years old! In our short life of only 20 years, we have given the world instructors who are diverse in terms of gender, race, ethnicity and age. These graduates have gone on to become heads of private and public country clubs, golf centers and golf schools. and have made a name for themselves.
How are we different from PGA?
The PGA and the PGTAA are both training schools for golf instructors and besides differing in the principles that govern their student intake, these schools also differ in terms of their course content and the course duration. The PGA has been around for a century, while PGTAA has been in existence for only 20 years, yet the PGTAA is comparable to PGA in the goodwill it has generated in this short span. It is a school that is well endorsed and respected by the golf fraternity and has made a name for itself in the golf instructor certification.
While the PGA's curriculum is designed to train the student to be an instructor-cum-manager-cum-Food & Beverage professional, the PGTAA believes in a curriculum which is totally committed to instructor training only, where students come to learn to teach golf. Unlike the PGA, which has a teaching program extending into 3 – 5 years of training, we offer a student two options: the Home Study module and the Home Study/On Site module. Regardless of which option is chosen, the Home Study module MUST be satisfactorily completed (prior to attending the On Site School) whereupon the student is awarded full certification as a Class A PGTAA Master Teaching Professional.
Thereafter, purely at the graduate's option and by paying the difference in tuition ($1500), the graduate can attend the On Site course which is held over 5 intensive days. The On Site course is designed for those graduates who would benefit from hands-on instruction, interaction amongst other graduates, constructive critiquing and detailed teaching techniques.
An additional benefit to attending the On Site School is that based on your written test, we can evaluate those areas where improvement will be beneficial to your teaching skills.
Our training is accepted, accredited and recognized worldwide and we have PGTAA certified teachers and members such as Mark Immelman, David Ledbetter, Gary Gilchrest and Mike Kletz who need no introduction.
For more information on our course content and modules, fees, rebates and accreditations, please visit our website or contact us. You can also log on to our website to check the testimonials from our past students.
Dr. Barry Lotz
Director
www.pgtaa.com