South Africa = World Cup Fever 2010
Planning on visiting South Africa for the World Cup between June 11 and July 11, or at a future date?
If so, and you enjoy world class hotels, lodges and adventures throughout South Africa, there is a one-stop, high end hospitality organization that you can entrust with all your whims and desires. One of the founders in 2004 of this organization, Jack Brotherton, personifies a "man for all seasons". Not only does he pilot both a helicopter and airplane, but his personality is infectious, he is passionate about Africa and he always makes the time to meet you and make you feel you are the most important person in the room.
His Seasons in Africa Group has to be considered one of the world's top eco system devotee and hospitality organizations. His Elephant Whispers property is a must see (visit the web site for details) and works in close partnership with EFAF (Elephants for Africa Forever).
Seriously, instead of spending hours and hours trying to get around and figure out what to see and where to stay, Seasons in Africa has probably the best accommodations, best service and best venues anywhere in South Africa.
After arriving in Johannesburg, South Africa's primary entry gateway, after an extremely long flight from the USA, head for #1 Melrose Boulevard to accommodations that are superb in every respect. Personal service and ambience are just two benefits that are ubiquitous, better than any of the city's top 5 star hotels!


These 6 deluxe, beautifully appointed apartments are located in Johannesburg's prestigious and safe Melrose Arch Precinct. The apartments vary in size from 1 to 3 bedrooms, including a penthouse with a private swimming pool.
Melrose Arch offers upscale shopping and phenomenal restaurants and an extremely good vibe created by the local residents, music and ambience.
Transportation services are available to World Cup venues, as well as to private and major airports.
One of the World Cup venues is Rustenberg, north of Johannesburg. If you really want to experience Africa at its best, there is no better experience to be had than the Madikwe Hills Private Game Lodge, owned and operated by Seasons in Africa – WOW!
The lodge, a four hour drive of approximately 360 km from Johannesburg, is situated in the North West Province, in the malaria-free Madikwe Game Reserve, traversing over 75,000 hectares of true untamed Africa, where the veld (plains) still team with game and the Wild Dog roam freely amongst the "Big 5". Twenty seven major species of game roam this nature reserve.
The 10 ultra-luxurious glass-fronted spacious suites, complete with their own expansive decks and private plunge pools, are ingeniously placed amongst granite boulders. Little Madikwe's Private Villa offers the ultimate in individuality and luxury.


What really sets Madikwe Hills apart from most of the "manicured and tailored" game lodges, is top cuisine, personal service, the spa and gym, the architectural design and furnishings. A boma (enclosed outdoor dining area) and comprehensive internet equipped library complete the picture of this exclusive lodge, rated as one of the best, not only in the Madikwe game Reserve, but throughout South Africa.
What impressed me the most was the placement of the restaurant overlooking the watering hole, where at one breakfast, my wife and I saw 40 elephants just meander by. As for the food, you order whatever you desire and the quality of the service and the taste of the food, with great South African wines, is outstanding, or as they say in South Africa – brilliant!
The game drives and the sunset cocktails (take extra clothing as it is cold when the sun goes down) are awesome, especially having spent most of the 5 hours with a very experienced and personable game ranger.
Seasons in Africa also has two 5 Star game reserves in the Kruger National Park that should you have time, a visit would truly be worthwhile. Rates at Madikwe range from R3950- R5200 fully inclusive. ($100.00 US is, as of writing, worth 7.389 Rands – One Rand is worth 1 ZAR = 0.135336 USD).
While you are in this area of the highveld, you should make time to visit the Sun City complex in Pilansburg. Visiting The Lost City and the casinos is definitely worth a day trip or even spending a night at Sun City.
Moving onto Cape Town, Seasons in Africa offers two outstanding and well-located boutique hotels – Hollow on the Square and the Cape Town Hollow.
My personal favorite would be the Hollow on the Square. With its 144 luxurious rooms, ideal location and its European style Amici pavement restaurant, the great cuisine and service make for the Hollow being a definite visit whenever I am in Cape Town.
The rooms are equipped with modern amenities, including air-conditioning, interactive TVs with Internet access, and spacious bathrooms.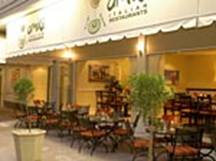 Public areas comprise a lounge, cocktail bar, cigar lounge, and business center. Don't forget to take a stroll through the park across the road, as well as to the City Centre and Victoria & Alfred Waterfront for fantastic shopping.
To really get a handle on just how Seasons in Africa operate their island resorts, helicopter trips, Victoria Fall's excursions, and to see their outstanding collection of properties around the Kruger National Park, spend time at their web site –
www.seasonsinafrica.com . Future articles will give you detailed reports on these properties.
Of course, not every visitor has the budget that it takes to partake, so with that in mind, let me introduce excellent alternative options for a hotel and game reserve in the same areas.
---
Tau Game Lodge – North West Province
The lodge is the westerly neighbor of the Madikwe Hills Private Game Lodge just minutes from Gaberone in Botswana and 360 KM from Johannesburg.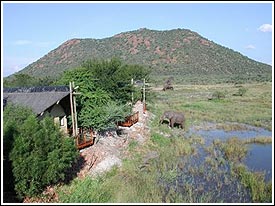 This privately owned game lodge was built in 1995 and overlooks a vast natural waterhole, which attracts a variety of game, as does the diverse vegetation that thrives in the fertile topsoil.
It has an outstanding, cosy Boma (enclosed outdoor dining area) where the food and atmosphere is totally African. You can hear the animals just outside the fence. In fact, if you need to move outside your bedroom at night, you need to be accompanied, as you could run into a lion or other wild animal.
The food, including South African melk terts (milk and custard pies) and boerewors (sausage), is delicious, especially outside, with a cool night and blazing fire burning in the Boma.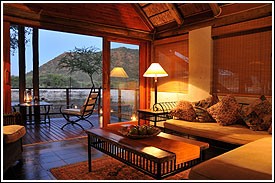 The main body of the Lodge is two-leveled and has a comfortable lounge, a conference room, bar and dining room which are semi open-air and overlook the waterhole.
Delicious buffet breakfasts and lunches are generally served in the main building or on the verandah next to the plunge pool.
The décor and furnishings of the lodge is African- themed and are equipped with both fans and air conditioning.
The outside shower for each chalet is simply glorious and so enjoyable. The game rangers at Tau are excellent and very knowledgeable about the flora and fauna.
Rates R2300 ($310) – R3150 ($425) per night all- inclusive (includes meals and game rides).
www.taugamelodge.co.za
---
The Protea Hotel Wanderers – Johannesburg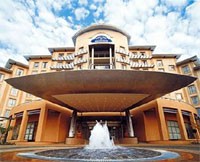 Situated in the northern suburb of Illovo, the hotel is in a very accessible and safe area with close proximity to Sandton City Shopping Center.
It is ideal for patrons who want security, 4-star service and access to all the major attractions in the city. More importantly, the staff really knows how to take care of their guests. Nothing is too much trouble and they are always friendly and knowledgeable.

This hotel features 230 guestrooms, all of which include cable television, pay movies, multi-line phones and wireless Internet connections.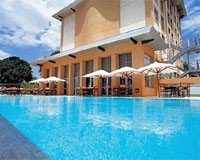 Guests can lounge on the hotels sun terraces, cool off with a dip in the swimming pool and take advantage of an array of sports facilities at the Wanderers Club, on which the hotel sits, including tennis, squash, snooker, golf and bowls.
If you really want to play a magnificent golf course, The Wanderers Golf Club, directly across the road, fits the majority of golfer's idea of a fantastic course. Caddies are available and a round of golf is about $25! This is an old-style, typical South African golf course.
In the evening, guests can unwind with a drink at the 24-hour bar or eat in the Big Apple Restaurant – A New York themed eatery offering an á-la-carte menu, with an emphasis on local specialties. Guests can dine in the deco-style restaurant or alfresco on the pool deck. The restaurant is open seven days a week for breakfast, lunch and dinner.
The business centre is complete with conference facilities, for large or small groups, and is equipped with a range of audio-visual equipment. Staff at the 24-hour front desk can provide tour information, car rentals, transfers, and a currency exchange service.
The great shopping and dining establishments located in Sandton, Rosebank and the Melrose Arch Precinct are just minutes away
Located at the corner of Rudd Road & Corlett Dr, Illovo 2116, South Africa.
The daily room rates are $60 – $95 depending on time of year.
www.proteahotels.com
South Africa is a land of stunning beauty, warm and open people and fabulous food and wine. And don't forget to visit those outstanding wine farms and restaurants in the Franschoek and Stellenbosch areas of the Cape, such as the Haute Cabriere Estate & Restaurant and both David Frost's and Ernie Els's wine estates.
Just writing this article makes me yearn for a return trip. I will be going again this July!
Barry Lotz, J.D., Ph.D. is the director of the Professional Golf Teachers Association of America. He is a member of the Golf Writers Association of America, the California Golf Writers Association, and serves both as a Consultant and Mediator to the golf industry. He is also the author of numerous books, including "333 Best Web Sites for Golfers", "How to Build Business Relationships through Golf" which is in the Top Ten Golf Business Book's bestseller list. His latest book," The Right Mind for Golf", is to be released in March 2010.
He can be reached at www.pgtaa.com or drlotz@cbsgolf.net