Learn How To Make $100,000 per Year or More in the Golf Business as a PGTAA Teaching Professional With Precise Business Management and Marketing Principles and Techniques
Business & Marketing Module
This comprehensive course has been developed over 20 years by PGA pros, directors of golf and golf retailing experts. The course is designed to show the student all those "trade secrets" in becoming a financially successful professional golf teacher whether as an independent teacher or as a Head Pro. The course is the mainstay of the Professional Golf Teachers Association of America's unequaled leadership in the field of golf instructor education worldwide.
Realistic, experienced and expert professionals teach our classes. The materials used are field-tested and can generate incomes approaching six figures and more if applied methodically. Keying in on retention and expansion of students is the primary objective, you will be shown how and where to market your services and become the primary teaching pro in your area.
Our instructors teach on a daily basis at Torrey Pines, Pelz Short Game Schools, numerous prestigious golf clubs and courses and University Golf Teams and are faculty members of prestigious universities. Their educational backgrounds are exemplary with degrees from the likes of Harvard Business School, Stanford and other Ivy League schools. These instructors are both successful and masters of their domains and regularly are listed in the Top 50 Golf Teachers.
Benefits
You will learn how to:
Work with a pro player
Self-promote your USP (Unique Selling Proposition)
Embrace and profit the Junior and local community market
Negotiate with an owner
Obtain product endorsements and equipment
Use demographics to pinpoint the highest population to target and locate your operation
And much, much more….
In addition, two additional modules for your enhancement and continuing education as a professional golf teacher are available:
Instructor Module
Taught by PGTAA pros, former PGA members and university professors. – (On Site & Home Study)
The Faculty: Teachers such as the caliber of Mark Immelman (Head Coach-Columbus State University), Mike Kletz – Houghton Golf Club. Additionally, golf psychologists and exercise professionals offer their expertise to students ensuring top caliber content and teachers.
Benefits
Superior curriculum.
Based on actual case studies. (What all tour players and big name teachers know and understand to be the best in their field).
The improvement of your game in the process.
Ongoing courses, workshops and newsletters
Many years of research and teaching hours have gone into perfecting our Modules. They are in everyday use throughout the world on Tours, Ranges, Courses and Schools. The ability to innovate and become masters of your domain is now readily available for you to become the consummate Professional Golf Teacher.
Graduates will also become certified as a Master Teaching Professional through the Professional Golf Teachers Association of America.
Schedule :: Online Registration :: Print Registration Form
---
Custom Club Fitting, Club Building and Repairs Module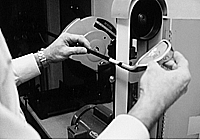 In our continuing mission of educating true professional golf teachers, this module is separate from the primary syllabus. Not only will this module increase your knowledge; benefit the player himself or herself, but also to afford the golf pro an ancillary income generating opportunity.
Available only for the 5-Day On Site Course and Business & Marketing Module attendees.
A minimum of 6 students per class is required. $100.00 – 4 hours
---
Take a walk up and down the driving range, and a few things immediately are observable:
Not All Golfers Talk the Same
Not All Golfers Swing the Same
Not All Golfers Dress the Same
Only when you can put the same swing on every golf club, can you compete at the highest level and achieve results truly commensurate with your ability.
Probably the best example of this commitment to precision tuned and precision manufacturing, was when the great Ben Hogan invited Jack Fleck to the Hogan factory in Fort Worth to be fitted a set of precision Hogan golf clubs. The difference to Jack Fleck's game resulted in his winning of the 1955 US Open over none other than Ben Hogan himself in a playoff.
Today all tour players today are precisely fit and most equipped with precision golf sets. There are 14 different considerations to include when custom fitting a set of clubs. On the other hand, the majority of the general golf public is stuck with off the shelf, mass- produced, inferior sets of clubs that do not match their swings.
So what's the point? Custom Fitting is BACK. BIG TIME and we are not talking about the major manufacturer's "Golf Fitting Carts" found on ranges and country clubs. Another favorable consideration – custom fitting runs about the same price as off the shelf clubs and if one has access to custom fitting, it would be well worth the time and effort.
Benefits:
Taught by Professional Clubmakers' Society members in their shops
Learn to build, repair and fit golf clubs
Offers student total service under one roof
Lucrative cash generating option
Learn to build, repair and fit golf clubs. You will be taught how to determine loft, lie angles, shaft types and shaft replacement, shaft flexes, length, grip size and grip replacement, kick points and head designs and refinishing that will allow your customer/student to obtain the best possible clubs suited for his game.