The holiday's are almost upon us so now is the time to get busy. Here are some of the most innovative, beautiful and useful gift ideas.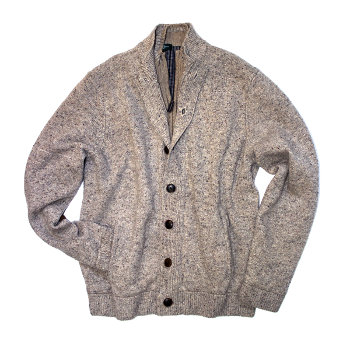 Bobby Jones Double Closure Full Zip Windbreaker
This is one of the most luxurious outerwear garments available in the upscale market category.
It is a "cardigan looking sweater", but actually serves as a windbreaker on the inside. It is made with an 80% lamb's wool exterior and a 20% nylon interior.
The windbreaker has a seven-gauge tweed tweed and suede elbow patches.
As you can see in the close-up, it actually offers a zipper closure and a cardigan button closure over it.
It is super soft to the touch, but provides great added protection on those brisk winter days.
$265.00 www.bobbyjones.com

BOBBY JONES UNVEILS NEW ROUGE FOR WOMEN
New Driver and Fairways Designed To Provide Female Golfers Unrivaled Distance and Accuracy.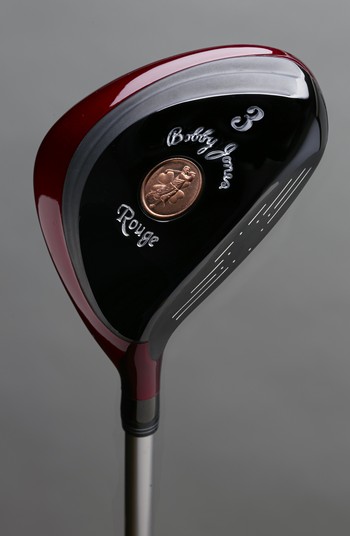 The Rouge Series, named for its beautiful burgundy rouge finish, consists of a driver and five fairway woods all featuring a patented head shape designed specifically to reduce sliced and pushed shots for players with slower swing speeds. In addition, the Rouge Series clubs contain a slightly offset hosel that is found throughout the set, which positions the hands ahead of the ball for more solid ball-striking at impact.
The Bobby Jones Rouge collection features a driver, 3-5-7-9 and 11 woods that have 14-18-23-28-33 and 38 degrees of loft, respectively. The 14-degree Rouge driver is constructed of titanium and features a 400cc head. The driver utilizes a high toe, low heel design that squares the face at impact for players with more moderate swing speeds.
The Rouge Fairways are constructed of thin, super hot maraging steel faces for greater ball velocity and reduced spin. The Rouge Fairways also feature a shallow face with low profile to ensure assistance with getting the ball up in the air.
"I believe that an innovative fairway design delivers superior performance over a hybrid design for women, because of the lower and deeper positioning of the center of gravity," said Jesse Ortiz, Vice President of Bobby Jones golf equipment. "Typical hybrid designs position the CG high and too close to the face of the club making it a much less forgiving option versus the unique Rouge fairway design, which features a drag reducing soleplate for better contact from difficult lies.
Ortiz continued, "the two main challenges many female golfers have is getting the ball to launch higher and squaring the clubface at impact, and with the Rouge line we've been able to use innovative technologies to alleviate both. In addition to making the game easier, the new Rouge clubs are visually striking. The beautiful burgundy rouge finish will please even the most style conscious of women golfers."
The Rouge series clubs are available now online at www.bobbyjones.com.
The street price of the driver is $250 and the Fairway woods are $180 each.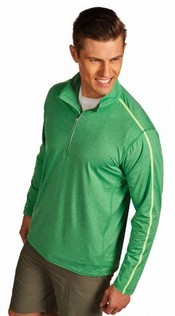 Antiqua Golf
For 2015, half-zip pullovers like Asset are available in a range of deep-yet-colorful heather shades complemented with brighter tonal sleeve taping and contrasting placket zippers. It can easily become a cool weather everyday wear garment, given its wide range of color options.

The versatility of lightweight outerwear styles adds to their popularity. They've been designed with the intent to be worn as standalone garments, or worn over a tee shirt or performance polo or under a heavier weight outerwear piece.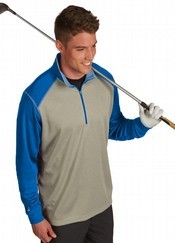 Each of these lightweight outerwear styles can be utilized to perform these multiple garment functions. Crux, for instance, is constructed using a mid-weight, double knit neutral heather interlock that's contrasted with deep palette color shades and outlined with seams covered in bright color contrast cover stitching.
It's appealing as a casual look and as a new-color classic. 100% polyester yarn dye heather double knit interlock long sleeve 1/4 zip pullover with contrast color sleeve, shoulder inset and collar. Contrast tipping at collar.
Haze demonstrates the subtle simplicity of a tonal irregular yarn, constructed into a lightweight, lightly brushed half-zip pullover guaranteed to be comfortable in cool climates without impeding movement.
With the new half sleeve wind shirt Skill, the process of bonding a thinly constructed micro-membrane behind and against the filament knit interlock outer face, and sandwiching it with an additional inner layer of filament interlock, gives the appearance of one singularly constructed layer of fabric.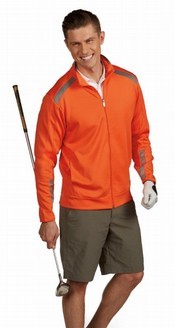 This one-piece, multi-layer, wind-resistant fabric eliminates the need for an additional garment lining. Due to its shell construction, Skill functions as a wind-resistant garment while also keeping golfers dry from rain based on its high-quality inner membrane.
It's embellished with elastic outer garment seam tape that mimics the irregular neutral stripe effects in this collection's polos, giving it a unique aesthetic design appeal.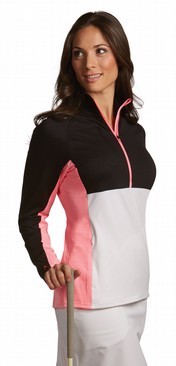 The 2015 women's Bolt is a 95% Polyester/5%spandex jersey face and fleece back long sleeve half zip pullover with contrast top body color block details with heather side insets, zip chest and hip pocket with the Antigua triangle patch at the sleeve end. The pullover comes in 6 different colors.
All the above styles retail for a MSRP of $80.00
For more details on Antigua's Spring 2015 Men's Golf Outerwear Collection, visit www.antigua.com.
COGITO CLASSIC – The power of a smart watch with the sophistication of a precision-crafted timepiece
The smart watch is here—something that seemed as far away as the Jetson's robot butler has made it to today's technological society. But unlike the first mobile phones, the COGITO CLASSIC smart watch is refined and sophisticated.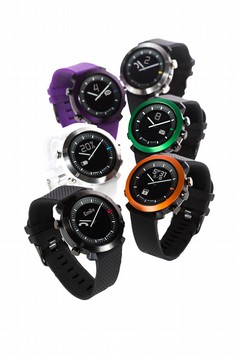 The perfect size on your wrist with classic analog movement, all with the essentials of your smart phone, the COGITO CLASSIC appeals to both the techie and the grown-up in each of us.
Pioneers of the smart watch movement, the COGITO CLASSIC is revolutionary in the way it operates. The watch is not just one more gadget that distracts us from everyday moments; it helps us streamline what is important and what can wait.
When linked with the smart phone or tablet app, COGITO CLASSIC allows you to customize settings based on your priorities and selecting which notifications will appear. On the watch face, you can see who is calling and decide whether to answer or mute it.
COGITO CLASSIC frees you from continually checking your phone.
"We wanted to eliminate the clutter and all the digital distractions in our daily lives; what better way to do that than by simply looking down at your wrist?" says Peter Hauser, Chief Technology Officer of CONNECTEDEVICE, makers of COGITO CLASSIC.
Making life even easier is the fact that the COGITO CLASSIC is one of the only smart watches on the market that never needs to be charged! Using a standard watch battery that is easily replaced when needed, you no longer have to hunt for a plug or charging cable.
You already have to remember to charge your computer, iPad and iPhone every night — you don't want to have to charge your watch, too!
The COGITO CLASSIC is also water-resistant up to 10 ATM , meaning you can still monitor essential communications on your watch in situations where you might not be able to bring your phone. You don't have to worry about carrying your phone in the rain or on the beach, when COGITO keeps you safely connected.
Program your COGITO CLASSIC smart watch to only give you the notifications you need. If you want to receive notifications about text messages from only certain people such as your child or boss, this function is available! Want to use your COGITO to take a photo?
No problem! Just set up your phone and use the watch to snap the shot! The ultimate selfie!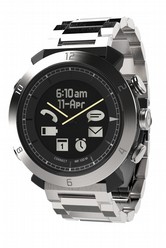 The watch is not only revolutionizing the way we live our lives, but it's fashion forward as well. Featuring design by award winning French Designer Xavier Houy, this precision-crafted timepiece adds a level of sophistication to the smart watch market.
Featuring classic analog movement combined with intuitive digital notifications, this is the only smart watch with a design that looks forward to the future while paying tribute to the past.

The COGITO CLASSIC can be paired with Apple and Android devices, making it one of the only smartwatches to cross the boundaries of different operating systems. If you change from one phone brand to another, you don't have to ditch your smart watch in the process.
Retailing for $179, the COGITO Classic is an affordable option, making it the ultimate gift for that special someone who values function but who doesn't want to trade their fashion sense to get it!
Currently available at select Brookstone retail shops and online at http://cogitowatch.com/classic.html

Nunchuk xi shafts coupled with Boccieri Secret Grip equal amazing feel and results.
Developed by Nventix and manufactured by UST Shafts, these purple and grey shafts are lightweight graphite iron shafts weighing 104 grams and extremely stable. They reduce vibration compared to steel shafts and according to their inventor, Gerry Hogan, their rigid tip and butt sections minimizes shaft droop, shaft twist and bend to give a golfer a better chance to hit the sweet spot.
The aforementioned also makes these shafts playable for a wide range of players. Golfers should expect to impact the "sweet spot" of the clubface more often, with the clubface looking at the intended line of flight thereby producing better club head to ball speed efficiency and better accuracy.
Nunchuk shafts are different than other shafts on the market because they don't come in different flexes. By bringing their tour-proven NUNCHUK Tri-Zonal Stability precision technology to iron shafts, nVentix has produced a graphite iron shaft that is more consistent and accurate than steel shafts, but with the feel of graphite.
The TZS shaft design incorporates three segments, or zones, where each segment is specifically designed and constructed to control problems with twist, flex and droop found in other shaft designs.
The shaft has the same design theory has the company's driver/fairway and hybrid shafts.
Torque — 3.3 degrees
Weight — 104 grams
Length — 40 inches
Tip outside diameter (OD) — 0.355 Tapered and 0.370 Parallel Tip
Butt OD — 0.610 inches with 7.5′ parallel butt section
Parallel tip — 2 inches (0.370-inch model)
Butt trim to length, no tip trimming required or suggested. Long parallel butt section to produce consistent grip feel and size for hand placement on the club.
Nunchuk's wood and hybrid shafts have already found the winner's circle on the PGA Tour — Jhonnatan Vegas used one in his driver, 3 wood and hybrid in 2011 to win the Humana Challenge, and Brandt Snedeker used a Nunchuk shaft in his hybrid when he won the 2012 Farmers Insurance Open.
Additional devotees include Retief Goosen and John Daly who use the shafts in all their irons, wedges included. David Edel, the guru of putters and wedges, offers the Nunchuk xi for all his wedges as does Nike.
Each shaft cost $55.00 www.nventix.com
The Secret Grip by Steve Boccieri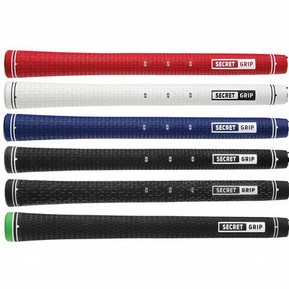 When the Nunchuk shafts are coupled with the Secret Grip, the balance point of your club is raised thereby improving your consistency, control and distance.
The balance point is important because its location influences how a golfer swings the golf club. This can be felt several ways during the golf swing. The first place you will notice the effect is on the backswing where the added weight helps the hands to set the club properly. Raising the balance point also diminishes the ability to cast the golf club from the top. This leads to a better angle of retention, which allows for a smoother transition into your downswing and a more powerful release of the golf club.
A higher balance point also influences the way a golfer swings the putter. Placing additional weight in the grip quiets the hands leading to a smooth pendulum putting stroke.
The secret Grip uses Counter Balance Grip Technology which adds weight to the back, or grip end, of your golf club. Counter-balancing tightens shot dispersion and increases ball speed in the full swing, as well as quieting the hands in the putting motion, producing a smooth pendulum stroke.
The Secret Grip features an Injection molded tungsten cap, is a heavier rubber compound than most grips, has a built-up lower hand and is 1″ longer than a standard grip.
The Secret Grip for swing clubs is available in two sizes (Standard and Midsize) and the Secret Grip for putters is available in three sizes (Classic, Midsize and Jumbo) and three weights (100g, 155g and 165g).
There are a variety of Secret Grips:
Secret Grip Original – $12.99
Secret Grip Color – $13.99
Secret Grip Cord – $14.99
Secret Grip Putter Classic – $19.99
Secret Grip Putter Midsize – $24.99
Secret Grip Putter Jumbo – $24.99
www.boccierigolf.com
Full Swing Golf
This is the granddaddy gift that the whole family can use!
Full Swing Golf's 3-D golf simulation is arguably the best on the market, with incredible graphics and a sizable number of courses that you can play, including Pebble Beach, Oakland Hills and St. Andrews. The landscapes and detailed views of galleries and wildlife are stunning, but the system also offers real-time data such as ball speed and launch angle that can tell you a lot about your game.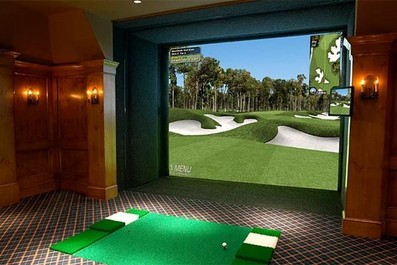 Some of the world's most respected golf professionals also use Full Swing in their teaching and training regimens, such as Hank Haney, Ian Poulter, and Mark Wilson.
For over 25 years, Full Swing Golf has continues to deliver the most innovative, high-quality, realistic and enjoyable golfing experience available on an indoor system.
Full Swing Golf has developed a new extension to its existing infrared tracking system that utilizes a single high-speed camera to focus solely on ball spin and club head data, Full Swing Golf has truly mastered the art and science of ball flight.
Full Swing Golf uses a patented tracking system which consists of proprietary hardware which utilizes Light Speed Infrared Technology and Ion2 Vision Technology.
The Ion2 Vision technology utilizes a single high-speed camera to focus solely on ball spin and club head data while the infrared technology focuses on the speed and trajectory of your shot.
The ION camera captures detailed spin data using regular, unmarked balls including back spin, side spin, and spin axis. Displaying this information on-screen allows you to make better shot decisions. The ION camera gives you club head speed, club face angle, and club path information with intuitive on-screen illustrations of your club, so you can improve your swing.
Advance models include – 1.) Swing Catalyst, which includes High Speed cameras and Balance plate technology, 2.) SwinGuru, which will record, replay and analyze your swing in 3D.
Full Swing simulators cost between $45,000 and $60,000 and include 80 courses.
www.fullswinggolf.com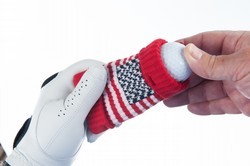 Looking for a great stocking stuffer? This is an ideal gift for the golfer who lovesuseful gadgets.
The Green Sleeve is pocket ball and wedge cleaner.
This sock-like sleeve fits right in your pocket, eliminating the need to carry a bulky towel to the green, and the microfiber technology inside the sleeve ensures that your ball and wedge grooves will be free from dirt and debris for improved accuracy.
Green Sleeves are easy to use, convenient to transport and provide superior results to other golf ball cleaning tools.
To check out the entire selection of colors, wide array of patterns and complete customization capabilities of Green Sleeve,
visit greensleevegolf.com . $11.99 – MSRP.
Barry Lotz, J.D., Ph.D. is the director of the Professional Golf Teachers Association of America. He is a member of the Golf Writers Association of America, the California Golf Writers Association, and currently works as a mental coach to 14+ PGA Tour Pros. He is also the author of numerous books, including "333 Best Web Sites for Golfers", "How to Build Business Relationships through Golf" which is in the Top Ten Golf Business Book's bestseller list.
His latest book," The Right Mind for Golf", released last year, is now in its 5th printing
He can be reached at www.pgtaa.com or drlotz@cbsgolf.net