With the advent of new high tech materials and smaller sized micro chips, most products today have evolved into miniaturizations of themselves eliminating extra weight and increasing user friendliness.
These were some of the very best and most useful products we saw at the Show.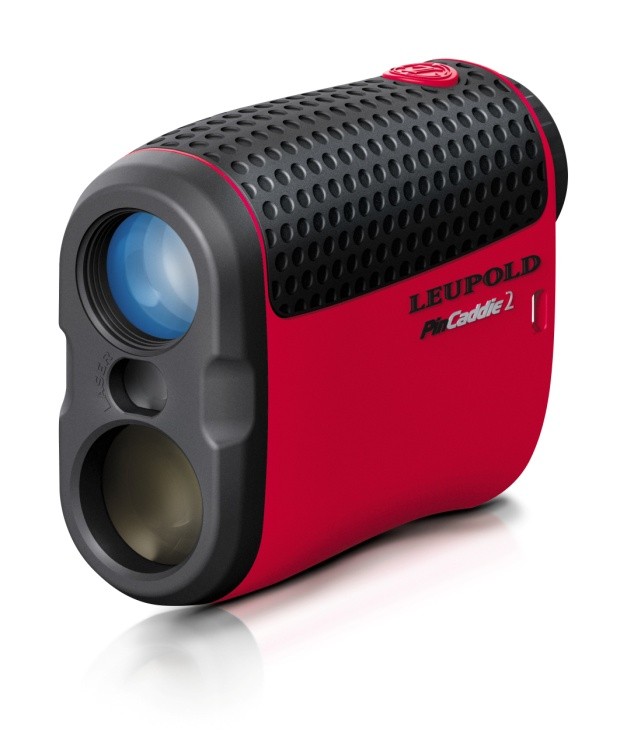 Leupold's New PinCaddie2 Range Finder
This unit is simply the best range finder currently available! Its sleek design together with the ergonomic design and visual reading meter, is simply awesome!
Weighing only 6.3 ounces, PinCaddie 2 features Leupold's exclusive PinHunter® Laser Technology and a ranging engine that eliminates false readings caused by background hazards, like trees and bushes. This feature assures golfers are ranging their target, not what's behind it.
Other PinCaddie 2 features include a high-contrast LCD display, measurements in both yards and meters, a multi-coated lens system, one-touch scan mode, and a sleek, rubberized front cover and red finish.
This new rangefinder is USGA 14-3 compliant and perfect for obtaining line-of-site measurements to the pin.
Rugged, compact and waterproof, PinCaddie 2 has 6X magnification, meaning you can magnify the target to six times its size and can range up to 650 yards. The PinCaddie 2 is available now and has a suggested retail price of $249.99.
For more information on PinCaddie 2 features, pricing and dealer location, go to www.leupold.com/golf
New Balance
Women's NBGW1001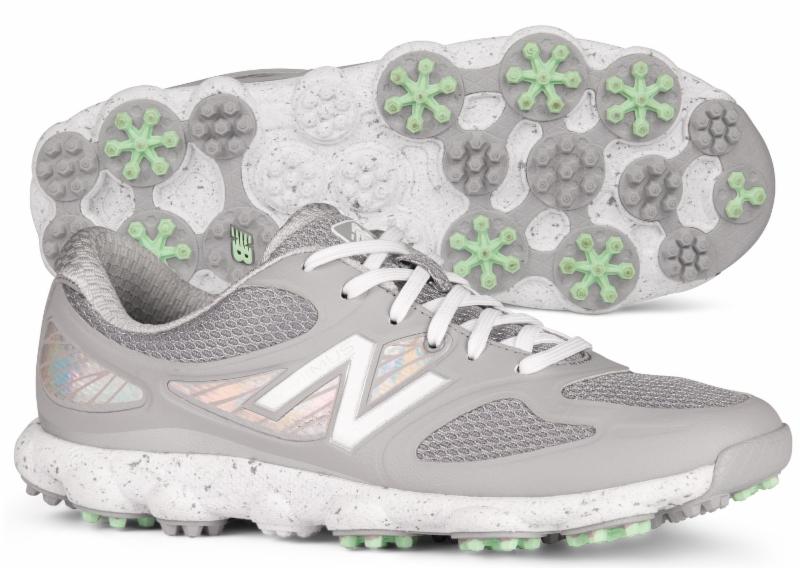 The NBGW1001 golf shoe is built on the same Minimus® Last in New Balance's popular low-profile running and training shoes.
The NBGW1001 features a breathable, water-resistant mesh upper with no-sew synthetic overlays. The REVLite® 4mm drop* midsole provides lightweight cushioning and premium responsiveness, while an Ortholite® insole provides cool, dry comfort close to the foot.
The dual density integrated spikeless outsole provides traction and maintains the shoe's minimal profile.
The NBGW1001 weighs just 6.7 ounces and is available in two colorways; grey with a hologram insert and white with grey highlights in sizes 6 -11, B and D widths in the grey and B width in the white for a suggested retail of $89.95.
Women's NGBW1004
The NBGW1004 is built on a New Balance SL-2 last and features a premium waterproof leather upper and a REVLite® 10mm drop* midsole.
The outsole is made of NDurance, a rubber compound for maximum durability in high wear areas and uses the Champ® Slim-Lok® Zarma®** Tour cleat system.
The NBG1004 weighs just 8.9 ounces and is available in a white colorway with subtle grey and pink accents in sizes 6 -11, B width for a suggested retail of $119.95. The NBGW1004 is backed with a 2-year waterproof warranty.
Superstroke Grips- The Most Popular Putter Grips Ever?
The fascination with these grips, especially after Jordan Spieth's Masters triumph, is simply off the charts! Jordan uses the Flatso 1.7 which is green and black on the white only.

Why, you may ask? Well, simply put, they work remarkably well for just about every type of golfer.
And who would have thought that the traditionalists of the game would play anything other than leather grips? Yet, today, shapes, sizes and materials are so far advanced.
In 2014 and 2015, five grips have captured both the imagination and market share of grips – none as much as the SuperStroke series.
Every time you turn on the TV, the black and white SuperStroke is on the majority of players' putters. Ever since K.J. Choi placed a large black oversized grip on his putter, the trend began. From the original oversized grip that needed to be screwed in to the shaft, to the current grips now fitting as all conventional grips do.
SuperStroke has also introduced their new + Plus Series Grips with CounterCore Technology
"Back weighting is a tour proven technology, which when combined with a SuperStroke grip, can quickly promote a more repeatable, pendulum stroke, leading to less putts and lower scores," said Greg Sabella, SuperStroke Vice President of Marketing.
The new + Plus Series putter grips feature game-changing CounterCore Technology, which allows players to add back-weighting to any putter, to achieve optimum balance. The +Plus Series grip has a proprietary threaded cap design. Players can quickly and easily install a 50g weight (sold separately) to instantly change feel and balance.
SuperStroke's + Plus Series grips are available in two diameters in the Legacy Profile (2.0, 3.0) along with a 2.0 Flatso Version. Each of the grips is 13.75-inches long.
The + Plus Series grips retail for $29.99 and the 50g CounterCore weight is $9.99.
Generally, all SuperStroke grips will greatly eliminate wrist bending, increase shoulder rotation, which keeps one from taking the putter back too far inside, will reduce tension in your fingers, and most importantly, will help you develop great rhythm and tempo with your putting stroke.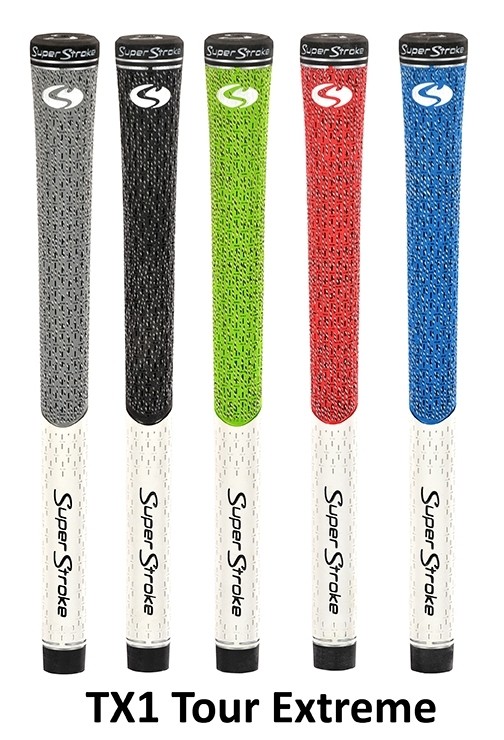 Reports of golfers dropping 3-4 putts per round are not grossly exaggerated!
SuperStroke has a large line of oversized putter grips, which for some can be confusing, but most stores will have each size on a shaft top so you can see what works best for you. There are a variety of colors for most models.
Now SuperStroke has introduced their new SuperStroke TX1 Premium Club grips.
These grips are not oversized nor non-tapered like the putter grips. They definitely improve grip over the entire surface.
The TX1 Club Grips are a proprietary blend of two rubber compounds melded into one grip for a dynamic blend of control and feel.
The top portion is a soft, cord infused rubber that provides excellent control. The bottom portion is a softer, non-cord rubber that provides the feel and feedback players demand, especially on shots around the green.
The TX1 Club Grips will be available in five colors (Black/White, Red/White, Blue/White Grey/White, Green/White) and have a mid-size version available in Black/White.
The TX1 Club Grips retail for $10.99 and the mid-size version retails for $11.49 and is available online at superstrokeusa.com and at leading retailers.
The Cork Tree Grip
There's a brand-new golf grip material quickly gaining popularity. The Cork Tree has debuted four new putter grips made of cork leather.
Why cork? It's proven to be the perfect complement to leather in a grip. Cork leather putter grips provide an overall user experience that cannot be achieved with any other putter grip material known to man.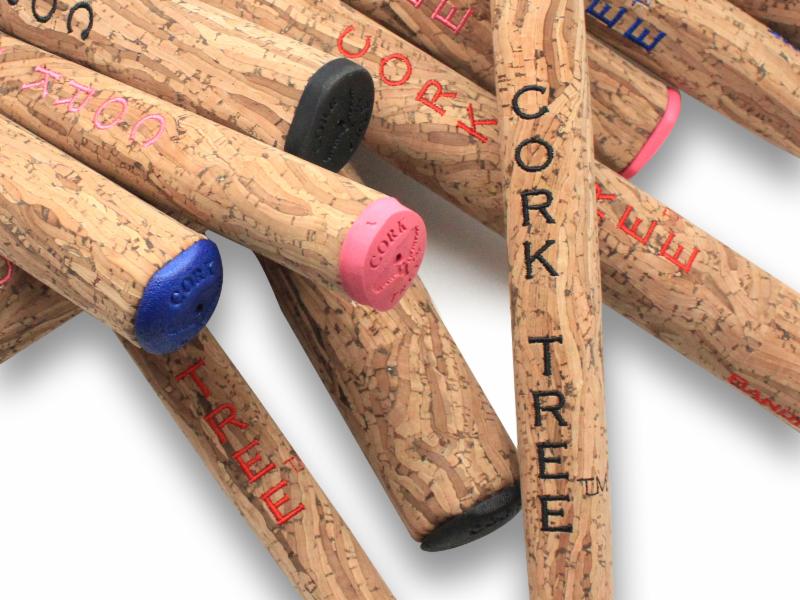 Cork's honeycomb cell structure is key. Each cell is a 14-sided polyhedron filled with air, making it an extremely strong and flexible membrane that's waterproof and airtight. Cork bark is about 89% air, giving it a low density. But when it's compressed, air isn't squeezed out, because the cell membranes won't release it. So it returns to its original shape when the compression is removed.
Cork is 100% natural, feels soft in the hands, and improves its playability well beyond other materials when a golfer's hands are hot or sweaty — as well as in humid playing conditions.
"That means the grip won't slip in your hands — regardless of how moist your hands are," says company co-founder Marc Boggia, a British PGA member. "That lets you confidently putt away without any tension in your hands and arms, promoting a more fluid stroke. Once you try it, I know you'll agree that it feels amazing. Plus, it cleans very easily — dirt wipes away with a wet cloth."
Cork Tree putter grips are designed and used by Championship winning Tour professionals who make their living from playing golf. There are currently more than twenty PGA Tour players using Cork Treecork leather putter grips including Danny Willett, the winner of the recent Nedbank Golf Challenge in South Africa. Liang Wen- Chong, with 17 career wins, including wins on the European Tour, Asian Tour, Japan Golf Tour, and OneAsia Tour, is also using the Cork Tree putter grip.
The four initial putter grips include the Midsize ($29.95), Feather Light ($39.95), Parallel ($39.95) and Tour ($39.95) models. They're all extremely durable, absorb any impact vibration and are impermeable to water.
Bette & Court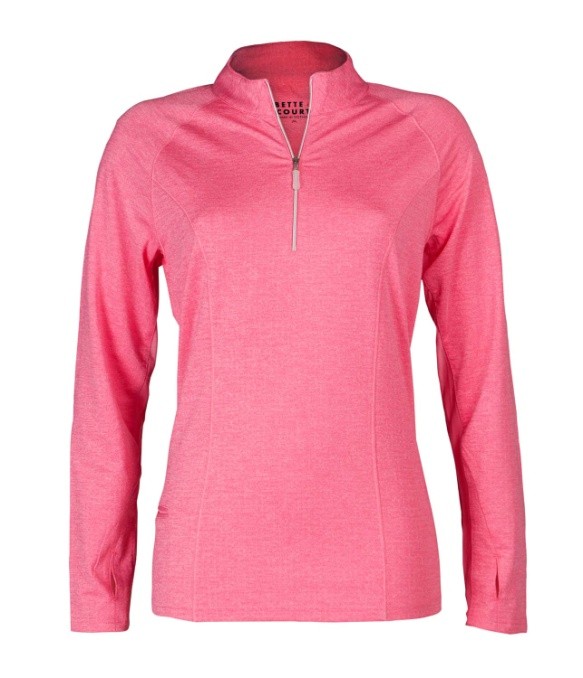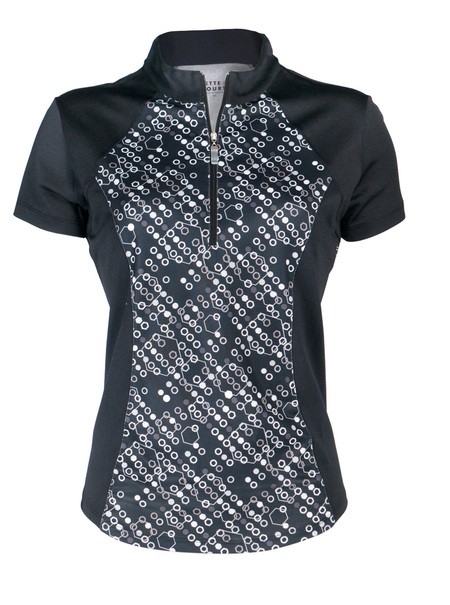 Bette & Court, a division of Sport-Haley, Inc. is a premier women's golf apparel company committed to the active woman interested in fresh, sporty, modern and easy-to-wear clothing at an affordable price point. Offering effortlessly stylish and interchangeable pieces, Bette & Court's clothing is designed with attention to quality, detail and fit that performs beautifully on and off the golf course.
The Spring 2015 Bette & Court line continues to offer a modern twist to dressing for the active woman, while staying true to its core basics. Bette & Court apparel is designed to meet the needs of the busy, younger- minded and active woman who wants "fashletic" or easy to wear, affordable clothing that performs well on the golf course, but also translates fashionably off the course.
The Cool Elements Mock featured on the left, retails for $76.00.
The new line, which includes three collections, is full of colorful personality, but easy to merchandise and designed with practicality in mind. The color blocking attributes bring a flattering twist to the short sleeve and sleeveless polos in each collection.
Design details like heathered or printed fabrics, ombre zippers and mesh overlays add stylish touches to this season's pieces. Using quality, high performing fabrics that fit and flatter, this seamless collection is a reflection of Bette & Court's evolution as a fashion forward apparel brand.
The three collections of the Spring 2015 line bring a fashionable twist and extension to Bette & Court core of essentials. With distinct bold color stories, fabric and styling crossover, the groupings can mix and match back to items already in a woman's wardrobe.
Bette & Court's entire collection centers around the brand's best-selling Cool Elements top, the original sun protection mesh sleeved polo, which can be worn on and off the course. In the Spring 2015 collection, Cool Elements tops come in, not only 15 color options, but also with two collar styles, six prints and the new Odyssey Mock, which features mesh detailing on the back, heathered fabrication, and thumb holes on the sleeves.
The Bette & Court Axis short sleeve polo, looks great on. The zip Placket and mock neck give the polo an elegant look. It retails for $60.00.
Providing SPF 30+ sun protection, these textured tops can reduce body temperature with its cooling yarns and mesh vents under each sleeve for extra air circulation. With fabric that is lightweight, anti-microbial and moisture wicking, Cool Elements products are perfect for lightweight sun protection.
Other pieces of the line include the increasingly popular Smooth Fit pant, Capri pant, short and skirt, which act similar to shape wear, but perform like active wear. The durable, pull-on pieces offer a sleek, flattering look with superior comfort and will become a favorite for 2015.
New this season is the "Jackable". This full zip jacket is a soft, lightweight, water resistant piece that can be folded into a small pouch and packed easily into a golf or gym bag. Also new is the "Transition" jacket, space dyed with a peached fleece inner fabric that keeps the body warm against the elements.
Bette & Court and Sport Haley are located in Denver, CO, and sold online and at private and public golf shops throughout the world. For more information about Bette & Court, please go to bette-court.com
Antigua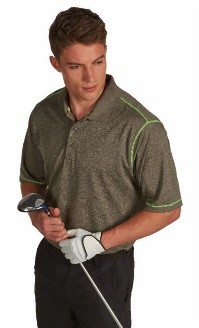 Desert Dry™ technology absorbs and wicks moisture quickly and evenly, achieving the most-efficient evaporation possible to keep golfers comfortable and dry.
The Desert Dry™ family now includes poly/cotton blends. Antigua has taken Desert Dry™ moisture management technology and constructed fabrics with fine cotton fibers blended with synthetic filaments to create Desert Dry™ Performance Cotton. Customers have been requesting a more casual fabric, without compromising the wicking capabilities of the poly fabrics.
Meanwhile, Desert Dry™ Xtra-Lite combines the Desert Dry™ moisture-wicking feature with specially constructed ultra-light fabrics for maximum wicking performance and optimum comfort. New additions to this category are 100% poly fabrics that feel and look like cotton. The garments feel like cozy cotton, but handle perspiration like poly. These new cotton-like poly fabrics open up a whole new world to consumers, who can have the comfort of their favorite tee while maintaining the ease of poly's wear and wicking power.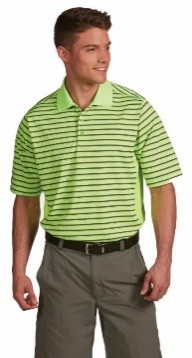 Additionally this season, Antigua has reintroduced some fashion Performance 72 classics – updated in performance fabrics and offered in new colors representing the seasonal palette. Style Major has been a popular performance spin on the classic 50-50, color-to-white horizontal feed stripe with a matching flat knit collar.
Style Rush has carried forward in new colors and represents fashion newness with its self-fabric collar and dress shirt-inspired collar band, and updates the classic narrow pin stripe with added flexibility and a soft-touch fabric hand that includes spandex. Less classic and more staple, style Titan is a derivative of Antigua's own essential style Icon with its pique, single wale one-inch repeating texture stripe and seam-engineered contrasting color filament chain stitch. Titan's newness is demonstrated in its dual color spun micro-filament yarn knit, to offer a heather appearance in all the neutral ground shades.
Antigua has also developed several new styles with "self-flat knit collars" that invoke a self-collar appearance with the stability of a yarn-dyed flat knit collar. These include the irregular stripe body fabric pattern of style Trend; style Striker, which incorporates a pop color body fabric stripe and places it as a collar-tipped edge; and style Hue that utilizes the same concept adopting the narrowly repeated neutral body stripe as a matching collar effect.
For more details on Antigua's 2015 Men's Golf Collection, visit www.antigua.com.
NEW GOLF ETIQUETTE QUICK REFERENCE GUIDE DEBUTS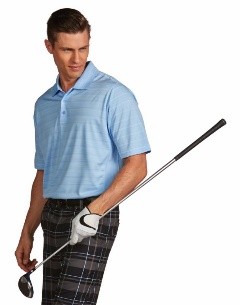 The new booklet covers everything golfers of all skill levels need to know, so that they can play any course in the world with confidence – from preparing for the round at home to enjoying a drink at the 19th hole, to safety, to courtesy, to fixing divots – the code of conduct is explained in the usual concise and understandable way.
This new pocket-sized guide supplements "Golf Rules Quick Reference". Ton-That's first guide that sold more than one million copies and is the best selling golf book in the U.S.
It has been translated into more than twenty languages and, according to Golf Digest, is "the best effort yet to decipher the Rules of Golf." Yves C. Ton-That, a rules official and best selling golf author, has written a new booklet called "Golf Etiquette Quick Reference. A Golfer's Guide to Correct Conduct".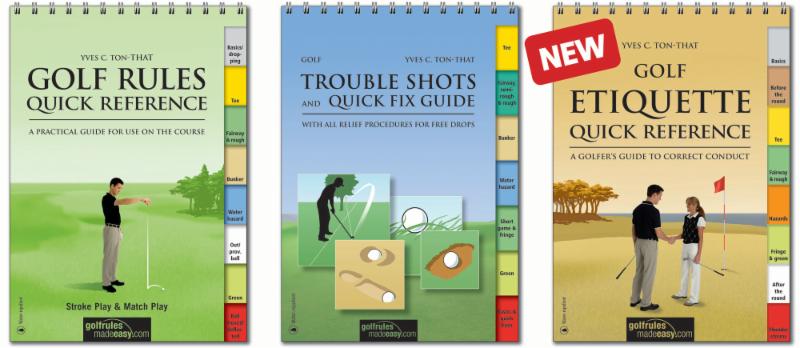 The guide is also extensively illustrated in color and is the perfect complement to the Golf Rules Quick Reference.
"Etiquette on and around the golf course is crucial, and is just as important as the rules of play to ensure that you play the game in the proper spirit," says Ton-That, who also penned "Trouble Shots and Quick Fix Guide" in his career as an author.
"When you're in the company of seasoned golfers, or invited to play a private club, saying or doing even one thing incorrectly can make the difference of not being invited back. And with a little preparation and knowledge, you can avoid most any potentially embarrassing situation."
The 48-page, spiral-bound and plastic-coated book is now available in good golf shops and at www.golfrulesmadeeasy.com for $12.95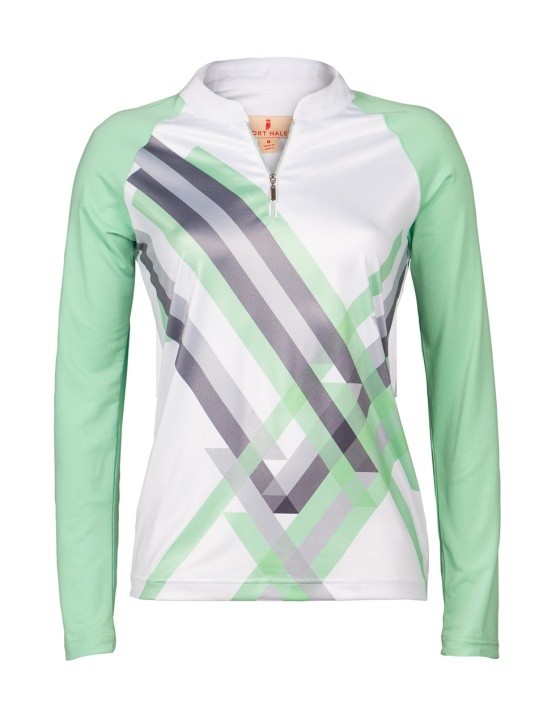 Sport Haley – Passion Personified!
For more than 28 years, Sport Haley has been offering women timeless, classic and elegantly designed clothing for the golf course and clubhouse. And this year is no exception.
Fabrics for Spring 2015 are lighter and more technical overall. Sport Haley's signature fabric, Haley Cool, is superior in performance and has inherent cooling yarns so the fabric not only has wicking properties, but also is cool to the touch. With a UPF 30 and a slight texture, it is the perfect performing fabric.
The Spring 2015 collection is influenced by gardens, flowers and vibrant color. Each of the five groupings has its own personality, but pieces are interchangeable within each group and beyond. The traditional, but updated elements of Viola Vineyards; the modern, athletic and graphic pieces from Clover Lane; the feminine and floral Petal Path line; and, the classic look of bright blue and white in the Burchfield create a timeless, varied, but cohesive Spring 2015 collection.
The Sport Haley Brooke Top, a long sleeve printed Polo, shown on the left, retails for $82.00
The beautiful florals, bold graphics and simple geometric patterns each have a place in a woman's wardrobe. Silhouettes are streamlined with clean and crisp lines, and the colors, textures, prints and patterns take center stage. Haley, the brands' signature owl, is thoughtfully placed as embroidery, zipper pulls or decorative touches throughout. The attention to detail in Sport Haley clothing speaks to the fine quality the brand is known for.
Fabrics for Spring 2015 are lighter and more technical overall. Sport Haley's signature fabric, Haley Cool, is superior in performance and has inherent cooling yarns so the fabric not only has wicking properties, but also is cool to the touch.
The Sport Haley Boutique also offers lifestyle pieces with a touch of glamour. Foiled or metallic yarns, crystals and faux fur vests in a textured detail rose fabric add some extra special flair to every lifestyle. Sport Haley also offers basics, outerwear and complementary accessories such as Swarovski Crystal Element bracelets and scarves.
The Sport Haley Caroline, shown on the left, is a short sleeve solid polo featuring a open Plack with contrast details and princess seams. It retails for $76.00
Sharp instincts, wisdom, precision and playfulness are the transcending influences that are embraced in the Sport Haley brand. "We always stay true to our customer," says Cathy Blair, President and Creative Director of Sport Haley. "We have continued to redefine the brand by staying focused.
We create lifestyle apparel that works, for everyday and on the course. Prints are our passion, and they are our top sellers. We pair them with non-print mixers that round out the collection. Detailing is a strength of our brand, as we give every piece special attention.
Our basics have a touch of fashion, and our fashion has a touch of class. Everything is about layering and comfort, and in the end, it is about how we feel in our clothes. They perform."
By tapping into the mindset of the modern woman and her lifestyle today, Sport Haley knows it's about the ease and comfort of dressing and the changing rules. The new chic is stylish comfort, whether it be an athletic pant worn with a blazer, a functional performance pant worn with a bit of cashmere and scarf, or a foiled holiday polo with both function and shimmer.
Sport Haley apparel and outerwear is marketed in the premium and mid-price golf markets through a network of independent sales representatives and distributors to golf professional shops at country clubs, resorts and boutiques throughout the U.S. and a variety of channels internationally.
On average, Sport Haley pieces typically retail at $76 per item. The company also markets golf and fashion apparel to corporate, college, university and other markets.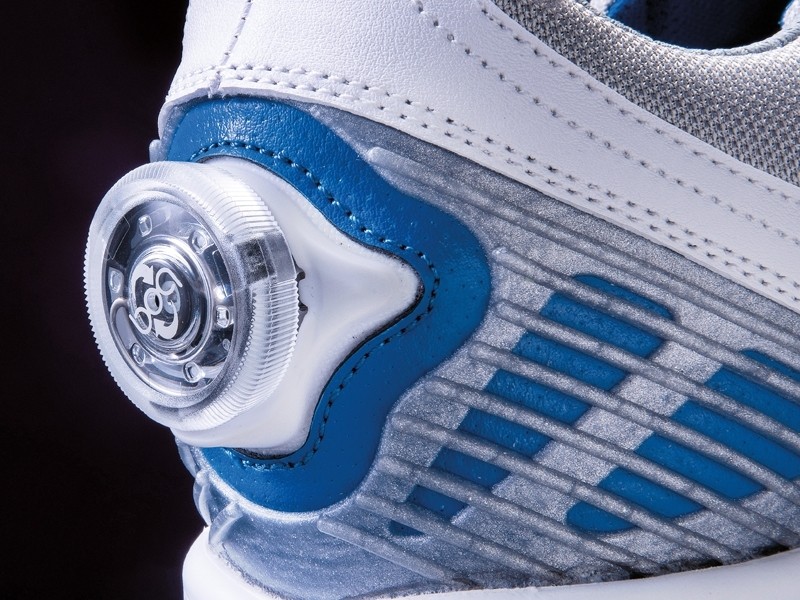 Titleist/Footjoy BOA HyperFlex Shoes
Stunningly great looking shoes with all the latest shoe innovations in technology and performance built in, and amazingly lightweight support and cushioning.
Most athletic shoes are constructed with soft, mesh upper materials which are perfect for running and activities that don't require a lot of lateral movement. For FJ's R&D team, the key was to keep those comfort qualities in place, but also to deliver the support, stability and waterproof qualities required for golf.
Through extensive testing, this balance was achieved utilizing an engineered material never before used in golf shoes. FJ has dubbed it: FlexGrid.
Now FootJoy's Boa device will also be available for those golfers who have come to love and enjoy the flexibility and comfortability the Boa offers.
FootJoy maintains that the FlexGrid was actually inspired by a suspension cable bridge in Boston, Massachusetts – the Leonard P. Zakim Bunker Hill Bridge. When viewing this type of bridge at different angles, the cables form a grid of tremendous strength and support, all while maintaining a sleek, lightweight and technical appearance.
The FlexGrid system begins with a base layer that consists of a tight-knit, lightweight, soft, flexible, waterproof mesh which allows for maximum comfort, breathability, flexibility and air- flow.
That layer is (literally) supported by the very noticeable FlexGrid exoskeleton "cage" which conforms to the foot and allows it to flex and expand, but is also strong enough to keep the foot from rolling laterally during the golf swing.
The end result is a very unique shoe that wraps your foot in the comfort you expect from an athletic shoe with the support of a high-performance golf shoe.
As for colors, black looks solid, White/Gey/Blue as always, looks elegant, while the Navy/Lime and Grey/Orange colored shoes will definitely appeal to the Millennials and kids.
$159.95 http://www.footjoy.com/hyperflex
Barry Lotz, J.D., Ph.D. is the director of the Professional Golf Teachers Association of America. He is a member of the Golf Writers Association of America, the California Golf Writers Association, and currently works as a mental coach to 14+ PGA Tour Pros.
He is also the author of numerous books, including "333 Best Web Sites for Golfers", "How to Build Business Relationships through Golf" which is in the Top Ten Golf Business Book's bestseller list.
His latest book," The Right Mind for Golf", released last year, is now in its 6th printing and available on Amazon.
He can be reached at www.pgtaa.com or drlotz@cbsgolf.net