A look at what you should consider for your own game, for the upcoming holiday season, and as a great golf gift, period!
Callaway Mack Daddy PM Grind Wedges
These are phenomenal! Dart throwers would be an understatement! The feel is outstanding. Callaway's new Mack Daddy 2 PM Grind wedges were designed by Phil Mickelson in conjunction with Roger Cleveland and have a radical shape that can help golfers get better performance from the most-lofted club in their bag.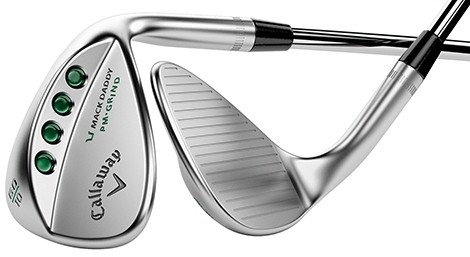 The wedges also have a U-Grind sole that Mickelson helped Callaway develop. The sole is concave in the middle, and has very rounded leading red that allows it to sit lower to the ground on open-face shots. That makes them easier to hit off tight lies. With the wedge's high-toe design a larger hitting area is created, especially when golfers open the club face to hit delicate shots around the green. According to Callaway, the extended groove pattern creates a 39 percent more groove area compared to the company's traditional-shaped wedges. Originally, Cleveland combined two U-grind soles in the first prototypes. That design, along with the high toe shaping, added extra mass to the total weight of the head. Callaway drilled out four holes low in the back of the head to better balance the weighting, but one additional benefit of the high toe design is to shift the overall center of gravity a little higher to help improve feel, energy transfer and trajectory control. The Mack Daddy 2 PM Grind wedges ($129) are cast from 8620 carbon steel. They come stock with Mickelson's favorite shaft — KBS's Tour-V (wedge flex) — and Golf Pride's New Decade Multi Compound. The wedges are available in the following models (loft/effective bounce): 56-10, 58-13, 60-10 and 64-10. These wedges just work! www.callawaygolf.com
Nike TW Glow Golf Shirt
What never ceases to amaze me is just how good Nike's golf shirts feel, wear and hold up more than any other golf shirt in the $75 – $115 range!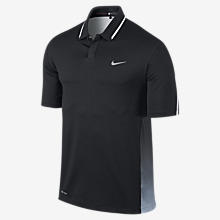 Nike's styling, especially in the TW Tiger Wood's collection, is elegant, aesthetically gorgeous and of great quality. You can always see a Nike shirt, as it really does stand out in a crowd. The Nike TW Glow is a perfect example of great design, with the ability to wear it both on and off the course and in 99% of the time, it fits well and sizes run true to US sizing. The machine washable shirt is made with soft, sweat-wicking fabric, a mesh back panel and laser-cut perforations for a comfortable fit and enhanced airflow. Its fabric is Nike's Dri-Fit 87% polyester and 13% spandex. You will always be comfortable and dry in this shirt! I really enjoy the fold-over collar and the two-snap placket, and the flat seams will definitely minimize irritation that can be caused by chafing. The contrast stripes and gradient graphic at the back just further enhance the looks of this shirt. $84.00 www.nikegolf.com
Bridgestone J815 Driver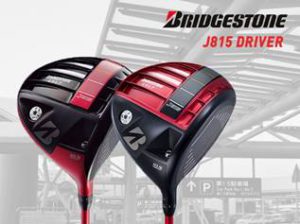 Simply the best driver we have written or tested in the last few years! Sure, PING, TaylorMade, Callaway andTitleist make great drivers as well, but the 460 cc J815 has that "Wow" factor that comes along once in a blue moon! It will reawaken your inner joy by feeling and seeing the increase in distance and the feel of a drive right on the screws – pure! To increase ball speed and reduce spin, Bridgestone developed three technologies which they call Power Rib, Power Slit and Power Milling. The "Power Slit" is a noticeable slit placed on the top of the crown. It is designed to assist in the trampoline effect at impact, for a more efficient energy transfer (a very similar concept to all the slits and channels we see from other manufacturers such as Adams and TaylorMade). The "Power Rib" is the unique rib design of the sole of the driver. It has vertical slits that are designed to work together with the "Power Slit" in increasing the flex of the entire club head and leading to a very efficient energy transfer. Lastly, the "Power Milling" is a special face milling that is meant to reduce spin at impact for a strong launch and more roll on the ground. And it does even better using the Bridgestone e6 ball, when used by a slower swinger, vis a vie, a higher handicapper. Get over the head's paint job! Yes, red and white are unusual, but instead focus on the F.A.S.T. (Flex Action Speed Technology) compression section at the leading edge of the crown. It is one of the better looking ones currently available and with all of the angles of both the graphics and the F.A.S.T. section, this makes a solid alignment mechanism. As mentioned earlier, the J815 is a full 460cc head with a semi-deep face and a great head shape. The center portion of the face is designed a bit deeper than the surrounding areas. But it sure does frame the ball remarkably well! The driver is both flashy looking and adjustable with a great Fubuki ZT shaft (45") that enhances both distance (our testers' averaged 20 -30 yards more) and a solid and crunchy feedback. What you will find is that a mid to high launch and a good amount of roll on the ground, coupled with a consistent flight pattern, are to be expected. Initially, do not change the settings as most of our testing group initially thought it was too closed face. Not so, it is the graphics on the crown that really seem to give the illusion of more closure. The driver is available red only and a variety of shaft options. The standard shaft option is the Mitsubishi Fubuki ZT Driver Shaft (R, S, X). Lofts are 8.5°, 9.5°, 10.5° and 12°.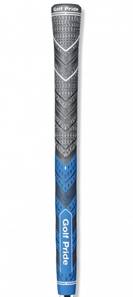 What I recommend for users of this club and for that matter any club, is to try the new Golf Pride MCC Plus4 grips. Simply awesome, but more importantly, more control over your club and in my case, more consistency and distance! These Tour inspired designed grips match the feel of 4 extra layers of tape. Their 4.6% outside diameter encourages a lighter grip and with 20% softer rubber in the lower half of the grip, provides the optimum feel in the non-glove hand, i.e., 20% softer compared to the upper hand. The upper hand material, the top of the grip, is a soft compound with a brushed cotton cord and new, strategically placed Micro-Texture for downswing stability. It is so much easier to hold on to the club with this grip. The now larger, lower hand features a soft, responsive rubber compound ideal for enhanced feel and performs well in all types of weather. Available in blue, red and gray and in standard or midsize (gray only). The standard grips weigh 52 grams while the midsize weighs 66 grams. $399.00 www.bridgestonegolf.com for the driver. $9.95 for the standard grip and $10.95 for the midsize grip. www.golfpride.com
Graphite Design Tour AD M9003 Shaft
For my money and for having tested many different manufacturers' shaft models, there are no better shafts on the market! They are ubiquitous on all the professional golf tours and more often than not, in tournament winner's bags. Pro's Choice Golf Shafts, Inc. recently announced that their new Graphite Design Tour AD M9003 wood shafts are now available through Pro's Choice Golf Shafts Inc. and their Authorized Dealer network in the US, Canada, Europe, South Africa and Australia. Designed and manufactured at the Graphite Design Japan factory headquarters, the new Tour AD M9003 wood shaft is available in 68g S and X flex and 78g S and X flex. The Tour AD M9003 series exemplifies the ultimate in shaft quality. Manufactured with ultra-high modulus, 55t carbon-fiber and the latest in graphite material from Toray Industries, Inc., TORAYCA ® T1100G carbon-fiber pre-preg with NANOALLOY ® technology, the Tour AD M9003 series delivers the superior feel expected of a high performance graphite golf shaft. Designed with a very stiff tip to mid-section, this shaft is designed for the lower handicap players with higher swing speeds of 105+ mph to promote a low/mid launch condition and extremely low spin. The Tour AD M9003 shafts will carry a MSRP of $550.00. www.proschoicegolfshafts.com
New Balance Golf Shoes
For me and every golfer with a wide foot, New Balance's golf shoes are Wide Foot Nirvana!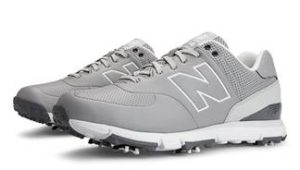 And not only are they so comfortable, their styling is comparable to any golf shoe on the market and these golf shoes perform outstandingly well. Trust me that when I tell you, you can wear these shoes like sneakers all day, yet the traction and feel when on the golf course are superlative, I am not exaggerating! These shoes were in fact inspired by New Balance's classic 574 sneaker. Sizes range from standard width to a 2E for wide feet and, most importantly, 4E's for extra wide feet like mine. The 574 golf shoe featuring the REVlite midsole, originally designed to provide lightweight cushioning to marathoners, keeps feet comfortable whether you're walking the course or concentrating on your swing. The 574 has a rubber outsole and uses a premium microfiber leather upper. With the use of Champ One Lock Zarma Tour cleats, you are afforded maximum traction and replacement is simple. On Tour, Sam Saunders wears New Balance and pretty soon, those players without a shoe contract, will be new devotees of New Balance. Their latest shoe versionsare available for both men and women (style named Minimus Golf 1001). The 574 is available, as shown, or in white with red and black accents, or black with red accents. $129.99 www.newbalance.com
Leupold PinCaddie 2 Laser Rangefinder
Leupold has drawn on more than 100 years of experience in optics and surveying to deliver the new PinCaddie 2.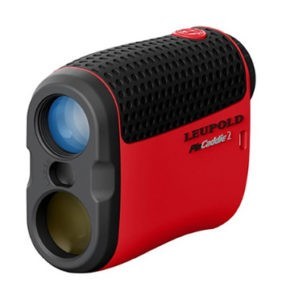 The PinCaddie2 features Leupold's exclusive PinHunter 2 Laser Technology, has seven selectable aiming reticles, utilizes cutting edge micro-processing circuitry. The PinCaddie 2's ranging engine with PinHunter Laser Technology eliminates false readings caused by background hazards, like trees and bushes, by evaluating laser return data and displaying the distance to the nearest object, the pin. PinCaddie 2 is the lightest and smallest line-of-site-only laser in Leupold's line which makes it a great choice for those who want to carry it in their pocket. 300 yards is the magnification distance and measuring in Meters is available. Its waterproof durable polymer body and high contrast easy- to- read LCD display will ensure years of consistent use. Most importantly, Leupold has one of the best customer service operations in the US. While it doesn't have the bells and whistles of higher-priced rangefinders, it's a great value for those looking to improve their course management without emptying their pockets.
$199.00 www.leupold.com/golf or call 1-800-LEUPOLD.
Tour Edge Exotics CB Pro F2 Fairway Wood
Looking for a really remarkable fairway wood? You will be hard pressed to find a better product available on the market. Tour Edge has been in many a Tour player's bag of late. JB Holmes, being the most recent winner, using a Tour Edge club. Tour Edge consistently brings to market clubs that are innovative, perform exceptionally well and are made with high grade materials. Quality and performance personified is David Glod's (the owner) mantra, since he first began building clubs.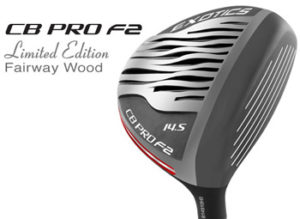 The new CB Pro F2 limited edition is the second iteration of the CB Pro. The new version features a more compact, 159cc club head that allows for a CG that is closer to the face for faster ball speed. A re-engineered Slip Stream sole is made to further increase ball speed and distance by reducing friction through the turf at impact, even for players whose ball striking isn't Tour-quality. The new slimmer waves in the sole plate are tapered toward the back of the club head for increased relief. Additionally, inset sole cavities in the heel and toe are designed to improve playability and enhance weight distribution.
Other features of the CB PRO F2 include a beta titanium cup face that's 5 percent lighter than the previous model, a new variable face thickness design, a heavier hyper-steel body and a CG that is not only closer to the face, but lower in the club head for optimal launch and spin rates.
The CB PRO F2 comes standard with a second generation Kuro Kage Silver Wood Series shaft and is available in right-hand-only lofts of 13.5°, 14.5°, 15.5°, 16.5° and 17.5°. As is the case with all Tour Edge clubs, the CG PRO F2 also carries Tour Edge's lifetime warranty, 30-day play guarantee.
$400 www.touredge.com Hopefully, you will get to try some of these products and if you do, drop me an email on your thoughts about them. Next month I will take a look at some of the new teaching and training aids.
Barry Lotz, J.D., Ph.D. is the director of the Professional Golf Teachers Association of America. Visit www/facebook.com/PGTAA to see all the latest mental strategies and equipment reviews. He is a member of the Golf Writers Association of America and serves both as a Consultant and Mediator to the golf industry. He is also the author of numerous books, including "333 Best Web Sites for Golfers" and his previous book, "How to Build Business Relationships through Golf", updated for 2011, is still in the Top Ten Golf Business Book's best seller list. His latest book, "The Right Mind for Golf", is now in its 7th reprint is available on Amazon and at the Torrey Pines golf course.