All of these Golf Products are Definitely going to Improve your Score & Golfing Pleasure!
Graphite Design Iron Shafts
I decided that the stock shafts used in my irons were not
responding equally and just always felt "off".
I decided to go with the best shaft maker, in my opinion, in
the business. After all, golfers such as Tiger Woods and Jordan Spieth, use
Graphite Design products. The good news is that they make shafts for all types
of golfers.

The Tour AD Iron Series are complementing models of the popular Tour AD premium wood series. Available in weights from 50 grams all the way up to 115 grams, the Tour AD Irons are designed and manufactured exclusively at the Graphite Design factory headquarters in Japan utilizing the same technology found in the Tour AD wood series.  The Tour AD graphite iron shafts exceed overall performance characteristics when compared to light weight steel shafts, resulting in greater distance with precise accuracy and control.
The Tour AD-55 shafts feature a low/mid kick point designed to promote higher ball flight and additional spin.  The Tour AD-65, AD-75 AD-85 and AD-95 weights feature a mid-kick point designed for a mid to mid/high ball flight and mid spin rates.
Do as I did, take advantage of the superior distance with precise accuracy that Graphite Design shafts can offer and give the Tour AD premium Iron graphite shafts a try in your next set of irons.
MSRP: $115                                           http://proschoicegolfshafts.com/tour-ad-iron-shafts/
For the better player, look out for the newest trend on the PGA Tour – Super Premium Shafts using thin ply technology – $700+.
Brand new for 2018, Graphite Design introduces a completely new ultra-light weight premium wood shaft design, the Graphite Design Chichibu series.  Named after the city of Chichibu, Japan where the Graphite Design Japan factory headquarters is located, the Chichibu wood shaft model is a light weight shaft under 45 grams and are available in 4 flexes of R (Regular), SR (Stiff Regular), S (Stiff) and S+ (Stiff Plus) for precise shaft flex fitting in order to gain maximum distance.

The Graphite Design Chichibu series of wood shafts are designed for golfers with a driver swing speed range of 60 to 85 MPH.  They have a soft tip profile and a Low Kick Point that will produce a High ball launch condition and Mid-ball spin rates providing added gains in distance versus normal stock shaft offerings.  Individually hand-crafted to very tight tolerances, the Chichibu shafts use premium, ultra-thin aerospace quality carbon-fiber materials to obtain a light weight characteristic, as well as to provide the golfer with a shaft that possesses superior response and feedback at impact.
The Chichibu series of shafts are a fine example of an extremely high quality and superior performing golf shaft, made in Japan and that follow in line with the 25+ years of heritage that all of the premium Graphite Design shafts are so well known for.
The other new shaft for 2018 is the Tour AD IZ wood shaft.  It is somewhat of a modernized Tour AD DI shaft that promotes High Launch and Low Spin.  Jordan Spieth is currently gaming it in his driver.

The new Tour AD IZ also utilizes TORAYCA T1100G carbon-fiber pre-preg with NANOALLOY technology in the tip section of the shaft for additional shaft stability, exceptional feel and precise ball control.
MSRP: $500.00                             http://proschoicegolfshafts.com
Axis1 Tour Putter- The Perfectly Balanced Putter

In 2006, Luis Pedraza, an internationally-acclaimed industrial designer with over 20 patents and an avid golfer, founded Axis Putters. His USP (Ultimate Selling Proposition) was how he figured out how to design and produce a putter with no Torque! Simply put, zero torque means there is no twisting, aka "opening of the putter head" of the putter at all! This, in turn, will produce a "sweet spot" that will be much easier to strike on each putt more consistently.
Additionally, Luis's patented heel counterweight places the center of gravity in line with the shaft and right on the center of the putter face – the "sweet spot".
Another design innovation is the bent neck of the putter. This improves alignment. So when you set up and look down, your golf ball appears to be "slotted" in a "pocket" and coupled with the existing black aiming line on the putter – – you feel you can't miss!
I love the balance of the putter most. I also like the distance control and clean roll offered by using this model, as well as the blue Lamkin pistol grip.
Do not judge a book by its cover. This putter almost putts itself.
$399.00                                    http://www.axis1golf.com
EVNroll ER5 Hatchback Putter
Good old Guerin Rife is back with a vengeance! This man knows how to make putters. To keep it short and sweet, I believe his new EVNroll ER5 Hatchback has to be one of the very best putters EVER manufactured.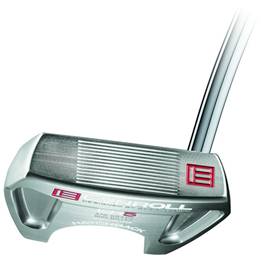 The way the ball rolls, the feel and the aesthetics are top notch. When I went to visit EVNroll's offices in Vista, CA, Guerin showed me how and why his EVNroll technology simply outperforms any other groove technology on the market (TR Groove Technology). We compared my gamer, the PING Ketsch against the two EVNroll putters in his office. To get more acquainted with Guerin's technology visit https://evnroll.com/technology/.
Bottom line, using the two putters with Guerin's groove technology was eye-opening, especially when you see it on his track board, but more importantly was the fact that even on mishits, the ball not only traveled the same distance but ended up in the same spot! This equals more putts made. My PING putter, however, produced shorter shots/rolls with various dispersion angles.
This past October while at the Shriner's Tournament at TPC Summerlin, I acquired the EVNroll ER5 putter, put on the new Garsen Quad Tour grip, and under the watchful eye of both Retief Goosen and EVNroll's Tour rep, proceeded to drain 9 out of 10 putts.
For 2018, Guerin has also introduced the ER1.1, redesigned ER3, ER2CS (Center Shaft), ER7CS (Center Shaft), and the ER9 (available February 1) versions, which can be found on his web site.
$359.00                         www.evnroll.com
Garsen Golf Quad Tour Proto Grips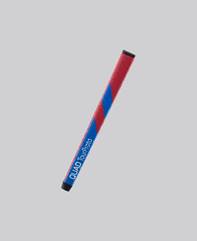 Garsen grips are fast gaining popularity, with 10 wins on the PGA Tour. Major Champion winners, such as Retief Goosen and Henrik Stenson and Geoff Olgilvy are devotees of the Garsen grips. I personally have become a better putter since installing the grips.
The Garsen Golf "Quad Tour Proto" putter grip was designed with direct input from PGA tour players and the top putting coaches on tour and are currently in play by over a dozen PGA tour players.
Garsen has taken the same technology which has led to the success of the EDGE and MAX putter grips. The QUAD grip was designed with a more traditional hand placement, but with the benefits of the original grips which help turn your elbows into your body and sets your shoulders back.
This relieves arm and shoulder tension, inhibits wrist action, which takes "the hands out of the putting" and promotes
proper shoulder rotation, creating a solid putting stroke, which will give you a one-piece feel, leading to a more consistent stroke.
They are available in non-tapered $28.95 and full taper $24.95 in a (red/blu) (blu/red) color combination.
www.garsengolf.com
Veylix Alpina 673 Wildeye Hybrid Shafts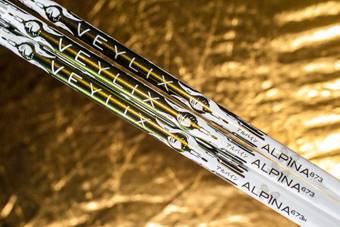 Just before Thanksgiving this year, I revisited the Club Champion Fitting store in Santa Monica. I wanted to find a shaft for my hybrids, as the shafts originally recommended and used by Club Champion were not performing as well as in the past. Not the shaft's fault, but surgery and aging were the contributing factors necessitating a shaft change.
After about an hour going at a steady pace and after many shaft changes, Mike, the Fitting Manager, showed me the Veylix  Alpina 673 Wildeye shafts. The shafts perform extremely well if you are a slow swinger of the club – 60 to 70 mph.
As they say, the rest is history. The feel and the sound, plus the resulting dispersion rate and distance, simply exceeded my current shafts performance by at least 12 – 18 yards, depending on the hybrid used.
According to Veylix, their Veylix Alpina 673, 873, and 673H are the first 100% 40T Carbon fiber iron and hybrid shafts ever released outside of Japan. Ultra-high Modulus 40T Carbon allows for the building of
strength at low weights without a brittle or "hollow" feeling. Each weight will "stay with" even quick transition golf swings for clean club head delivery.
The Wildeye "White Gold" colorway comes standard. At address, the base color appears as an optic white with deep black and charcoal graphics. From a side profile or diagonal view, the shafts appear to have a gold sheen with graphics of deep greens, blacks, and greys. The butt section is painted flat black for a fully finished look, even while ungripped.
The shafts weigh between 64 and 67 degrees depending on flex, and the Torque varies between 3.00 and 3.10. Flex is determined by Raw CPM Range which can be found on Veylix's web site.
$99.00              https://www.mag.veylix.com/whitegold
GX-7 Metal Golf Club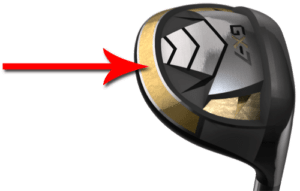 This highly touted conforming club is ubiquitous on the Golf Channel and plugged by Denis Paulson as "Average Distance shot of a High-Performance Driver & the Accuracy of a Fairway Wood. All this is achieved through the use of this high quality 7-Iron Swing". It truly performs exceptionally well.
Our testing group was so enamored by the clubs, raving "So much easier to hit than my driver and just as long, maybe even longer", that many of them are now playing with at least two GX-7s.
The general assessment was that the ball flight was consistent, the ball went straighter and it was definitely easy to hit.
We concur with Paulson, that the GX-7's design, which features extreme perimeter weighting and a hot stainless steel face, is much more forgiving when you fail to connect with the sweet spot. The Opti-Launch shaft performs exceptionally well.
The heart of the GX-7 lies in its sole and by checking out the GX-7's underside, you'll find a wealth of
beneficial features.
Including: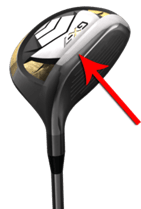 A high-density tungsten bar around the trailing edge: One of the GX-7's coolest features – this wrap-around bar serves two purposes:
1) It pulls the club head's mass  back and down, creating a super-low CG for ideal launch angle and spin rate from tee or turf, and…
2) Moves more mass to the perimeter, raising the GX-7's moment of inertia (MOI) for archer-like accuracy – and outstanding forgiveness on miss-hits.
A leading edge like an iron: Softly curved at the front and from heel to toe, the GX-7 literally glides across the surface when hit from the fairway or rough.
Some of the features include a non-adjustable head, which for many golfers is more suitable based on many factors, including COG (center of gravity), so the club is therefore pre-adjusted. Also, the club's multi-functional face progression helps players close the club face and catch the ball squarely. The base sole mimics that of a 7-iron.
Therefore, the key to getting the results you seek is to strike the ball with a lightly descending blow, just like your irons and hybrids.
The 14 degree driver sells for $199.00   with a 60-day money back guarantee.
Also available are two fairway woods (18 and 21 degrees) that are combined together for $199.00.
These products stood out amongst a slew of products we recently reviewed. Hope you find something you like!
---
Barry Lotz, J.D., Ph.D. is the director of the Professional Golf Teachers Association of America. Visit www/facebook.com/PGTAA to see all the latest mental strategies and equipment reviews. He is a member of the Golf Writers Association of America and serves both as a Consultant and Mediator to the golf industry. He is also the author of numerous books, including "333 Best Web Sites for Golfers" and his previous book, "How to Build Business Relationships through Golf", updated for 2011, is still in the Top Ten Golf Business Book's best seller list. His latest book, "The Right Mind for Golf", is now in its 7th reprint is available on Amazon and at the Torrey Pines golf course.