2020'S NEW DRIVERS REALLY PERFORM
We live in a technological age, so we are exposed to the newest and best products on a weekly basis. Whether it is drivers, as shown below, or a product such as Opkix (2 wearable camera), or an App for your mind (MindTrak), or for putting (BioMech Golf). Playing golf, while always difficult at the best of times, now requires you to understand technology to hopefully make the game easier.
For some golfers, these technology laden products, specifically Apps and GPS products, will help improve their game, whereas a multitude of golfers, especially the traditionalists and senior population, want zero association with these new products. Improving their game with competent teachers who can help their swing, putting and course management is what they are looking for. Low tech is their mantra. This area of golf technology will be covered in a later article.
With drivers, the object of the mission for the majority of golfers, is distance and accuracy. They crave distance. My suggestion is that every golfer first get custom fitted. Maybe a 3-wood will work better than a driver for distance and overall performance.
But if it is to be a driver, read on. Generally speaking, the drivers below are the ones geared for the mass market. As with automobiles, there are variations and options available for the low handicapper, mid handicapper and high handicapper.
As I have said on many previous occasions, get custom fitted and know your specifications. It will pay off in your enjoyment of the game, but more importantly, your mental game. If you trust your equipment, all you need are golf lessons every so often.
Callaway's MAVRIK driver.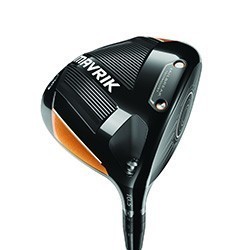 2019 was an exceptionally good year for Callaway. Their AI (Artificial Intelligence) designed Epic Flash Series of drivers led the driver-use stats on the PGA Tour and drove record sales at retail.
2020 has started off extremely well with the new MAVRIK driver garnering two wins on Tour. Marc Leishman at the Farmers Insurance Open and Madeline Sagstrom of the LPGA at the Gainbridge at Boca Rio.
Callaway's JailBreak Technology, (two internal JailBreak bars connecting the sole and crown to promote fast ball speed) which, in and of itself, enhances ball speed, is helping Callaway stay as the front runner in club development including fairway woods, hybrids and irons.
This is a great driver and I am impressed with my extra yards produced and just as importantly, my dispersion rate – nice and tight. Our testing group loved the feel and responsiveness, plus the extra yards MAVRIK produced.
Callaway's MAVRIK comes in three models that aim to be forgiving and powerful.Three models are available for three different types of players: for the higher handicappers to the Tour player. If you are a higher handicapper, go with the 460cc MAX which has the highest MOI, is easy to launch, and features two adjustable weight screws to enhance a draw and get the ball airborne. The 460cc standard has an adjustable rear weight screw and is suggested for mid handicappers.
For the better player, the 450cc Sub Zero generates low spin, has a high MOI, a flatter lie and neutral bias, and adjustable front and rear weight screws.
Available in lofts of 9°, 10.5° and 12°. The Aldila Rogue White 130 MSI 60 and MSI 70 graphite shafts as well as the Project X EvenFlow Riptide 50 & 60 Graphite and UST Mamiya Helium Black 4 graphite shafts are standard.
I suggest that you invest in the Graphite Design Tour AD XC 4-R2 shaft for even better distance and feel results. (www.prochoicegolfshafts.com)
499.00                                               www.callawaygolf.com
Cobra's KING SpeedZone and KING SpeedZone Xtreme Drivers
Following the King F9 success, Cobra's new SpeedZone drivers are selling well simply because golfers are seeing an overall improvement in distance and aesthetics compared to their current Cobra driver. Formula 1 race cars were the inspiration for the design of this driver,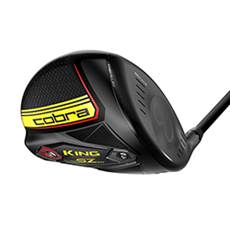 Dazzling and awesome looking were the first two words I emitted when I saw the KING SpeedZone driver. I was even more impressed with its performance on the course. Both these sleek looking drivers feature a traditional shape with front and back adjustability, outstanding graphics and aesthetics.
Cobra's KING SpeedZone features six "zones" — those for power, strength, light weight, low center of gravity, aerodynamics and stability — that work together to help your tee shots soar.Cobra's KING SpeedZone's USP (Unique Selling Proposition) is six "zones" — those for power, strength, light weight, low center of gravity, aerodynamics and stability that collectively work together to help your tee shots soar and produce a tight dispersion factor.
The clubface's "infinity edge", a golf driver construction first, significantly expands the milled area by 95% out to the curved edges around the face, thereby creating a larger trampoline effect area.
A new, stronger frame that can withstand high speed collisions is achieved by Cobra's Titanium T-bar Speed chassis which reduces the amount of Titanium needed. The strong-and-light T-Bar chassis translates to stability and feel.
Lastly, a 360 carbon wrap crown covers 50% of the club body, which adds stiffness to the chassis while also saving 25 grams of discretionary weight that Cobra used to increase forgiveness. With the weight (center of gravity) now being positioned low, this helps drives to get up in the air fast.
Many of our testing group felt that their mishits were not penalized too severely. They loved the look of the club! Higher handicappers, especially those with slower swing speeds, should choose King SZ Extreme which produces a higher launch.
Available in lofts of 9 °, 10 ° and 12 ° with numerous shaft options as standard.
$449.00                                       www.cobragolf.com
PING G410 Driver
Though a carryover from last year, PING's G410 LST is still one of the bestselling drivers on the market today.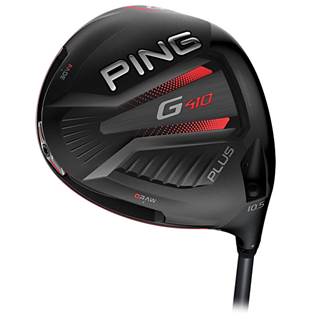 The PING G410 series of drivers (Plus, LST – Low Spin & SFT- Straight flight) are PING's first drivers with movable weights and adjustable lofts so golfers can dial in their optimal ball flight. The moveable weights system also produces more distance and maintains the driver's forgiveness
The 455cc G410 LST is a high-MOI model that generates low spin with excellent shot-shaping control which produces workable tee shots that travel a long way.
thumbnail of sole view of G410 Plus Driver.
PING's internal Dragon Fly technology contributes to higher MOI (Moment of Inertia) for more distance and forgiveness by saving weight from the Ti 8-1-1 ultra-thin crown (.017" the thickness of 3 dollar bills) which are then redistributed within the head to optimize CG (Center of Gravity) location.
Three weight positions shift the CG location to influence shot direction. Each setting (Draw, Neutral, Fade) represents 10 yards of correction (20 yards between Draw and Fade).
The driver includes PING"s 8-Lobe Trajectory Tuning. Trajectory Tuning 2.0 in the G410 drivers utilizes a new lightweight, aerodynamic hosel sleeve that provides eight positions for changing ball flight through loft (±1.5°) and lie adjustments, including up to 3° flatter than standard.
By positioning the movable, 16-gram tungsten weight (8% of the head weight) to one of three locations on the extreme boundary of the skirt, the CG location shifts 1/10″ to have the desired affect (fade, draw or neutral) on ball flight without sacrificing the MOI (1% higher in the neutral position than G400 std. model). Like all PING drivers, the low/back CG delivers more distance and forgiveness.
Many of our testing group loved the feel of the driver and with the Graphite Design Tour AD XC 4-R2 shaft, were impressed with the distance produced and "powerful" feel.
Available in 9 °, 10.5 ° and 12 ° in both left and right handed models. The Alta CB 55 Red shaft is standard. The high-performance PING Tour 65 & 75 (lower launch, low spin, stable feel), Project X EvenFlow Black 75 (low launch, low spin) and Mitsubishi Tensei CK Orange 60 (mid launch, low spin) are available at no upcharge and ensure a shaft-fitting option to match the launch conditions of all golfers.
$399.00                       www.ping.com
Tour Edge EXS 220 Driver.
Tour Edge's Exotics 220 features an elongated body and adjustable nine-gram back weight that yield stability and forgiveness.David Glod, Tour Edge's owner and chief designer, continues to bring great clubs to the market at great prices. More importantly, his products perform extremely well and are played on the Tours.
Tour Edge's latest iteration is the EXS 220 driver which features an all new Diamond Face technology, an elongated body and an adjustable 9 -gram back weight that not only produces an extremely high MOI (5440 MOI which is a 20% increase over previous models), but it also has a deeper center of gravity that offers amazing stability.
Diamond Face technology's USP is the different thick and thin diamond shapes, or "mini trampolines" behind the face, 42 to be exact, which produces faster ball speeds, reduced spin especially on mishits, and an extremely large sweet spot making this driver a "must have". And the 8-1-1 titanium face is not only thin and flexible, it is lighter than previous Tour Edge Exotics drivers.
Carbon Fiber, for weight savings, is used in the club's crown and two panels in the sole, heel and toe, due to this material being extremely strong and lightweight.
The driver's aerodynamic design also helps optimize launch conditions and increases forgiveness.
A sound diffusion bar inside the clubhead improves impact acoustics. The adjustable hosel allows golfers to tune the loft up or down two degrees.
You can choose between the Fujikura Air Speeder, the Fujikura Ventus 4T Core or the Project X HZRDUS Smoke Yellow shafts in A, R, S, X and L flex.
Available in lofts of 9.5 °, 10.5 ° (LH) and 12 °. The 12 ° degree worked great for me and the majority of our testing group. We all thought the driver is well worth the money. This Tour Edge driver performs extremely well and the aesthetics are excellent.
$349.99      www.touredge.com
XXIO's Eleven Driver (11th Generation)
XXIO, pronounced ZEK-si-oh, is not only one of the bestselling drivers in Japan, but has gained a strong foothold in the States since their introduction about 5 years ago. Ernie Els is the brand ambassador and the "Big Easy's" seemingly slow, but powerful swing encapsulates and aligns with the XXIO brand.
This 460cc niche driver is highly favored by the male baby boomer and fits, according to Chuck Thiry VP of XXIO's North America headquarters, almost all women. This driver performs exceptionally well for those golfers, like myself, who really do swing slower (below 90 mph) and for Thiry, the phrase"easy does it" translates into high-end sales for well-heeled golfers. I personally have gained between 10-15 yards with the XXIO Eleven!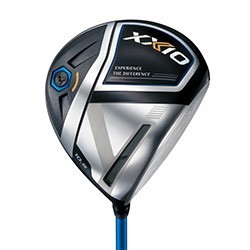 The XXIO Eleven 460cc driver is the one club that a golfer swinging less than 90mph will truly appreciate!
This driver is a high handicapper, slow swinger's dream! Fitted with the right shaft, you can start enjoying a new found smile and more fairways than you ever imagined. With a wholly redesigned cup face structure, great sole design and profoundly lightweight shaft, there is more forgiveness, an improved MOI which in itself raises your launch angle for maximum distance. With the XXIO Eleven your new ball speed will astound you!
XXIO's Eleven has brass and rubber weights in the stock shaft's butt end to help reduce the effort required to swing.A proprietary rib structure inside supports a thin sole and helps redistribute weight in a way that improves launch and forgiveness. There is a uniquely shaped weight pad in the XXIO Eleven that resembles a cannon. The Cannon Sole provides more speed and more distance, especially for shots hit low on the face.
The weight is there to provide the ideal launch characteristics for moderate swing speed golfers. But its distinctive cannon shape allows for up to 4mm of additional Cup Face along the sole and an extra 7mm of extremely thin sole area.
XXIO's Eleven employs their Weight Plus system which places brass and rubber weights in the stock shaft's butt end to help reduce the effort required to swing. Plus, it provides the most powerful swing-improvement characteristics, drastically enhancing your top-of-swing consistency and downswing power. And as mentioned previously, the shaft is lightweight to enhance speed.
We tested different shafts in addition to the stock XXIO MP1100 and found that the Graphite Design Tour AD XC 4-R2 was the favorite amongst our high handicapper testers.
Available in right handed or left handed and with lofts of 9.5°, 10.5° and 11.5° and an XXIO MP1100 graphite shaft.
$649.99                                www.xxiousa.com
It's a great time to be playing golf in this technological era. All aspects of golf; clothing, equipment, learning and taking lessons are technology touched. Take advantage of what is available, but with one caveat – get properly fitted to make the most of these products.
Barry Lotz, J.D., Ph.D. is the director of the Professional Golf Teachers Association of America. Visit www/facebook.com/PGTAA to see all the latest mental strategies and equipment reviews. He is a member of the Golf Writers Association of America and serves both as a Consultant and Mediator to the golf industry. He is also the author of numerous books, including "333 Best Web Sites for Golfers" and his previous book, "How to Build Business Relationships through Golf", updated for 2011, is still in the Top Ten Golf Business Book's best seller list. His latest book, "The Right Mind for Golf", is now in its 9th reprint is available on www.pgtaa.com and at Torrey Pines golf course.