In a desire to help your golf game, I strongly suggest that you get custom fitted for clubs! If you do, you can and will produce exciting results to your scoring and enjoyment of the game. However, until you find the right shaft for your clubs, problems will persist and scores will remain high.
These are four of the finest and best performing shafts currently available.
As most everybody is aware, "the engine" of a golf club is the shaft. Rightfully, the transmission of the golf club is more appropriate parlance. A shaft transfers the energy from the golfer's swing and transmits it to the club head. It is essential that the right shafts are fitted to suit your swing for optimum performance.
These five shafts are among the best shafts currently available on the market.
All these manufacturers have shafts for wood, hybrids and irons and vary greatly in pricing. In order to improve your game, whether a pro or weekend golfer, take the time to be custom fitted with the correct shaft.
ACCRA  Fx Series Golf Shafts
Maybe ACCRA is not as well-known as these other shaft companies below, but their line of shafts deserve consideration when choosing a shaft. ACCRA offers a fairly affordable alternative to some of the pricier shaft options.

ACCRA started in 2002 as a Canadian distributor for Royal Precision and UST. In 2004 they started into the shaft business, licensing the ACCRA brand name from UST. In 2007, they purchased the brand name and embarked on independent development of premium golf shafts distributed exclusively through certified ACCRA fitters.
Since inception, Accra has more than 60 wins that can be attributed to players using ACCRA shafts on the PGA and Euro PGA Tours. Currently, more than 100 PGA Tour players and countless European, LPGA, Champions Tour and Web.com players are using Accra shafts.
The ACCRA Fx series of shafts for drivers, woods and hybrids, will appeal to all levels of golfers, from discerning golfers looking for a shaft to aid in launch and forgiveness to Touring professionals requiring stability and feel.
ACCRA's DyMatch Technology (DYMTEC) is combined with a new S3 (Shaft Simulation System) design, higher modulus materials, lower resin content and tighter tolerances. FYI, the S3  shaft measuring device enables the engineers at ACCRA to completely profile any golf shaft in a matter of a couple of minutes. The S3 system provides an immediate blue print of every shaft, enabling ACCRA to provide the best QC (Quality Control) in the industry and the best system for developing new shafts for the future.
ACCRA dynamically designs shafts to offer identical feel in driver, fairway woods, and hybrids using a proprietary technology called "DyMatch". If you use a "DyMatched" set of woods custom fit by a certified ACCRA fitter, rest assured that you will receive similar flight characteristics, feel, and performance throughout your set.
ACCRA Fx simplifies the entire fitting process – shafts are divided into 3 categories:
100 series (responsive tip – High launch)
200 series (Mid tip – Mid launch)
300 series (Stable tip – Low launch)
Our testing group used the Fx 100H60 M2 DYMTEC in the hybrids we were using (3, 4 & 5). This shaft is designed to promote a higher initial launch condition with controlled spin rates. This shaft is an excellent choice for those wanting to increase launch angle and utilize a super light-weight shaft. What was most impressive to our was the feel of hitting the ball perfectly – that sweet sound and feel one receives a few times a round. The dispersion rate and distances achieved were also valued by our testers.
Flexes are designated as follows: Standard Ladies flex is M1, Senior (A) flex is M2, Regular flex is M3. Stiff flex is M4 and X flex is M5.
$125.00                  www.accragolf.com
Fujikura – Maker of the Ubiquitous "Speeder" shafts – the Speeder 474 Evolution
Fujikura is best known for designing and producing one of the world's best performance golf shafts-theSpeeder brand. Its USP (Unique Selling Proposition) has always been consistent feel and higher ball speeds.

ALL of Fujikura's award winning golf shafts have been developed by Enso – Fujikura's proprietary fitting and testing technology. Fujikura Golf's Speeder Series, MCH Hybrid Golf Shafts as well as ALL of Fujikura's award winning golf shafts have been developed by Enso.
More than a singular technology, enso represents Fujikura's commitment to advancing elegant, enlightened shaft design and performance at the highest levels, accounting for the full array of the swing, club head, and shaft dynamics in the design process. This holistic approach to shaft development and biomechanics includes a proprietary system which can measure thousands of swings and club performance at both pre and post impact. These shaft recordings illustrate shaft deflection, twist and club head performance based on shaft movement.
A highly evolved design using the latest high density fibers, fiber orientation and wall thickness control creates a performance enhancing golf shaft. The Speeder Evolution 474 is built with maximizing distance in mind.  It uses a new high Modulus carbon fiber material "TORAY T1100G" that provides a great combination of energy transfer and control. It is designed for increased club head and ball speeds!
It has a very low resin content which equals more graphite. The unique layering of carbon sheets and resin material helps maximize acceleration and distance through impact. It has a new 50t Triax fabric core that helps keep a low weight while enhancing stability and strength throughout the shaft. (This is the same Triax technology used in Space Satellites).
After considerable testing among our slower swinging participants, the Speeder Evolution 474 R-2 shaft
was the unanimous choice over 3 other shafts tested. The ball travelled further and definitely felt more
consistent for the user.
The Speeder <474is only offered in regular flex and R2 (light/regular).The regular flex weighs 49 grams
while the R-2 shaft weighs a mere 47 grams, and both models feature a low bend point with mid-
high spin and launch characteristics.
$350.00                   www.fujikuragolf.com
Aerotech SteelFiber i80 Iron Shaft:

Looking for consistency, great feel, stability and a great price? If so, these shafts are the golf fitter's best kept secret. They feel like butter and have a tight dispersion ratio. And in our group of testers (swing speeds between Fx65 and 100 mph), they produced more accuracy, feel and additional distance than their current shafts.
SteelFiber i80 shafts give players all of the benefits of a 100% golf graphite shaft, plus unprecedented control and consistency for a shaft in this weight category. Whether a player is looking to regain the valuable yardage lost over the years, or has lost accuracy because they are playing a 100% graphite shaft that is too light, the SteelFiber i80 is the perfect solution.
The SteelFiber i80 Iron Shaft has the stability of steel and the power of graphite. The key is the steel filament that wraps around the fiberglass, making it react like steel without the weight.
SteelFiber shafts provide superior performance through innovative composite engineering that combines a high-modulus graphite core with 59 miles of steel fiber lacing the shaft surface. The shaft's high modulus graphite core provides vibration dampening, increased club head speed and maximum distance, while the steel fibers produce optimum weighting for a solid feel at impact and add stability and control for pinpoint accuracy.
This shaft design for increased club head speed and an advanced steel fiber surface layer for stability refines how golf shafts are constructed.
Aerotech Golf shafts are available as custom options with many nationally celebrated golf club manufacturers such as Callaway, Titleist, TaylorMade, Ping, Nike Golf, Bridgestone Golf, Wilson, Cleveland Golf, Miura, Srixon, KZG and Nakashima Golf. Aerotech Golf shafts are also available through professional golf club fitters around the world.
The mid bend shaft is available in X-stiff (2.3 torque), stiff (2.8 torque), regular (2.9 torque), senior (3.0 torque) and ladies (3.1 torque) and each weighs 85 grams.
$72.00 per shaft                  www.aerotechgolfshafts.com
Graphite Design Tour AD DI6 Deep Impact .335 Graphite Wood Shaft
One of the most highly sought after shafts on Tour since its introduction!  The performance delivered has been nothing short of phenomenal. Recent users and winners are Jordan Spieth, Lydia Ko, Bernard Langer and Hideki Matsuyama. Last year the DI series of shafts won 20 tournaments, so far 12 this year.

Produced in Japan, the shaft is designed to provide more power and stability by incorporating the Toray Company's new Nanomaterial technology in the tip section of the shaft. This unique technology allows the player to create an epic impact on ball speed, while still providing exceptional feel and control. It features a mid-bend point, and shafts weigh between 63.5 to 66.5 grams.
The mid bend profile of the Tour AD DI allows the player to load the shaft properly, yet maintains a firm enough tip section through impact producing optimal spin and launch conditions. Result, the Graphite Design Tour AD DI will deliver players to the next level in shaft performance and deliver an epic impact on your game!
The Tour AD DI shaft carries the Tour AD moniker which stands for Tour Accuracy and Distance and has long been known for high quality and superior performance. This is represented by the company's success that has been documented by professionals and amateurs alike. Graphite Design is the most dominant shaft on the JPGA Tour, and has been for the past seven years.
FYI, the new Tour AD GP model introduced this year already has two wins!
Also available in black and white.
$380.00    www.prochoicegolfshafts.com
Throughout all the testing, we used 3 "famous" brand name balls, yet the most highly rated and most desirous were the Snell balls.
True Temper's Project X LZ (Loading Zone) shaft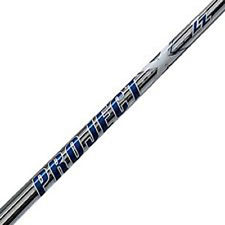 For many years, one of the most popular shaft manufacturers has been True Temper especially so in the irons category. Think Dynamic Gold.
Prior to this season, True Temper's popular Project X iron shaft line consisted of two version: the original Project X shaft, which is currently played by four-time major winner Rory McIlroy, and the lightweight Project X PXi shaft that Jason Dufner uses. Jordan Spieth uses the Project x 6.0 in his irons and wedges
Though extremely successful in previous years, requests filtered in for a shaft with attributes that fell between the profiles of PX and PXi. Retief Goosen was one of these players who provided insight and now absolutely swears by the shaft's performance.
Introduced was the Project X LZ (Loading Zone), an iron shaft that actually has a similar design to True Temper's Hand Crafted LZ graphite with a loading zone in the middle of the shaft.
Talking to Paul Loegering, formerly of TaylorMade's Tour Shaft division and now Tour True Temper's Tour relations manager at this year's US Open, he reiterated that the Project X LZ still features the same low-to-mid launch and spin that Project X is known for. The distinction being that the new shaft has a butt and tip section that's actually stiffer than the original PX, allowing for more stability during the downswing with a consistent trajectory and low spin.
The shafts also differ in the midsection. While Project X has a stiff profile throughout, Project X LZ has a softer midsection (micro steps) that acts as a loading zone on the downswing, improving club head speed by transferring more energy to the golf ball at impact.
"The loading zone is more of an energy transfer that transitions the energy from the top of the swing to the golf ball to create more club head speed," Loegering said. "Obviously all these guys on TOUR want to get maximum club head speed, and this loading zone will help them achieve what they're looking for."
The shaft will be available in five flexes — 5.0, 5.5, 6.0, 6.5 and 7.0 — and increases in five-gram increments, starting with 105 grams in the 5.0 flex to 125 grams in the 7.0 flex.
"This will be a good option for the guys [on TOUR] that want to stay in Project X but need a little bit more spin and don't want to flight the long irons up " Loegering said. "It's going to offer a consistent apex height in the long irons, which is something players expect with Project X."
$50.00 per shaft.
www.truetemper.com   on YouTube: https://www.youtube.com/watch?v=oddAr09Tup0
Snell Golf
An up and coming ball manufacturer who has years of experience and is delivering probably one of the best golf balls on the market.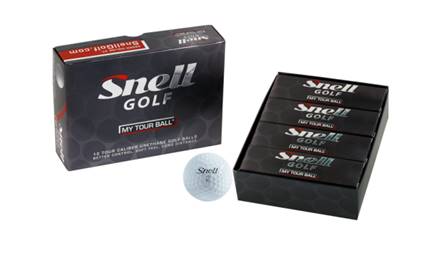 Its founder, Dean Snell, holder of 38 golf patents, is a highly respected golf ball expert with over 25 years in research and development roles for companies such as Titleist and Taylormade and is the inventor or co-inventor of the Pro V1, Professional, Penta and Tour Preferred balls.
Snell golf has two models – My Tour Ball, which is a 3 piece ball and Get Sum which is a 2-piece ball.
My Tour Ball:
The Core has been developed with a very low compression, soft feel, with high velocity to help with ball speed, regardless of swing speed, and creates low driver spin rates for longer distances.
The Mantle layer works on longer shots to keep control of the spin, and works with the thin soft cast urethane cover on shorter irons and chip shots to create higher spin rates for better control into the green.
The Cover layer is made of a thermoset cast urethane. This technology allows very thin covers for better short game spin control and is very soft and durable.
The Get Sum ball: Get Sum is a high performance 2-pc golf ball that offers excellent feel and control. The large, soft low compression core again allows for the ball to have very low spin rates which increases distance and creates less hooks and slices.
The thin, soft Surlyn® cover contributes to the soft feel of the ball. This core cover combination has been designed to help golfers get the ball in the air easier, and get reduced spin rates for straighter shots from tee to green.
Both feature fast ball speeds for any swing speed and exceptional soft feel and control.
So how do you choose the correct ball for your game? Dean has the following advice: "Today, most golf balls go the same distance off the tee. But they are much different from 100 yards and in. I recommend playing 6 to 9 holes, from 100 yards and in. Take both balls out and hit shots from 100 yards, 70 yards, 30 yards, chips, putts. Choose the ball that you prefer for feel, spin, launch and control. Then take that ball back to the tee, and optimize your driver with today's adjustable technology, and you have a complete tee to green ball fitting. Now enjoy the game."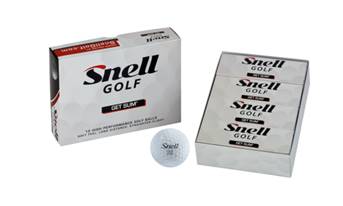 Dean's site offers a great chart that allows you to compare each model to the ball you are currently playing and can be found at /www.snellgolf.com/which-ball-is-right-for-you/. Currently, the balls need to be ordered online.
Our testing group, specifically the lower handicapper, found the My Tour Ball model exceeded their expectations as to feel, distance and responsiveness. The higher handicappers gravitated to the Get Summodel.
Quite a few Tour players I work with loved the MyTour model, but due to contractual obligations, simply cannot use the ball on Tour.
My Tour Ball:  $31.99      Available in a 6 dozen Value Pack and free shipping. $157.99
Get Sum Ball: $20.99     Available in a 6 dozen Value Pack and free shipping. $85.00 Optic Yellow now available.
---
Barry Lotz, J.D., Ph.D. is the director of the Professional Golf Teachers Association of America. He is a member of the Golf Writers Association of America, the California Golf Writers Association, and serves both as a Consultant and Mediator to the golf industry. He is also the author of numerous books, including "333 Best Web Sites for Golfers", "How to Build Business Relationships through Golf" which is in the Top Ten Golf Business Book's bestseller list. His latest book," The Right Mind for Golf", released last year, is now in its 6th printing. He currently works with 14 Tour Players on mental coaching and scoring rechniques.