Some Great Ideas on Gifts for Golfers
No Special Occasion Required
 The Stiff Arm is the Best Protection for your Golf Clubs while Travelling
One of the biggest fears of the travelling golfer is the treatment of their clubs by the airlines from check-in to baggage claim.
These days, golf trips are expensive enough without having to worry about buying or renting new equipment at your destination. The majority of golfers have invested serious money into their clubs and definitely a lot of time as well. Now for less than $30, the Club Glove Stiff Arm Protector is a no-brainer.
The Stiff Arm is designed to take the hit, so that your clubs don't have to.
Manufactured by West Coast Trends Inc., the makers of the ubiquitous Club Glove luggage, Club Glove's Stiff Arm is the inexpensive solution for club protection during vertical impacts that may result from mishandling during travel.
The fully-adjustable, lightweight aluminum, 3-piece telescoping brace fits all golf travel bags to provide extra protection whenever it's needed. The Stiff Arm will extend slightly longer than the longest club in your bag, so your driver stays protected and your irons are well guarded as well.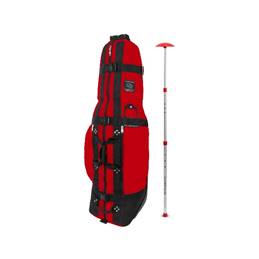 The brace itself features a durable nylon plastic head that is non-chafing to the travel bag fabric. It has a precision-lock spring loaded adjustment pins, it has a soft cushion rubber bottom foot cap, and it disassembles for ease of storage.
$29.95    www.clubglove.com
Nexbelt, "The Original Belt with No Holes" for Men & Women.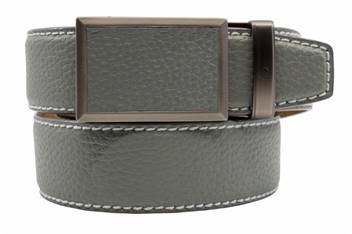 Company Founders, Tom Hunsucker and Eddie and Francis Rowland, started Nexbelt in 2010 with a vision to reinvent the way Americans buy, sell and wear their belts.
Tired of the old outdated pin/buckle system, they set their sights on creating a belt that would be both adjustable and highly fashionable at the same time. Out of this passion – Nexbelt, "The Belt with No Holes", was born.
Prices range from $41.99 – $64.99                      
Go-In Colour Series
New and improved for 2019, Nexbelt's Go-In Colour Series belts now feature set screws instead of pins for added strength and durability, and a satin nickel beveled edge on the buckle.
The buckle flips down to reveal a hidden magnetic ball marker. Pebble Grain Leather Belts are available in Cognac, Deep Sea Navy, Pitch Black, Tobacco, Smoke Grey, and Winner White.
$56.99 
Also available is the Legardo Sleek Series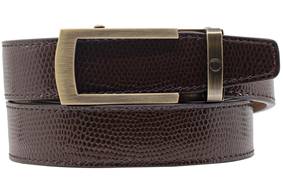 New for 2019, the Legardo Sleek Series belts are perfect for Men or Women looking for a slightly thinner 1″ belt versus the standard 1 3/8″ belts. The sleek open face buckle is inspired by the great Italian design houses. Available in Black, Brown, White and Pink.
$41.99        www.Nexbelt.com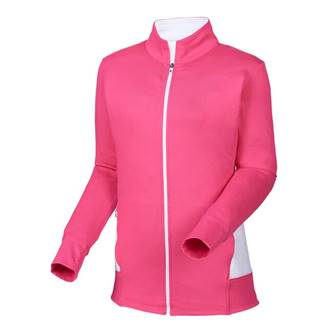 Full-Zip Panel Pocket Mid-Layer Women by FootJoy
This classy and stylish performance mid-layer looks as good as it feels. The Easy Care Fabric is machine washable with minimal wrinkling or shrinkage. Its full front zipper allows for easy access wear during changing weather conditions.
The anti-microbial technology used in the finish helps inhibit odor buid-up when ambient moisture is present.
Sizes are from XS to XL and availble in 5 colors – Hot Pink/White, White/Orchid Heather, Acqua/White, White and Black.
$95.00.    www.footjoy.com
Athletic Fit Birdseye Jacquard Self Collar by FootJoy
FJ performance golf apparel has experienced remarkable success and acceptance among the game's best players. FJ performance golf apparel also features contemporary colors and patterns in a variety of styles and performance fabrics.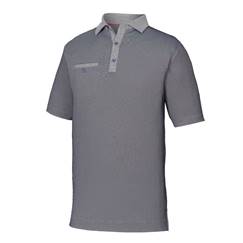 Similar materials to that of the above shown ladies' outerwear jacket, the fabric is also machine washable, featuring an anti-microbial finish as well, to inhibit ambient moisture when present.
The shirt's USP (Unique Selling Propositions) are the lock stitched hem which provides reinforced construction and a tailored look, double stitched hems which offer added durability, and an extended extra-long back shirt tail to allow easy tucking of the shirt. Additionally, the exclusive ProDry fabrication provides superior moisture control that quickly wicks away moisture, keeping you dry and comfortable.
Two colors, Black/White and Ultramarine/White are available in sizes ranging from S to 2XL.
$72.00            www.footjoy.com
The Quarter-Zip Hoodie with a Printed Woven Yolk by FootJoy
Without any fear of contradiction, this garment is going to be on many male golfers, probably even women golfers as well, a most sought after item!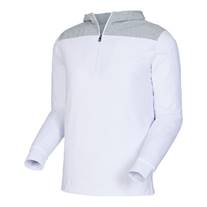 This lightweight fabric offers extreme comfort with a sporty design and allows complete range of motion for on or off the course.
This garment is machine washable and also has the latest anti-Microbial finish.
It looks and feels great! Your style sense is there for all to see.
Two colors, Black and White/Grey are available in sizes ranging from S to 2XL.
$125.00     www.footjoy.com
Golf Pride Putter Grips
As the leading manufacturer of putter grips trusted on Tour, Golf Pride has modernized the classic styles preferred by the world's best putters.
With three distinct Tour shapes, the PRO ONLY models were refined with direct player testing to deliver the highest degree of responsiveness and feel performance. The heightened feedback is created by the proprietary tuned rubber material, affording a new level of precision feel for better distance control on greens of all speeds.


The PRO ONLY putter grip series will feature three different models, each with their own unique shape and color-coordinated star at the end cap to help distinguish them at a glance.
PRO ONLY Red Star
• Modernized horseshoe shape with an arched paddle front for thumb placement.
• Utilizes a slight pistol kick in the back for hand heel pad placement.
• 72 cc size and 74.5g weight.
PRO ONLY Blue Star
• Angled profile with a wide, flat paddle front for thumb placement.
• Utilizes an angled back shape for comfortable finger positioning.
• 81 cc size and 82g weight.
PRO ONLY Green Star
• Oval shape with an arched paddle front for thumb placement.
• Slight upper hand flared back for optimum finger comfort and hand positioning.
• 88 cc size and 86.5g weight.
"Many people find it surprising that 70% of the Top 30 putters on Tour prefer a smaller size putter grip. They prefer it because it allows them to gain greater feel, feedback, and control. The PRO ONLY models deliver those Tour-preferred shapes with three uniquely optimized performance options.
The PRO ONLY putter grip series feature a suggested retail price of $12.99 each. For more information on the PRO ONLY putter grips and the entire 2019 Golf Pride product offering, visit GolfPride.com
Club Champion
Premium Club Fitting = Instant Success + any recipient of one of their gift certificates will be most grateful.
Golfers Tested, Added an Average of 21 Yards off the Tee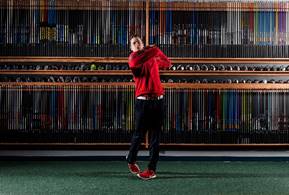 With advances in club technology, most golfers could easily hit the ball farther and more accurately using properly fit clubs. Yet a GOLF Magazine study found that 90 percent of U.S. golfers might be playing with improperly fit clubs.
"It never ceases to amaze me that golfers buy clubs off the shelf and assume they're right for them," says world-renowned instructor, David Leadbetter. "Whether you're a great golfer or a casual one, a custom club fitting is one of the quickest ways to improve your game."
Club Champion, headquartered in Chicago, offers hundreds of shafts, many not available through most other fitters and retailers. With more than 35,000 head and shaft combinations, the goal is: find the best components to lower a golfer's scores. Club Champion stands out because its clubs are built in-house to exacting tolerances on variables, such as swing weight, length, lie and flex, which do alter performance. Its experience and know-how in combining these intricate parts separates Club Champion from its competition. They deliver a Tour-quality fitting that produces longer, more accurate shots with a nearly 100 percent satisfaction rate.
A Golf Digest study found that eight out of nine Club Champion custom-fit golfers lowered their scores by as much as six strokes per round and added as many as 21 yards off the tee. Frank D'Angelo (Malvern, PA) reveals, "I was a 12 index before I went to Club Champion and I've shaved about six shots off my handicap. It's a premium store and you get premium service."
While anyone can benefit from premium club fitting, it's especially helpful for the golfer who wants to optimize performance, explains PGA Tour Veteran, Jay Williamson. "I had access to every brand of shaft and head, but never understood what they did for me. I couldn't experiment like I do at Club Champion." Williamson notes that his custom-fit clubs added an average of 15 yards to his driving statistics.
Whether you're looking to buy new clubs, or just upgrade your current set, Club Champion guarantees that a premium club fitting will improve your game. At Club Champion, you don't just buy clubs, you buy guaranteed improvement! Well-renowned golf coaches, David Leadbetter, Hank Haney and Cameron McCormick endorse Club Champion.
For information, or to book a fitting at one of Club Champion's more than 62 studios across the country, visit clubchampiongolf.com or call 888-340-7820.
This is the time to plan your gift giving for your favorite golfers to unwrap this year. These gifts are useful and different from just a generic sleeve of balls. They reflect your thoughtfulness and appreciation of the recipient.