The holidays are almost upon us, so now is the time to get busy. Here are some of the most innovative, beautiful and useful gift ideas.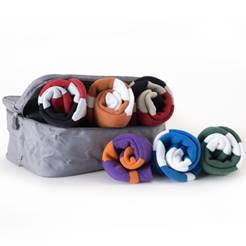 KENTWOOL GAME DAY HOLIDAY GIFT PACK
KENTWOOL Game Day Holiday Gift Pack Comfortable socks make for enjoyable rounds.
Used by nearly 100 PGA Tour players in 2016, these performance socks will always be appreciated by any golfer. Or, for that matter, anybody who wants to feel as though they are walking on air.
Style, comfort, performance and quality are the hallmarks of these socks.
KENTWOOL is offering its premium Merino wool comfort and performance sock in 3 different style packs (Game Day Pack, Tour Profile Pack and Tour Standard Pack) for the Holidays. Each pack features 6 pairs of socks in various colors for $99 – delivered in a convenient, reusable travel case. The Game Day Pack, featured here, contains a pair each of the Tour Profile style in Black/White/Red, Burnt Orange, Garnet/Gold/Black, Purple/Orange, Blue/White and Green/White color schemes. KENTWOOL's Holiday Gift Packs are available beginning December 1st.
www.kentwool.com
SEAMUS GOLF
Seamus GolfSeamus Golf's hand crafted products are collector's items. They exude quality, style and class, especially in today's market of "cheap for the masses mentality". Their line of products make you feel like wanting to own one of each item manufactured! Their web site is a hoot.
One of their truly useful products is the Multi-Use Rain Safe (M.U.R.S.) Bag for all a traveling golfer's needs.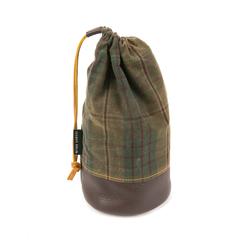 From Shag Bag to toiletries, to even a few sundries for the shuttle ride, this will keep everything secure in a striking, outdoorsman style.
Measuring 10″ long with a 5.5″ diameter, the bag is substantial, but compact enough to easily carry. Seamus Golf's Private Reserve waxed tartan with tones of dark khaki and claret is met with rich tobacco leather on the bottom to create a finish as much at home on the links as it would be in a hunting cabin. The interior is a lush black fleece that will safely nestle whatever you decide to throw inside.
Personalization is available on all Seamus golf's products.
$75 www.seamusgolf.com
THE TOUR STRIKER SMART BALL, DEVELOPED BY MARTIN CHUCK
The Tour Striker Smart BallThis is one of the better training aids currently available. Tour stars such as Darren Clarke, Beatriz Recari and Belen Mozo are some of the proponents of this training aid. Martin Hall of the Golf Channel uses the Smart Ball for his show and students.
The Smart Ball is an ultra-light and portable way to sequence your arms and body as you develop your ball striking skills.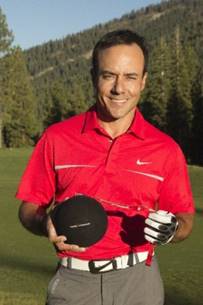 This inflatable, flocked "beach ball" connects to an ADJUSTABLE lanyard to meet the fit of anyone. It is the best BODY CONNECTION training aid on the market and can be used flat, under either armpit, or inflated between the forearms.
The Tour Striker Smart Ball will help you understand HOW the arms and body work during an effective golf swing. Few people put in quality practice working on the sequence of arms and body. Be one of the few who own the rhythm and timing required to become a high-level ball striker. Take control of your swing so you can have Effortless Power, rather than Powerless Effort.
The Smart Ball's USP (Unique Selling Proposition) is that while there are literally dozens of devices that you can do this drill with, many of them are too big, too small, or too heavy. If they're too big or small, they ruin the structure of your arms and defeat the purpose of the drill. If they're too heavy, they introduce an unwanted influence on the swing which compromises the drill.
$39.99 www.tourstriker.com
NEW BALANCE GOLF SHOE – NBG2004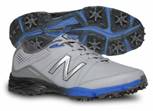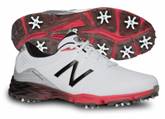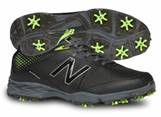 New Balance Golf Shoe New Balance Golf Shoe New Balance Golf Shoe
Looking for the most comfortable golf shoe on the market? One that you can wear on and off the golf course and for most of the day? New Balance has two new models: The new NBG2004 and the Minimus NGB1005. The NBG2004 is a high-performance, lightweight athletic-style cleated golf shoe with a waterproof microfiber upper and REVLite® midsole, designed for ultimate comfort.
The NBG2004 is built on the new PW-1 last that has a wider forefoot that allows the toes to spread out for balance, while the lower instep height helps the foot stay connected to the ground, which improves overall feel and power.
The waterproof microfiber leather upper has an ultralight FantomFit™ support and a welded form-fitted tongue construction. The REVlite® midsole, is an innovative foam compound that delivers responsiveness, durability and a lightweight ride without sacrificing underfoot cushioning and stability.
The NBG2004 has a TPU outsole with anatomically placed grooves in the forefoot that provide flexibility and allow the shoe to move with the natural motion of your foot. It uses the low-profile Champ Slim-Lok® Zarma Tour cleat system with seven cleats. It is backed by a two-year waterproof warranty.
This remarkable shoe weighs only 11.6 oz and is available in White/Red; Grey/Blue; Black/Green. The shoe is available in sizes 8-12, 13, 14, 15, 16, widths D, 2E and 4E.
$119.95
NEW BALANCE GOLF MEN'S MINIMUS NGB1005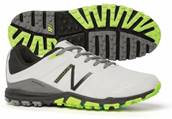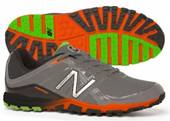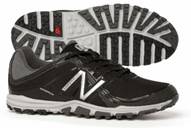 Also available is the extremely comfortable, non-cleated Minimus NBG1005, which is built on the same New Balance Minimus running last that provides a more natural feel for the ground than a traditional golf shoe.
The lightweight, athletic styling of the Minimus 1005 features a waterproof microfiber leather upper with ultralight FantomFit™ support, and a REVLite® 4mm drop* midsole for lightweight cushioning and premium responsiveness. A wider forefoot on the Minimus 1005 allows toes to splay apart, while a shallow toe depth provides better ground feel.
The Ortholite® insole provides golfers cool, dry comfort and the NDurance® rubber outsole gives maximum durability in high-wear areas. The Minimus is backed by a two-year waterproof warranty.
New Balance Golf Men's Minimus NGB1005 New Balance Golf Men's Minimus NGB1005 New Balance Golf Men's Minimus NGB1005
The Minimus weighs only 8.6 oz and is available in White/Blue, Grey/Green, Grey/Orange and Black. The shoe is currently available in sizes 8-12, 13, 14 widths D, 2E.
$119.95 www.newbalance.com
ANTIGUA MEN'S APPAREL – 2017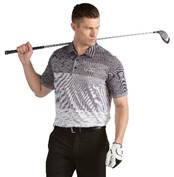 Antigua Men's apparel – 2017 The Antigua Group, Inc. is a leading designer and marketer of men's, women's and children's lifestyle apparel and sportswear under the distinctive Antigua label. Antigua has been serving the apparel needs of the Golf, Licensed Sports, Corporate and identity Specialty Retail markets for over 36 years.
Style Havoc is the epitome of the fashion polo in Antigua's Spring '17 collection, with its use of variegated space dye yarns. It features a 100% polyester Desert DryTM moisture wicking yarn dye, engineered chest stripe space dye heather polo. It also has a self-fabric collar, 3 button placket & cut & sew cuff detail with a 3D silver reflective A logo.
Antigua Men's apparel – 2017 Using yarns dyed in colors specific to this season's collection, the Style Havoc has been knit in an engineered pattern repeat, consisting of alternating space dye and solid yarns that create an ever lightening, sophisticated tonal effect. $70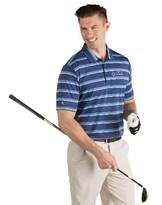 Using a self-collar as a complementing accent to the boldly patterned style Infinite, embellishes its fresh mix of color-on-color stripes, making it a must-have in every color combination this season.
This performance golf shirt uses 90% polyester/10% spandex Desert DryTM moisture wicking jersey. It features a 3 button placket & open cuff and a 3D silver reflective A logo.
www.antigua.com $70
ANTIGUA WOMEN'S 2017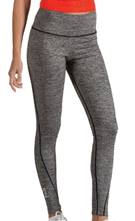 Antigua Women's 2017 Leggings have become a popular trend in golf wear — many women prefer to wear leggings on the course, either by themselves or with a skirt over.
With the ath-leisure trend still big, Antigua decided it would be a good opportunity to put a basic legging and skirt in the line.
SRP for the Enclave Skirt is $70.00. The Backspin legging features a heavy peached jersey that provides maximum coverage and soft hand feel. It comes in solid black and black heather.
Fabrication is 40%polyester/42% nylon and 18% spandex.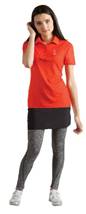 SRP for the Legging: $70.00
Its counterpart is the Enclave skirt, a basic, lightweight stretch woven with a high-low hemline and zipper hip pockets at the front. It comes in black only. Fabrication for the Enclave Skirt: 88% polyester/12% spandex. SRP for the Enclave Skirt is $70.00.
www.antigua.com
NEW AIR FORCE ONE AIR FOIL NITROGEN CHARGED FAIRWAY WOODS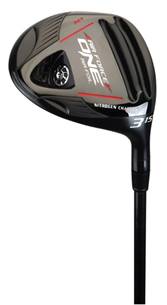 NEW Air Force One Air Foil Nitrogen Charged Fairway WoodsWhy Nitrogen in a golf club head? Compressed nitrogen provides tremendous support to the club face so every golfer can benefit from maximum C.O.R. (Coefficient of Restitution), maximum CT (Characteristic Time to measure the elasticity of the clubface), maximum Trampoline Effect, and Maximum Smash Factor for incredible distance!
These fairway woods are truly useful clubs that perform exceedingly well, based on Air Force One's technology that helps shots get airborne quickly and easily.
The launch of these fairway woods follows a very successful launch earlier this year of the Air Force One player and game improvement irons. The Air Foil fairway woods enables Air Force One to carry on the tradition of edge to edge sweet spot well known in the DFX driver to give additional forgiveness on off-center hits.
The 17-4 Stainless Steel woods are offered in a 15-degree 3-wood and 19-degree 5-wood. Because fairway woods generally sport a shallower clubface, their trampoline effect is reduced.
The Air Foil's dual slot wave design, however, creates an accordion effect: The thin face flexes inward at impact, initiating the buildup of Nitrogen pressure inside the club head.
Air Foil's dual slot wave design, Then a trampoline effect takes place, as the face is thrust back to its original position at a high velocity to generate rocketing ball speed and increased distance.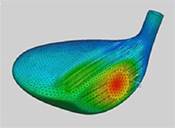 The club design increases how fast the face flexes at impact, promoting faster ball speed across the face, which promotes consistently longer distance on every swing.
The dual slot wave design creates a high launch angle with a tight dispersion, making an ideal fairway wood design for players who have difficulty hitting a 3-wood off the fairway. To further enhance shot performance, the nitrogen valve is positioned to increase MOI and create an optimum launch angle.
Our testing group's team found that the Air Foil fairway wood is one of the easiest fairway woods to hit off the deck, creating a high trajectory on-line to the target.
$149.95 depending on shaft selection. www.afogolf.com
CARNOUSTIE SPORTSWEAR PERFORMANCE OUTERWEAR
Carnoustie Sportswear Performance OuterwearSophistication and quality are Carnoustie's stock in trade.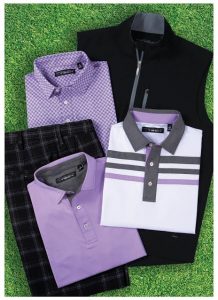 With autumn on the way, mornings are starting to get cooler. The days are getting shorter, sunrise is getting later, and those early tee times are the perfect way to get out and enjoy nature before the weather warms up. With cooler days on the way, it's time to transition your high end golf apparel into a more weather-ready lineup so you can stay warm during the mornings and cool in the afternoon.
While you are playing your fall rounds why not do it in comfort and style of Carnoustie Sportswear and Golfwear. Carnoustie uses only the finest micro poly and great workmanship and customers notice.
While others have fallen by the wayside, Carnoustie continues its commitment to offer the finest in mercerized cotton. Carnoustie, has had a reputation for years in mercerized cotton knits, continuing to use the same factories it has for more than 20 years.
New for Spring '17 are a chest stripe vest and a shoulder stripe 1/4 zip pullover. They are current in styling, yet have the sophistication our customers have come to expect from Carnoustie.
$89-110 http://www.carnoustiesportswearonline.com
SNELL GOLF MY TOUR BALL – HOLIDAY PACK
An up and coming ball manufacturer who has years of experience and is delivering probably one of the best golf balls on the market.
Snell Golf My Tour Ball – Holiday PackMany Tour pros have tested this ball and many feel it is equal to, if not better, than any golf ball currently available. But due to their contractual obligations, cannot play the balls in competition, but do so when not competing.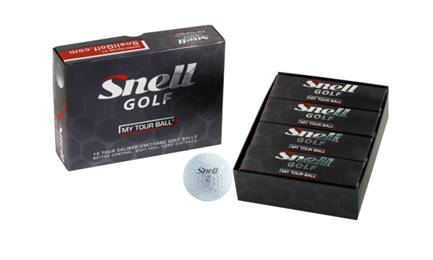 Its founder, Dean Snell, holder of 38 golf patents, is a highly respected golf ball expert with over 25 years in research and development roles for companies such as Titleist and Taylormade, and is the inventor or co-inventor of the Pro V1, Professional, Penta and Tour Preferred balls.
The Core has been developed with a very low compression, soft feel, with high velocity to help with ball speed, regardless of swing speed, and creates low driver spin rates for longer distances.
The Mantle layer works on longer shots to keep control of the spin and works with the thin soft cast urethane cover on shorter irons and chip shots to create higher spin rates for better control into the green.
The Cover layer is made of a thermoset cast urethane. This technology allows very thin covers for better short game spin control and is very soft and durable.
The Holiday Gift pack offers golfers the chance to check out the latest design from "The Dean of Modern Golf ball Design" and receive some nice added bonuses. Snell Golf's My Tour Ball – Holiday Gift Pack gets you 4-dozen award-winning balls, a Snell Golf Tour Cap and a limited edition t-shirt.
$127 including shipping www.snellgolf.com
COBRA KING OS IRONS
hCobra KING OS IronsBack in 1995-1996, COBRA Golf's original Oversize Irons quickly became the #1 selling iron.
The company is re-introducing their latest innovations in a new KING Oversize Iron set.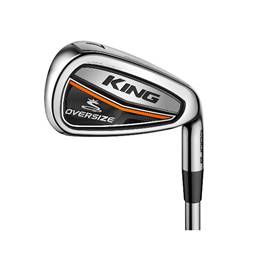 The big difference between then and now? According to COBRA, the 2017 version of the KING OS is its first iron that reaches the USGA's COR (Coefficient of Restitution) limit, resulting in Cobra's largest sweet zone ever – and in turn, delivering an easy to hit iron built for explosive distance without sacrificing forgiveness or control.
The OS has additional benefits in addition to creating higher launch — more distance and excessive forgiveness. Specifically it is what Cobra calls a PWRShell face. This PWRShell allows for a larger and thinner face, which produces more speed (especially on mis-hits). PWRShell's design saves weight in both the face and sole structures, which frees up a bit of that highly desirable discretionary mass. A lightweight aluminum badge frees up a bit more.
Cobra's KING OS irons feature a 100% milled face with loft dependent grooves. The long irons (4-6) feature V-grooves for lower spin and more distance, while the short irons (7-PW – Pitching Wedge) offer U-grooves for increased spin and more control. Lastly, the GW (Gap Wedge) and SW (Sand Wedge). These wedges perform admirably- green-stopping power, probably due to the same groove pattern used on Cobra's Tour Trusty wedges.
These are a great set of irons that will benefit many golfers, especially seniors.
The stock shaft for the steel irons are the True temper XP 85. For graphite shafts, Cobra uses the UST Recoil ES. Stiff, regular and lite flexes are available.
$999 (4-GW) www.cobragolf.com
BRIDGESTONE E6 GOLF BALLS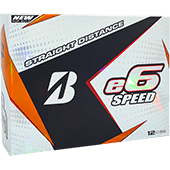 Bridgestone e6 golf ballsBalls are always a great gift when you really do not want to pick clothing or clubs. Amongst the best balls made are those made by Bridgestone Golf.
Bridgestone's professional staff features FedExCup champion Brandt Snedeker, Olympics bronze medalist Matt Kuchar, Masters winner Fred Couples, three-time major champion Nick Price, Bryson DeChambeau, and LPGA Tour stars Stacy Lewis, Paula Creamer, and Karrie Webb.
For seniors and slower swing speeds, these balls are ideal and are available both in white and yellow.
The e6 balls were developed by using data from over two million in-person and online ball fitting sessions. Since the proprietary Ball Fitting System was introduced in 2007, the Bridgestone line of golf balls has evolved to be one of the most sought after balls on the market, second only to Titleist (they pay Tour players to use their balls). Pretty amazing!
The e6 series is the company's most popular ball because their testing proves it is 9 yards longer and 31% straighter than leading competitors. The new models improve upon this heritage and offer players the choice to select a feel that suits individual preference. The e6 SOFT provides wonderful feel throughout the bag, reduces driver spin for longer distance and optimizes launch with irons/wedges for superior stopping power.
As for the e6 SPEED, it delivers explosive initial ball velocity for incredible straight distance.
Both models feature new Delta Dimple Wing Technology, minimizing air resistance to further enhance distance and accuracy. Both new balls are three-piece designs that feature ionomer covers, a mantle layer and large cores.
Bridgestone's long-held belief is that more average golfers will benefit from a ball with an ionomer cover than multilayer balls with urethane covers, typically played by tour players.
$28.99 per dozen www.bridgestonegolf.com
---
Barry Lotz, J.D., Ph.D. is the director of the Professional Golf Teachers Association of America. He is a member of the Golf Writers Association of America, the California Golf Writers Association, and serves both as a Consultant and Mediator to the golf industry. He is also the author of numerous books, including "333 Best Web Sites for Golfers", "How to Build Business Relationships through Golf" which is in the Top Ten Golf Business Book's bestseller list. His latest book," The Right Mind for Golf", released last year, is now in its 9th printing. He currently works with 14 Tour Players on mental coaching and scoring techniques.
He can be reached at www.pgtaa.com or drlotz@cbsgolf.net