Soon to be in Stores and in your Bags
Part 1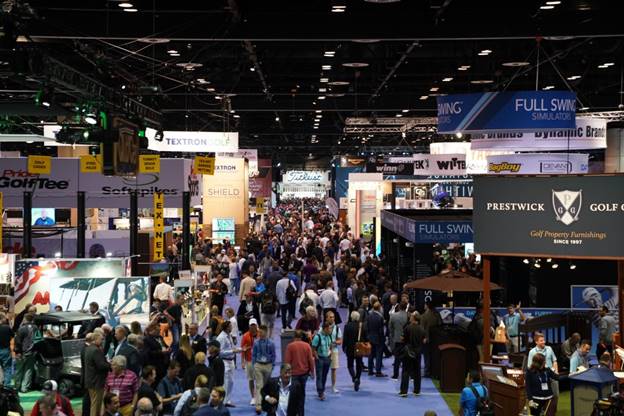 This year's show was the busiest and most well-attended PGA Show I have been to in the last five years. It was interesting to see how the economics of the Show has changed. Especially, as to how previous long-time exhibitors, particularly the smaller vendors, do not have booths anymore but attend the Show to meet and greet their customers. Many exhibitors are sharing booth space, as the cost of exhibiting has skyrocketed. Taylormade Golf did not exhibit this year.
Many of the exhibitors should not be there, simply because their products will never gain traction, are gimmicks, and the owners do not understand that markets create businesses, businesses don't create markets.
It's really a great time to be a golfer! The technology, just over the past few years, has changed radically. The key point is that with all the new products, whether balls, irons, drivers, shoes, putters or wedges, you can and must be custom fitted. Take advantage of all the new technology and products heretofore non-existent, and improve your enjoyment and lower your scores.
Drivers today still lead the demand for equipment sales. Now you can find the right shaft and decide what it is exactly what you want out of a driver in terms of dispersion, sound, feel, shot pattern, draw or fade tendency. Seek and ye shall find.
The stars, aka busiest booths of the Show this year, were most definitely Callaway, Titleist, PING, Cobra Tour Edge and the Garmin booth.
I was one of the more than 1,000 media from some 23 countries that reported from the 2019 PGA Merchandise Show.
Every visit to the PGA Show is exciting, exhilarating and really exhausting. There simply is no way that one person can cover all the exhibits, visit with companies and their sales representatives, which in most cases are the owners, in 3 days!
Every year I am asked by my readership what were the best products that caught my attention. The following 3 products, in my opinion, simply stood, head and shoulders above their peers!
As I love to sink putts and know my distances, putters, and distance measurement devices are my raison d'être.
Sacks & Parente Series 54 VA ULBP Mallet Putter – $1200.00 Tour Edition $600.00 Players edition
Both Steve Sacks and Richard Parente know golf. Their experience in the golf business is exceptional.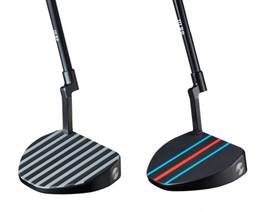 I know of no other putter, past or present, that features patented Ultra-Low Balance Point (ULBP) technology which is defined as a balance point 5″ or less from the sole of the putter. This balance point causes the putter head to square and release at impact, delivering exceptional rollout and accuracy, enabling you to make more putts.
The Series 54 is available in both a Players Edition and a Tour Edition and features a perfectly flat crown that starts low at the back of the putter and ramps up to the full height of the face to optically eliminating misalignment.
Strategically placed tungsten weighting creates an extremely high MOI and moves the center of gravity towards the face to counter the detrimental result of gear effect present in other mallet putters.
Suffice to say, there is a lot more to discuss — especially the accuracy, feel, alignment, shaft component and the two model options available. Wow! What a putter!
Garmin Approach G80 Premium Golf GPS with an Integrated Launch Monitor and Radar.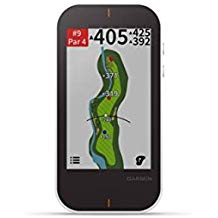 This unit tracks clubhead speed, ball speed, smash factor, swing tempo and estimated distance. It features a 3.5" sunlight-readable touchscreen display and slim design with quick button access to radar.
One of its best features is the practice and game modes which allow you to test your skills and work to improve your game.
It also has a rechargeable battery that lasts up to 15 hours with GPS.
$499.99      www.garmin.com
Garmin S10 – K.I.S.S. Keep It Superbly Simple.

You get the distances you need expeditiously and keep your rhythm flowing relative to the speed of play. Extremely user friendly. The battery is long-lasting and the price is $146.36 on Amazon.
Detailed descriptions of the aforementioned products will be covered separately and in-depth in Part 2 of this article.
There were many other products deservous of acknowledgment, such as those below, and will be covered in a separate article/s.
For clubs, the theme was lighter, faster, more carbon usage and adjustability in clubs. PING's new G410 Plus www.ping.com , Callaway's EPIC Flash, Mizuno's ST190 – www.mizunousa.com, Bridgestone's TOUR B XW-1 wedges – www.bridgestonegolf.com , Cobra's King F9 Speedback – www.cobragolf.com, Tour Edge Exotics CBX woods and hybrids, plus Exotics EXS clubs –  www.touredge.com , XXIO Prime 9 driver – www.xxiousa.com , and Titleist TS2 and TSR 3, www.titleist.com , drew the largest audiences.
For balls, Callaway's new BIGGER Supersoft Magna and ERC Soft models, stood out, as did Titleist's new 2019-2020 Pro V1 series. The March introduction of a yellow Pro V1, as used by Bubba Watson this week at the Waste management Tournament, is highly anticipated, simply because a yellow golf ball is gaining traction amongst senior golfers who say they can see a yellow ball more easily than a white ball. Bridgestone's new e12 series of balls will suit slower swinging golfers. Mizuno will enter the golf ball arena with their balls being manufactured by the same factory that produced Nike's balls.
Digitally speaking, there were a plethora of products from booking services, teaching apps, and measurement systems abounding. As I am not a proponent of using a cell phone on the golf course primarily because it slows down play significantly, my favorite "tech" products are listed below.
For clothing, FootJoy products, www.footjoy.com, is the only place one needed to visit at the Show. They simply produce the best full range of products for the golfer. A newcomer to the scene, Jack Grace, www.jackgraceusa.com, introduced swappable saddles, which allows you to match your shoes to every look you have. And they are extremely comfortable. Women are really going to appreciate these saddle swappables. New Balance still offers the best golf shoes for wide feet – www.newbalance.com. Check out their Striker series.
As for accessories and other useful products, Daphne's head covers – www.daphnesheadcovers.com  1St Tee PLUS Energy Bars and Think Jerky, are perennially the most consistent products in this domain.   1St   Tee is also a platinum sponsor for The First Tee, whereby 1st last year donated $30,000.00 to 1st Tee. www.golfenergybar.com. Their beef jerky is to die for! Their Turkey Jerky is delicious. They simply make the best energy bars and jerky. 1st Tee is the distributor for Think Jerky.
As for Training & Swing Aids, Garmin's Approach G80, www.garmin.com, the Inside Striker –  www.insidestriker.com, and Swedge Golf training Aid – www.avidgolfusa.com , will all improve your game. If you want to know where exactly on the club you are striking the ball, Strike Spray – www.strikespray.com, provides a coating that can handle from 6-8 swings and cleans up easily.
For shafts, Graphite Designs booth and hitting bay were constantly full. Their new Tour AD VR – designed to "Vanquish all Rivals", really does! www.prochoicegolfshafts.com.  The Tour AD VR shafts are available in 40g R2, R1 and S flex, 50g R2, R1, S and X flex, 60g SR, S and X flex, 70g S and X flex and 80g S and X flex. It's hard to find a better shaft.
Also, Callaway FITS Shaft Analyzer garnered a lot of attention. The FITS is designed to provide the best shaft options for a golfer in just 3-5 swings, using the company's new Callaway FITS app, www.callawaygolf.com/callawayfits. Look for this type of technology to proliferate rapidly. Arccos- www.arccosgolf.com, Shot Scope V2 – www.shotscope.com  and Blast Motion www.blastmotion.com are starting to appear in manufacturer's grips and recommendations.
As for putters, new and outstanding introductions came from, in addition to Scotty Cameron, Bettinardi, PING, Odyssey, L.A.B. Golf, but none as good as Sacks& Parente's Series 54 mallets.
Part 2 of this article will encompass golf travel, apparel, and accessories that covered at least a third of the Show's floor area. Companies such as Rovos Rail – my personal favorite, Halcyon Golf Travel, Premier Africa Excursions, adidas Golf, AHEAD, Antigua, Bobby Jones Apparel, Callaway Apparel, Cutter & Buck, Designer Gloves by Black Level, Dunning, FootJoy, Greg Norman Collection, Hook + Gaff, Peter Millar, Polo/Ralph Lauren, PUMA Golf, Summit Brands (B. Draddy, Fairway & Greene, EP NY, Zero Restriction), Turtleson, Travis Mathew, and Under Armour.
Barry Lotz, J.D., Ph.D. is the director of the Professional Golf Teachers Association of America. He is a member of the Golf Writers Association of America, the California Golf Writers Association, and serves both as a Consultant and Mediator to the golf industry. He is also the author of numerous books, including "333 Best Web Sites for Golfers", "How to Build Business Relationships through Golf" which is in the Top Ten Golf Business Book's bestseller list. His latest book," The Right Mind for Golf", released last year, is now in its 6th printing.
He can be reached atwww.pgtaa.com or drlotz@cbsgolf.net