Recently, I was on site at the Shriner's Tournament in Las Vegas. I attend this annually so I can meet with those pros with whom I work with mentally.
Most often, in between sessions, I can be found checking out the latest in equipment both on the putting green and driving range.
As I love to putt, putters are fascinating to me in every aspect from design, materials used, and performance.
This season was no different.
These 3 putters caught my eye and all had hole-seeking capability:
Odyssey's Stroke LAB Ten
There are two models, the Stroke Lab Ten and the "Bird of Prey". My focus is on the Stroke Lab Ten.
Off the bat, what will impress you most is that the Ten sits completely flat and square to the target at address, whereas many other styles of putters force you to take a certain grip to get to this ideal aforementioned position.
Inspired by Odyssey's #7 and the Indianapolis putter model, the Ten offers premium materials and performance in two neck options of slant or double bend.  The putter has a square shape and single white alignment line that contrasts with the putter's dark finish.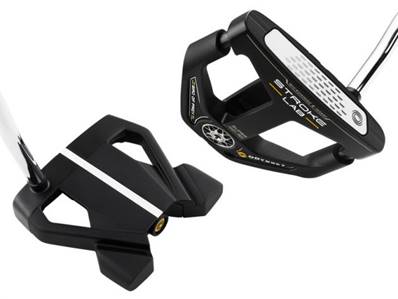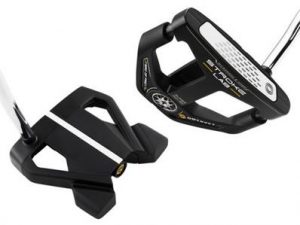 Referred to as "High Def Alignment", this single white alignment line makes it easy for golfers to aim better at address, a critical component to better and more consistent putting.
The Odyssey Stroke Lab Black Ten Putter is a super-high MOI mallet with a multi-material Stroke Lab shaft to improve your stroke, a new Microhinge Star Insert, and Hi-Def Alignment.
The Microhinge Star insert was originally made for tour players who wanted a firmer feeling at impact than the standard Microhinge or White Hot Microhinge insert.
What you need to know is that Microhinge roll technology promotes immediate forward roll for improved speed and control. As for the shaft, Stroke Lab putters actually help improve the golfer's stroke, including backswing length, face angle at impact, and head speed through impact and tempo. All through a profound change in weight distribution made possible by an innovative new shaft.
In the back of this mid-size mallet, Odyssey has added a sole weight under the heel and toe extensions, which increases the moment of inertia and boost stability.
The innovative multi-material shaft saves 40 grams of weight, which is redistributed to the head and grip end of the putter specifically by adding 10g to the head in the form of two sole weights, and adding 30g to the grip-end via a 10g-lighter grip and 40g end-weight.
This completely rebalances the putter for improved tempo and consistency in the stroke.
According to Sean Toulon (Ex Zevo, TaylorMade, Toulon Design) , Odyssey's GM, "Stroke Lab has revolutionized the putter category by fundamentally improving the rhythm and consistency in a golfer's stroke, And we're combining it with all the forgiveness from these super high MOI head shapes with one goal in mind: to help every golfer make more putts."
$299.99        Available November 1, 2019   www.odysseygolf.com
Cleveland Frontline "Elevado"
Cleveland Golf has introduced its Frontline putter series which features a brand-new weighting system which brings the center of gravity forward in a bid for greater stability through impact.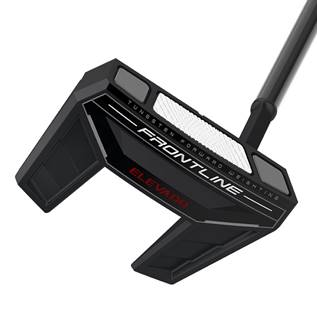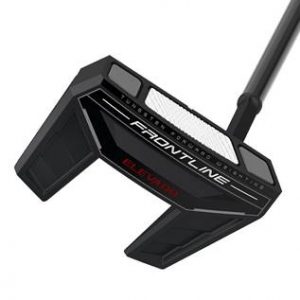 A forward center of gravity reduces the Gear Effect on miss-hits. That's good. It means your putts start straight and stay on line. Say your aim is spot on with your current rear-weighted mallet, but you strike the ball off the toe. That putt is going to roll off-line and miss the hole even more so, if you have not balanced your golf ball. With Frontline, that same putt will go a lot straighter – perhaps straight enough to find the cup.
Frontline delivers a new way to design a putter with Tungsten Forward Weighting positioning the center of gravity closer to the face for straighter putts.
The Frontline Elevado single bend mallet is ideal for straight back stroke types and provides a truer roll to help you sink more putts. A slant neck hosel is also available for the Elevado.
Jacob Lambeth, Research and Development Engineer at Cleveland Golf, stated "We are very excited about Frontline because it is a completely new approach to putter design. By pairing an extreme center of gravity with an improved speed-optimized face, we've designed a putter that uniquely maximizes directional and speed consistency. Combined with slick black cosmetics, great shapes and hosel options for different stroke types, Frontline really is the whole package."
The flagship model of the Frontline collection, the Frontline Elevado, provides two stability wings and Tungsten Forward Weighting for improved consistency and accuracy on the greens. Featuring Cleveland's Speed Optimized Face Technology and 2135 Technology, one can achieve better distance control and alignment with the Frontline Elevado.
The tungsten forward weighting on the Frontline series places two Metal Injection Molded (MIM) tungsten weights in the face of the putter. According to the company, the design places the center of gravity forward in the new putter for maximum accuracy on the greens.
All Frontline models feature the brand's Speed Optimized Face Technology (SOFT), which is designed to normalize ball speed across the face for consistent distance performance on each putt and includes an individualized SOFT pattern which aims to prevent speed and distance loss, particularly on off-center strikes. Now, when you hit a 6-foot putt, it goes 6-feet rather than stopping at 5-feet!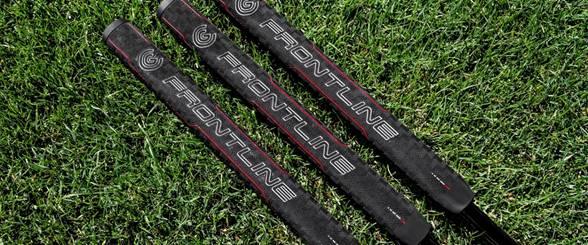 What I really like about the Frontline putters are the Lamkin Fingerprint Technology Sink Fit Straight putter grips. Lamkin has developed a premium upgrade in putter grips, which in my opinion makes putting that much more enjoyable, mainly because of the combo materials they use. The unique contoured shape promotes proper wrist alignment for a more controlled, consistent putting stroke. Light under listing and real rubber outer listing results in a great feel and less weight – a perfect combination!
The satisfying squish of rubber, nice texture and just the right size has made Lamkin not only my favorite putter grip to date, but now all my clubs are fitted with Lamkin grips.
Frontline Putter price: $199.99 for Mallets     $179.99 for Blades   www.clevelandgolf.com
Purchased separately, the Lamkin grip retails for $19.99.  www.lamkingrips.com
PING's new PLD (Putting Lab Design) "Bruzer" LTD Edition putter with a high MOI.
The Bruzer putter has a 100-percent milled head with a multi-material design for more stability. It must be a cousin to the Ketsch model. This is a most impressive and elegant looking putter that rolled putts in as though the putter sent ESP signals to the ball!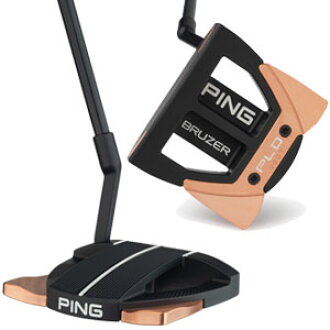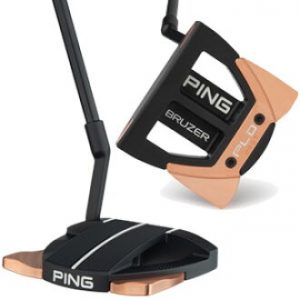 The Bruzer putter, which is named after PING Chairman & CEO John A. Solheim's dog, and machined in Phoenix, features a 370 gram head weight with two strategically placed copper inserts for added stability, forgiveness and feel.
The putter has a 100-percent milled head, with a multi-material design for more stability. The black portions of the head are made from T6 6061 Aerospace Grade lightweight aluminum, while the copper portions in the back corners and on the toe and heel of the face are made from a heavier copper material.  The sole plate is made from C145 Tellurium Copper while the finish is that of a Type 3 Black Hard Anodize.
According to PING's design engineer, Tony Serrano, the purpose of using materials of different densities, is to move weight as far away from the center of gravity as possible to give the putter more forgiveness and stability. And in addition to the two copper inserts of Natural Petina, the face of the Bruzer is made smooth for sound, feel, and greater feedback.
The putter comes with a mid-slant hosel and an all-black shaft. The top of the putter has three alignment lines, with the outer two lines being the exact width of a golf ball.
A True Temper Black Stealth Finish shaft and a PP58 Black Mid grip round out the putter's composition.
Although these putters have sold out, I noticed that they are available for $608.00 on www.global.rakuten.com and £359.00 on. https://picclick.co.uk