Like CBD oils are taking hold on all the Tours, yellow balls are also appearing on all the Tours. All the major golf brands have yellow balls in their product lines. This trend is growing and the many benefits emanating from golfers using yellow balls, such as seeing the ball better, making consistent solid contact, scoring lower, making more putts, and finding balls on the course, are the tales now being woven.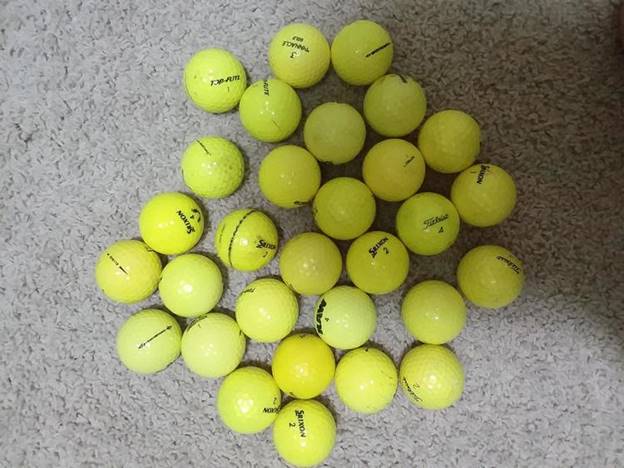 I personally switched to yellow balls many years ago, both for golf and tennis. I see them better, my putting, my dispersion rate is tighter, solid ball contact is indeed improving, especially with the Callaway Magna ball. Throw in balancing the ball and being custom fitted for a ball for my game, I now have both the psychological and reality benefits of knowing what ball works best for me. And my attitude changes dramatically to this visually stimulating and mood changing ball, when playing. I have no scientific data to back up my statements, but I do see and experience the benefits of yellow balls.
Yellow balls are easily identifiable in your playing group, especially the Callaway Chrome Soft Truvis soccer ball look.
Fred Couples, Vijay Singh, Rory Sabbatini, Bubba Watson, Billy Andrade, Kyle Jones, Scott Gutschewski, Zac Blair, Mark Calcavecchia, Ken Tanigawa and Kirk Triplett (won the PGA Champions' Hoag Classic with a yellow ball), are all yellow ball aficionados.
Factoids: George W. Bush, the 43rd president, used a yellow ball to garner his first ace.
Jerry Pate used a colored ball (orange) for his victory at the 1982 Player Championship.
The golf ball is the only piece of equipment you use on every shot and there are many game-changing performance and quality differences between various brands and models.
As previously mentioned, most of the major manufacturers have yellow balls to sell. This article breaks them down into two types, those for golfers with high swing speed (HS), 106 on upward, and those whose swing speeds range between 70 and 105 mph (LS). The most popular yellow balls of each manufacturer are featured.
Many golfers are mistakenly led to believe that they should be fit for a golf ball based solely on their driver swing speed. This is a flawed approach. The truth is that every golfer has many different swing speeds, not just one. Golfers utilize a wide range of swing speeds to execute the vast array of shots that are required in every round, and to play your best the golf ball must perform for all of these different shots. There are a number of important factors to consider when deciding which golf ball is best for you.
Dean Snell, has 40+ granted patents and was the co-designer of the Pro V1, Professional, Tour Prestige, HP2 Tour and HP2 Distance balls. Snell worked closely with Tiger Woods, Phil Mickelson and Davis Love III to bring cast urethane technology into the golf market. Dean was also responsible for the  invention of several key ball franchises, including TP Red & Black, Penta (golf's first five layer ball), Lethal, and the TOUR Preferred line which are played today by Sergio Garcia, Dustin Johnson, Jason Day, Justin Rose, among others. He also led the design of the Noodle, Burner, RocketBallz and Project (a) golf balls designed to perform for average players.
In my opinion, Dean Snell has a philosophy that every golfer should adapt with regard to golf balls: According to Dean, "I do not recommend golf balls based on swing speed.  I think that is the most over rated marketing scam out there for golf balls. I usually tell people to take different balls and test from 100 yards and in. This is where they have different feel, different launch, different spin, and control… every player can compress the ball well inside the outer cover… so where you play the most golf, from 100 yards and in, is where you should test the products.. If someone is of slower swing speed, and cannot generate enough spin around the green, then I would recommend the MTB X ball… This ball has a little higher spin rate with the shorter irons to help stop the ball a little quicker. They will not see the balls spin back like tour players, but they may be able to stop it 4-5 feet closer, and maybe make a putt or eliminate a 3 putt from time to time."
Think about what happens with the swing speed story. Ball companies tell players if they have slow speeds, then they NEED to play softer, low compression balls. Well, softer low compression balls mean LOWER SPIN on ALL shots.
So, if someone tells you that you need lower compression to compress the ball and add speed to your driver, let me tell you what that means.  If you hit your drives at slow speed to 220 yards… and let's say If you could add 1 mph to your ball speed (which will NEVER happen, but let's go with it here for sake of showing impact), your new  1 mph ball speed just added about 8-10 INCHES to your drive.
So you just went 221 yards on the perfect shot. NOW, you have to finish the hole with a ball that has limited spin and limited performance the closer you get to the green.
So where you need to add spin and performance, you have given that up for an extra foot of distance off the tee. Choose a golf ball that helps you lower scores around the green. Everyone is capable of compressing the golf ball off the tee… you will not see 10 yard plus gains with drivers by playing these softer lower compression balls.. .but you will be giving up a lot of performance".
Snell Golf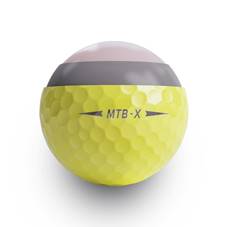 Snell Golf uses cast thermoset urethane on their MTB BLACK and MTB X golf balls. Both of these balls are 3-pieced balls and are also available in yellow.
The MTB BLACK is 80-85 compression and the MTB X is 90-95 compression. Both balls have a low lift and low-drag 360 dimple pattern.
Snell Golf has a new tiered pricing structure:
1 doz:  32.99
2 doz:  30.99
3 or 4 doz:  29.99
5 doz value pack:  27.99
This also includes FREE 2 day express shipping in the US with orders of 5 dozen or less.
Snell golf also has the inexpensive, Get Sum yellow ball, their fun, real soft low spinning ball that is priced for beginners and players looking to just play a few rounds and have fun.  It is also for those players who truly like the soft feel in a golf ball.
For a great ball that can match any ball on the market, Snell offers overall value, durability and playability.
Srixon
One of the earliest manufacturers of yellow golf balls, Srixon's Z Star ball was one of the most played of yellow balls on the PGA Tour.
Their new SeRM, Slide Ring Material produces lots of spin which one needs to score lower. This extremely resilient urethane cover uses Moveable Polymer Cross-Linking to greatly enhance spin.
With molecular bonds that stretch but don't break, SeRM gives you a softer cover that actually digs into your club grooves at impact. That extra bite means more friction, which leads to dramatically more spin, and ultimately, unmatched stopping power around the green.
Srixon Z Star –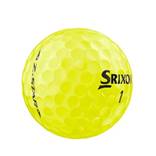 Now in its sixth generation, the Srixon Z-STAR, 3-piece, Urethane covered, 338 dimples and 90 compression ball, provides maximum greenside spin for unmatched control and stopping power, while also being longer than other mid-compression tour balls. The ball is enhanced with the FastLayer Core and new Spin Skin with SeRM. Its premium three-piece construction gives skilled players complete tour performance, tee to green.
$39.99 per dozen
Srixon Z Star XV –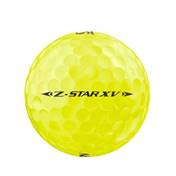 Now in its sixth generation, the Srixon Z-STAR XV is a premium four-piece, Urethane covered, 338 dimples and 102 compression golf ball that gives the golfer maximum distance, and skilled players will appreciate the tour performance from tee to green. The ball is also enhanced with the FastLayer Core and new Spin Skin with SeRM technology.
$39.99 per dozen
Srixon Q- Star –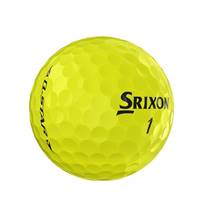 Now in its fifth generation, the Q-STAR from Srixon is a 2-piece, Ionomer covered, 338 dimples, 77 compression golf ball that provides exceptional performance from tee to green. Enhanced with the FastLayer Core and new Spin Skin with SeRM, the new Q-STAR offers outstanding distance performance while maintaining excellent greenside spin.
$26.99 per dozen
 Srixon Q-Star Tour –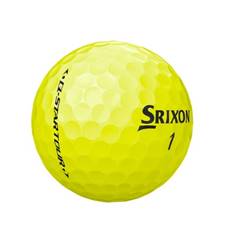 The Q-STAR TOUR is genuine tour performance for moderate swing speeds.
This 3-piece ball, 338 dimples 72 compression, combines a tour urethane cover with a soft, responsive core providing maximum distance and tour-level greenside control.
$29.99 per dozen
Titleist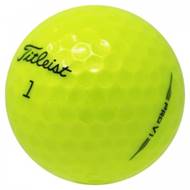 The world's most popular golf ball.
Both the Pro V1 and Pro V1x feature Titleist's thermoset urethane casting technology. This allowed their engineers to cast a thinner layer of the proprietary cover formulation, developed exclusively for Pro V1 and Pro V1x, while retaining its trusted Drop-and-Stop™ greenside control and soft feel.
Both golf balls have been designed to leave the clubface with more ball speed and lower long game spin for more distance, while providing the best short game control to help golfers shoot lower scores.
The Pro V1x will fly higher and with more spin than the Pro V1 off the tee and with long irons.
The urethane cover on the outside of both balls is easily grabbed by the grooves in wedges and short irons, but the golfer will likely see a little more short game spin from the Pro V1x.
Consistency, quality and durability is the mantra of the Pro V1 balls.
Pro V1.
The 3-piece ball employs a spherically-tiled 352 tetrahedral dimple design, with a compression in the low 90's
$47.99
Pro V1x
The 4-pieceball employs a spherically-tiled 328 tetrahedral dimple design with a compression of about 100.
$47.99
AVX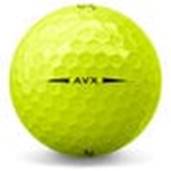 This 3-piece ball uses a proprietary GRN41 cast thermoset urethane cover that delivers premium scoring control with exceptionally soft feel and long lasting durability.
A spherically-tiled 352 tetrahedral catenary aerodynamic design is used and the ball offers a compression in the low 80's.
$47.99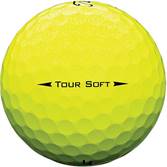 Tour Soft
This 2-piece ball has a new ultra-thin 4CE grafted cover made with TCU Process Technology that generates advanced short game control. Innovations in the manufacturing process at Titleist Ball Plant 2 in Massachusetts allowed engineers to mold the extremely thin, very soft cover formulation – made from a proprietary blend of four different materials – uniformly across the surface.
A new spherically-tiled 342 cuboctahedron dimple design, is optimized for the new Tour Soft construction and delivers a penetrating trajectory and consistent flight. The compression is in the low 70's – really soft!
$29.98 per dozen
Bridgestone
Bridgestone is famous for their ubiquitous ball fitting program. Their current line of balls provide unmatched feel, accuracy and distance. To help players find the perfect ball for their games, Bridgestone offers an easy and comprehensive fitting option:
New Online Fitting Tool – Available at www.bridgestonegolf.com, it accommodates the full spectrum of players. The "Quick Fit" option easily determines the best ball for novices, while the in-depth "I Know My Game" presents detailed questions to assist experienced golfers to find the perfect fit. The "I've Been Measured" path allows users to input launch monitor data, ensuring the most accurate recommendation possible.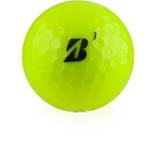 The TOUR B XS Yellow is a 3-piece, urethane cover golf ball designed for high swing speeds (greater than 105 MPH).  It features a 330 dimple pattern. The enhanced feel of the TOUR B XS comes from a softer cover as a result of the SlipRes technology. The TOUR B XS gets distance as a result of increased ball speed from the gradation core construction.
$44.99 per dozen
The Tour B RX and e12 SOFT Yellow are both for swing speeds less than 105 mph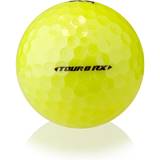 TOUR B RX Yellow is also a 3- piece, urethane cover golf ball with a 338 dimple pattern.
The enhanced distance of the TOUR B RX comes from increased ball speed as a result of the proprietary core construction and enhanced aerodynamics. The TOUR B RX gets accuracy as a result of lower side spin from the gradation core construction.
$44.99 per dozen
e12 SOFT  is a 3-piece, surlyn covered golf ball with 326 dimples. Bridgestone's proprietary new Active Acceleration Mantle layer is a key component of the 3-piece construction.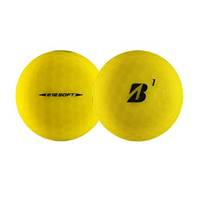 The Active Acceleration Mantle is comprised of a new High Performance Polymer material that provides increased thrust and higher initial velocity at impact, while allowing Bridgestone to soften the core for greater forgiveness and enhanced feel.
Designed specifically for players with less than 105 MPH driver swing speeds, the e12 SOFT utilizes Bridgestone's Delta Wing 326 Dimple pattern for less drag and optimized aerodynamics in the cover.
$29.99 per dozen
FYI, Tiger uses the white version of the TOUR B XS and according to Tiger, "The TOUR B XS easily outperforms any ball I've ever played. It is incredibly long, but offers excellent feel and spin around the green, which makes me confident in any situation. Fred Couples, Bryson DeChambeu and Matt Kuchar also play Bridgestone.
Callaway
Callaway golf balls continue to gain momentum as some of the best golf balls in the game.
The 4-piece Chrome Soft is aimed at golfers who want a ball that offers both driver and iron performance, as well as a soft feel and short-game control.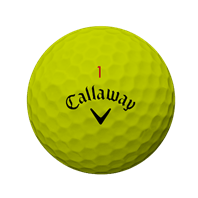 The introduction of Callaway's new graphene Dual SoftFast core has allowed for a thinner outer core and a larger inner core to enhance the ball's speed and reduce long-game spin for more distance. A new urethane cover means the feel has been made softer.
The Chrome Soft also comes in an X version for faster swingers to maximize distance.
Chrome Soft: Softest feel, best forgiveness, straight flight
Chrome Soft X: Soft feel, high forgiveness, workable flight
A yellow Truvis Chrome Soft and Chrome Soft X are also available.
$44.99 per dozen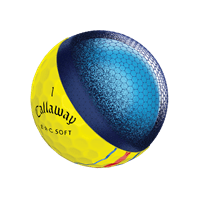 ERC Soft Yellow, named after Ely Reeves Callaway, the founder of the company, is Callaway's largest ever Graphene-infused Dual SoftFast Core. This groundbreaking technology features a larger inner core that maximizes compression energy while minimizing driver-spin and promoting high launch for long distance.
This multi-material cover creates an exceptional combination of faster ball speeds for longer distance, incredibly soft feel, and noticeably higher spin for excellent control around the green.
The "Mickelson Ball's USP (Unique Selling Proposition) is the Advanced Alignment from Triple Track Technology. Prominently featured Triple Track lines on the ball are for improved putting accuracy.  The Triple Track uses Vernier Visual Acuity to improve alignment compared to a regular side stamp alignment aid.
$39.99 per dozen
Callaway Super Soft MAGNA
The Callaway Supersoft Magna is an oversized golf ball with a super easy-to-hit construction for increased distance and high, consistent launch. I found the dispersion rate to be much tighter than other balls, plus chipping and putting, aside from the great feel, helped lower my score.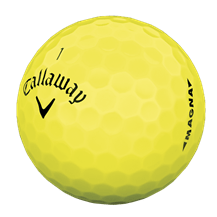 The Magna is larger than a standard golf ball while still conforming to the rules of golf. Its higher center of gravity and high MOI allow golfers, especially developing golfers and slow swing speed players, to make better contact on the club face to promote more consistent shots with high launch.
Its newly designed HEX Aerodynamics for this oversized ball are optimized to promote a lower spin rate, to reduce drag and enhance lift for increased carry, higher flight and longer distance.
$22.99 per dozen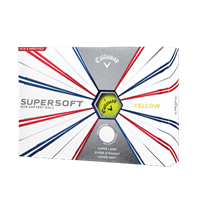 CALLAWAY SUPERSOFT YELLOW GOLF BALLS.
The new Callaway Trionomer Supersoft golf balls are a long, straight distance ball that's incredibly soft, with an ultra-low compression core for fast ball speeds, and super low spin and low drag.
Here as well, the ball's new HEX Aerodynamics are optimized for a lower spin rate to reduce drag and enhance lift for increased carry, higher flight and longer distance.
$22.99 per dozen
2019 saw many ball companies introducing yellow balls. Now there is a large selection allowing you to find the perfect ball for your game. Being fitted for a golf ball is available, whether dynamic or static, so there is no excuse for not taking advantage of the technology available.
Once you find the ball that works best for you, your game will definitely improve.
Barry Lotz, J.D., Ph.D. is the director of the Professional Golf Teachers Association of America. Visit www/facebook.com/PGTAA to see all the latest mental strategies, travel and equipment reviews. He is a member of the Golf Writers Association of America and serves both as a Consultant and Mediator to the golf industry. He is also the author of numerous books, including "333 Best Web Sites for Golfers" and his previous book, "How to Build Business Relationships through Golf", updated for 2011, is still in the Top Ten Golf Business Book's best seller list. His latest book, "The Right Mind for Golf", is now in its 7th reprint is available on Amazon and at the Torrey Pines golf course