Description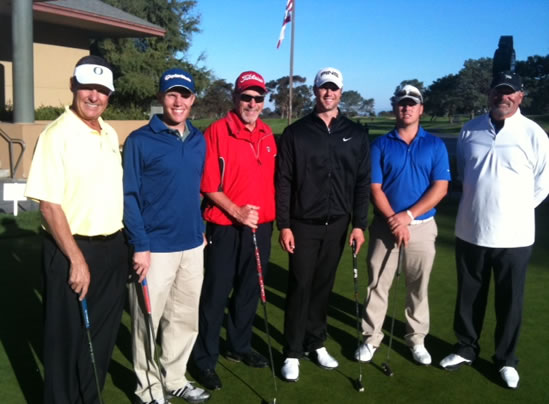 On Site Course 
The overall experience of the on site course exceeded my expectations. From the hotel accomodations to the learning facilities at Torrey Pines the entire package was first class. I left the class with a new found confidence in my abilities as an instructor and I am anxious to use the tools that PGTAA provided for me. I found Barry to be extremely accessible and willing to help the student in anyway he could. This is not a feature that you would expect from such a highly regarded individual and the President of the organization. Thank you PGTAA for the motivation to further pursue my ambition as a professional golf instructor.
John Stein
Dallas Oregon
Thinking about doing something you really love?
Like playing and teaching golf?
How would you like to achieve your dreams faster than you thought possible? Well, you can!
Golf is a business. Businesses require cash.
Imagine starting a business that requires:
No major capital investment (less than $2,500 required)
No products to purchase
Has a market with continued growth potential
No inventory to sell
No delivery of any product
No collections (this is a cash business)
No quotas
No employees
No customer risk
No long hours
No major overhead, if any at all
---
Becoming a professional golf teacher is the answer.
Opportunities to teach golf are enormous.
Driving ranges
Public & private clubs
Leisure resorts – both local and global
Cruise ships
Golf schools – directing or teaching
Golf learning centers
University & high school golf coach
Corporate golf positions
At private and semi-private golf clubs many opportunities abound for those teachers who are personable and offer interpersonal skills. Those teachers who belong to a club are able to relate to the "whole family" and are at ease with their membership, offer a head pro an alternative to allow the pro to take a vacation and to reduce his teaching workload. Being able to conduct yourself professionally, dress the part and play better than the membership are ideal ingredients to enhance your teaching practice.
---
For your convenience, five day certification courses are held every month in California, Nevada and Arizona. Our teaching sites offer both ideal weather and cities and that offer year round teaching an opportunity for a family vacation should you so desire. The PGTAA also conducts certification courses in Europe, Canada, South Africa, Asia and Australia. Our student-to-teacher ratio is a maximum of  five-to-one only thereby optimizing your ability for focus on what is being taught and, of course, help you become a top teaching professional.
---
The PGTAA syllabus involves the following areas:
SECTION ONE: Teaching you How to Teach (The Instructor Module) – The Primary Objective – includes extensive use of video as learning and teaching aids.
SECTION TWO:  Business & Marketing Module – Techniques and Tools to ensure your success as a Professional Golf Teacher.
SECTION THREE:  Success Secrets for Teaching Golf – Everything you will need to know to imbue confidence in your methods and those of your students.
SECTION FOUR: The Playing Ability Test (P.A.T.)
SECTION FIVE:  The Open-Book written examination requiring a 85% passing rate. The examination is designed to test your teaching knowledge
---
Also included in our On Site syllabus is our
Custom Club Fitting, Club Building and Repairs Module.
(Not available via Home Study)
In order that each student is made to feel comfortable in both the written and teaching situations, every area and aspect of the game is both extensively and comprehensively covered. Upon completion of the course, successful candidates will become certified members of the PGTAA and will receive membership cards that are recognized world-wide. A Certificate of Completion is also presented to all candidates who have successfully completed the course.
Please plan well in advance to assure your reservation. We look forward to seeing you at the certification course. Please do not hesitate to call if you have any further questions. The cost of the course includes 4 nights hotel accommodations, all course materials, tee time reservations (the obtaining of preferred rates where possible),  snacks and lunch. Travel expenses, greens fees, range balls, cart fees and room incidentals are not included.
CONDITIONS
Submittable of 4 attested score cards of 83 or less on any championship course (6,000+ yards) for men, 85 or less for women.
You obtain at least an 85% pass rate on the written test.
Payment of home study course fees (at least 45 days prior to onsite school date selected).
You must submit your verifiable handicap, PAT and written exam answers prior to 60 days of the scheduled class.
Select Your Package and Click "Add To Cart" Below
or
Print Mail Order Form
Should you experience any difficulty in enrolling on line, please call our office at 760.777.1925 OR 1.888.90PGTAA and we will process your enrollment or answer any questions you may have that are of concern.
Please note: Shipping costs vary between the USA and International destinations. For all USA destinations $25.00 is added to the course cost. For international orders, $65.00 is added to the course charge. These amount are reflected on the ordering page and added to the total charge being made.
Please ensure that you provide us with the name you want to appear on all correspondence and credentials.