Description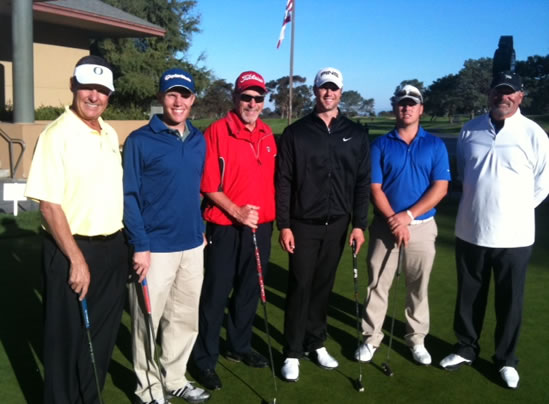 The OPTIONAL 5-day Onsite Course
The overall experience of the onsite course exceeded my expectations. From the hotel accommodations to the learning facilities at Torrey Pines, the entire package was first class. I left the class with a new found confidence in my abilities as an instructor and I am anxious to use the tools that PGTAA provided for me. I found Barry to be extremely accessible and willing to help the student in any way he could. This is not a feature that you would expect from such a highly regarded individual and the President of the organization. Thank you PGTAA for the motivation to further pursue my ambition as a professional golf instructor.
John Stein
Dallas Oregon
jastein52@msn.com
Upon completion of the HOME STUDY course, successful candidates will become fully certified Class A members of the PGTAA and will receive membership cards that are recognized worldwide. A Certificate of Completion/Diploma is also presented to all candidates who have successfully completed the course.
The ONSITE course is purely an option for those graduates who have successfully completed the home study program. IT IS NOT A REQUIREMENT TO ATTEND THE ONSITE COURSE TO BECOME FULLY CERTIFIED AS A CLASS A PGTAA MASTER TEACHING PROFESSIONAL. THE HOME STUDY COURSE QUALIFIES YOU AS A CERTIFIED CLASS A PGTAA MASTER TEACHING PROFESSIONAL.
We offer the onsite course so a graduate can attend to receive hands-on teaching experience and constructive criticism, plus learn more about club fitting and the use of video. Additionally, based on your written examination answers, we focus on the areas we feel we can enhance your teaching acumen and skills.
The cost to attend is $1500.00 payable 45 days prior to the start of an onsite course.
YOU CAN NOT JUST ATTEND AN ONSITE COURSE AND BECOME CERTIFIED AS A PROFESSIONAL GOLF TEACHER. YOU MUST INITIALLY COMPLETE THE HOME STUDY COURSE SUCCESSFULLY.
REQUIREMENTS to attending the Onsite course
You obtain at least an 85% pass rate* on the written test. THIS MUST BE COMPLETED AT LEAST 60-DAYS BEFORE YOU CAN ATTEND AN ONSITE COURSE.
*We will send you those 16+ incorrect answers. You will then resubmit the answers for grading until you have successfully answered the questions. There are no fees for resubmissions.
For your convenience, the five-day onsite certification courses are usually held every month in California, Nevada, Arizona, Florida and Pennsylvania. Please call Dr. Barry Lotz regarding the logistics. Our teaching sites offer ideal weather, year- round teaching and an opportunity for a family vacation should you so desire. The PGTAA also conducts certification courses in Europe, Canada, South Africa, Asia and Australia.
Our student-to-teacher ratio is a maximum of five-to-one only, thereby optimizing your ability to focus on what is being taught and, of course, help you become a top teaching professional.
We look forward to seeing you at the certification course. Please do not hesitate to call if you have any further questions.
In order to ensure that each student is made to feel comfortable, whether in written and/or teaching situations, every area and aspect of the game is comprehensively covered for each student.
The cost of the course includes 4 nights' hotel accommodations, all course materials, tee time reservations (the obtaining of preferred rates where possible), snacks and lunch. Travel expenses, greens fees, range balls, cart fees and room incidentals are not included.
Also included in our Onsite syllabus is our Custom Club Fitting, Club Building and Repairs Module, plus "How to use video for teaching". (Not available via Home Study).
Payment of the onsite course fees must be made at least 45 days prior to your onsite school date selected.
The PGTAA syllabus involves the following areas:
SECTION ONE: Teaching you How to Teach (The Instructor Module) – The Primary Objective – includes extensive use of video as learning and teaching aids.
SECTION TWO: Business & Marketing Module – Techniques and Tools to ensure your success as a Professional Golf Teacher.
SECTION THREE: Success Secrets for Teaching Golf – Everything you will need to know to imbue confidence in your methods and those of your students.
SECTION FOUR: The Playing Ability Test (P.A.T). Conducted at your course of preference prior to attending an Onsite course.
SECTION FIVE: The Open-Book written examination requiring an 85% pass rate. The examination is designed to test your teaching knowledge.
Select Your Package and Click "Add To Cart" Above
Or use the:
Print Mail Order Form
Should you experience any difficulty in enrolling online, please call our office at 760.335.0600 OR 1.888.90PGTAA and we will process your enrollment or answer any questions or address any concerns.
Please note: Shipping costs vary between the USA and International destinations. For all USA destinations, $25.00 is added to the course cost. For international orders, $70.00 is added to the course charge. These amounts are reflected on the ordering page and added to the total charge being made.
Please ensure that you provide us with the exact name you want to appear on your correspondence and credentials.